Carl bought "me" a waffle maker for Mother's Day this year and, while I've yet to actually make waffles, I have had some pretty amazing waffles since.  I've never been a fan of waffles, but I'd also never had homemade waffles – the difference is like that between store-bought Wonderbread and fresh homemade bread: incomparable.
These waffles are another one of Carl's waffle works, and I hope they'll be repeated very soon.  They're definitely what I'm ordering for my next (ok, first) breakfast in bed.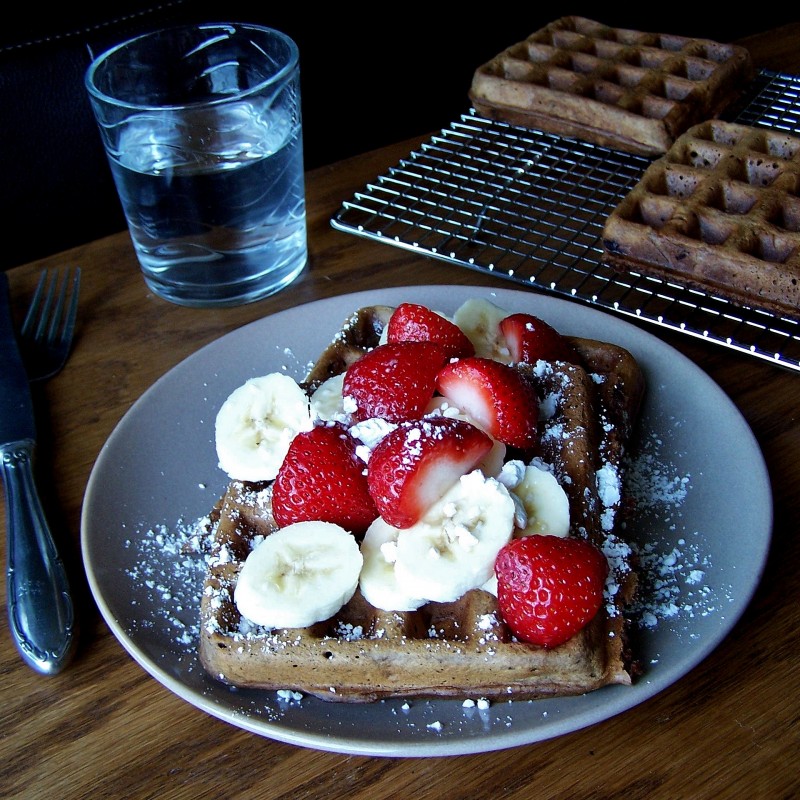 Side note: how would that be for a fantastic restaurant name? Carl's Waffle Works.  I would eat there.
I know I've gone on about my fabulous husband before, but really, he's outdone himself this week.  When I had a long day of work he made these for breakfast before I headed out.  Then I came home to barbecued chicken, roasted potatoes, and fresh green beans on the table for dinner.  On other days he was home with the kids they regaled me with stories of elaborate Mickey Mouse breakfast pancakes and quesadillas and packed grilled sandwiches for lunch.
On Sunday, after I left our 4-year-old in the kitchen to stir a blackberry puree that was perched too close to the edge of the counter, he calmly suggested I take a picture before he grabbed cloths and the mop and rolled up his sleeves, sighing quietly as he realized this will mean repainting the ceiling to eliminate the huge blue blotches.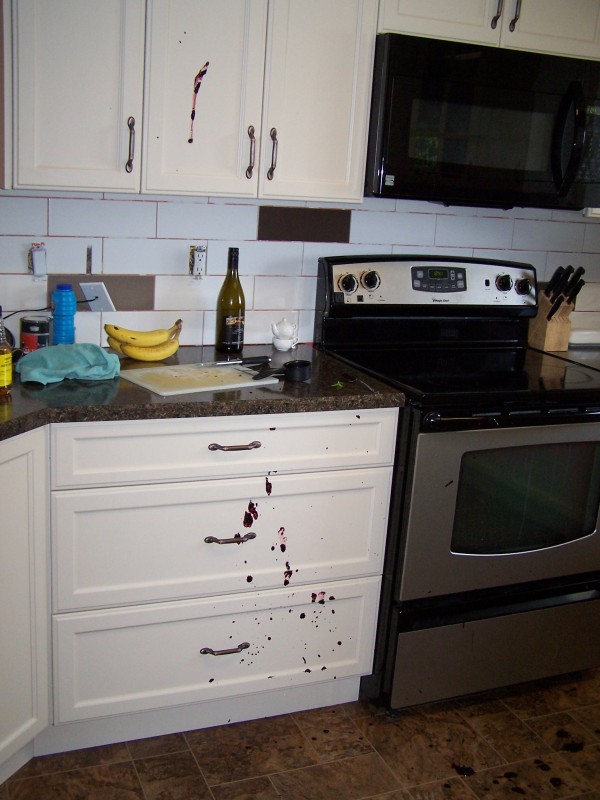 But that's another story for another time.
As for these waffles, I highly recommend getting a waffle maker if you haven't already done so.  (And by a waffle maker I don't mean a Carl, although if you can find an equivalent model I'd snatch him up ;))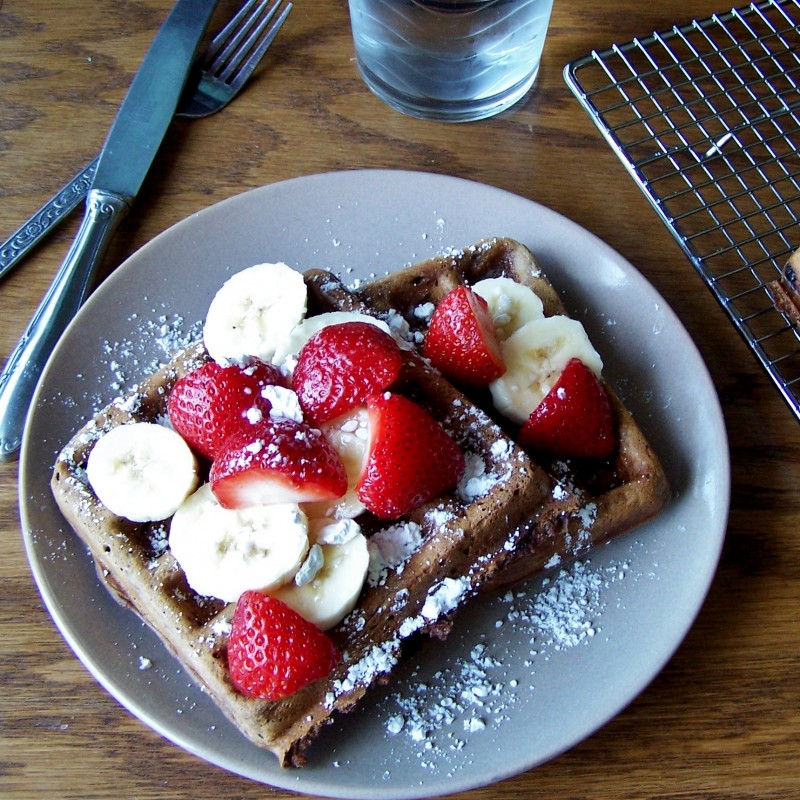 These are perfectly light and fluffy with just enough sweetness, and, topped with fresh fruit and a sprinkle of icing sugar they didn't need a drop of butter or syrup.  Although they were also good with said butter and syrup…kiwi, raspberries, whipped cream and Greek yogurt would also all be great toppers!
I'm on a roll with double chocolate breakfasts that actually aren't nearly as unhealthy as that sounds…it's a good roll to be on.  Start your day off right or make your loved one's day with double chocolate waffles…who else thinks food = love?  I know I do :)

Double Chocolate Waffles
Author:
Anna Nienhuis @ Hidden Ponies
Ingredients
1¼ cups all purpose flour
¼ cup cocoa powder
2 Tbsp granulated sugar
1 tsp baking powder
½ tsp baking soda
¼ tsp salt
2 eggs
1¼ cups buttermilk or soured milk
2 Tbsp butter, melted
⅓ cup semi-sweet chocolate chips (miniature ones are ideal, but regular work too!)
Cooking spray
Instructions
In large bowl, whisk together flour, cocoa, sugar, baking powder, baking soda, and salt.
In separate bowl, whisk together eggs, buttermilk, and melted butter.
Pour wet ingredients into flour mixture, sprinkle with chocolate chips, and mix just until combined.
Heat waffle iron and spray lightly with cooking spray (or brush lightly with vegetable oil). Pour about ½ cup batter per waffle onto waffle iron (my waffle maker makes 4 at a time = approx. 2 cups batter).
Close lid and cook until waffle is crisp and golden, about 8 minutes.
Serve with your favourite toppings.
Notes
This recipe makes 4-6 square waffles.
To make ahead, cook waffles as directed, cool to room temperature, and store in an airtight container in the freezer. They taste great toasted from the freezer!
*Recipe adapted from
Canadian Living'
s May 2009 issue.