The HEAT, my friends. Oh, the heat.
It's slowly killing me: my creativity, my personality, my skin, my joie de vivre…ergh.  We don't have air conditioning in our house or our car and sometimes I wonder if I will ever feel cool again.  We also only have one car, so when I'm at home there is no real option of going to hang out at the beach or the air conditioned mall for the day.  Believe me, I am none too sad to work a few days a week in an air conditioned store.  I am extremely thankful that at least where we live it cools down significantly at night so I can wake each day to a cool house and start the day off on the right foot.
I've heard countless people criticize the fact that "people are never happy…complaining when there's too much rain, but then complaining when it gets too hot".  I would like to hit those people. Especially when I'm hot.
I have NEVER, in the history of history, complained about ANY weather besides extreme heat.  (And by extreme I mean anything over 26 degrees Celsius, about 79 degrees Fahrenheit.  I have what you might call a low heat tolerance).
I love spring, fall, and winter.  And I love mild, or even warm, summer days.  I am virtually always happy, weatherwise and, thankfully, most otherwise.  So let me complain about the heat.  If I was the swearing type, I would swear at the end of that last sentence.
Before things get too heated (phewf, I can still make funnies ;)), let me tell you one good thing about the heat.
One good thing that maybe really isn't even that good of a thing?
Heat makes things decay supercalifragiFAST.
Things like bananas.  Which means I have to bake banana things, like these muffins that Gemma has literally eaten every.single.day for breakfast since I made them.  Tomorrow I have to restock the freezer, so it's a good thing the heat has been working it's decaying magic!
We won't talk about the decaying action magic the heat worked on a potato in the bottom of one very large bag of potatoes in my pantry.
One delicious banana treat that has come out of this hot mess we call August is these banana bread scones, topped with just the right amount of goodies – chocolate chips, walnuts, and a touch of brown sugar.  As you can see in the pictures, taken in the cool of the day, even the chocolate chips are sweating.  Ridiculous.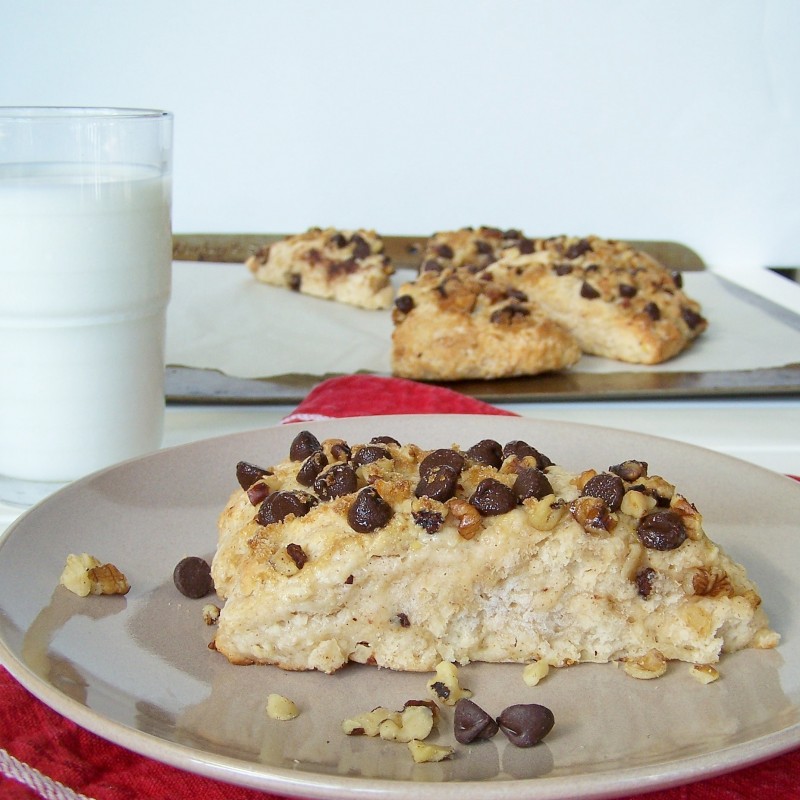 But these were well worth spending the cooling hours of the evening in the kitchen for, and would definitely be worth getting up early before the heat hits to whip up for breakfast.  They have that perfect, unique scone balance – density combined with lightness, both filling and more-ish at the same time.  The banana keeps them moist and lightly sweet with only 4 Tbsp of sugar in the dough, and the toppings take them over the top into almost-snack realms, held back only by the actual health factor of the scone base.  If you like banana bread, these scones are a must try the next time the heat (or simply time) attacks your bananas.
Just a heads up – the dough requires a 30 minute chilling time, which is reflected in the prep time, but hands-on time is minimal for these.

Author:
Anna @ Hidden Ponies
Ingredients
2 very ripe bananas (about 1 cup mashed banana)
2-3 tablespoons milk
½ cup sour cream
2½ cups all-purpose flour
4 Tbsp granulated sugar
2 tsp baking powder
½ tsp salt
½ tsp cinnamon
¼ cup (4 Tbsp) cold butter, cubed
TOPPING:
½ cup semi-sweet chocolate chips
½ cup chopped walnuts (optional)
3 Tbsp brown sugar
Instructions
Mash the bananas and add enough milk to make one cup (if your bananas are very large you may not need any additional milk). Stir in the sour cream and set aside.
In a large bowl, whisk together the flour, sugar, baking powder, salt, and cinnamon. Cut in the butter with a pastry blender (or your fingers) until there are no pieces of butter larger than a pea.
Pour the banana-yogurt mixture into the bowl with the flour and stir with a fork, just enough to incorporate all of the flour and make a slightly sticky dough.
Line a dinner plate with a piece of parchment paper and turn the dough out on top. Pat it into an even disk about 1-inch thick and sprinkle with chocolate chips, walnuts, and brown sugar. Press toppings lightly into dough. Cover with a piece of wax paper and freeze the disk of dough for 30 minutes.
Preheat the oven to 400°F.
Pull off the top layer of wax paper and slide the parchment paper with the scones right onto a baking sheet. Slice the scones into 8-10 wedges and pull them apart a little to give them some room to expand. Bake for 25-28 minutes, until the scones are firm to the touch and golden-brown on the edges and a toothpick inserted near the center comes out clean.
Cool completely on a rack and cut apart any scones that baked together with a sharp knife.
Notes
You can subsitute buttermilk or plain yogurt for the sour cream with equal results. For a different topping, try a cream cheese glaze with a sprinkle of brown sugar.
*Scone recipe adapted from The Kitchn, where you can also find a delicious brown sugar glaze recipe to complement the scones if you want to skip the chocolate chips!