Since I'm sure you're all totally tired of hearing about my lovely time on holidays, I thought I'd tell you about a delicious recipe you should all make instead :)
My mom made this family favourite for us to enjoy this week and was kind enough to let me photograph it before (and after) we dug in – what are families for if not to encourage and support your crazy hobbies?  And to not even once mention the word crazy – good families are pretty special, right?
There are few things better in the world than fruit crisps.  I adore dark chocolate, but if it's an option I'll almost always choose fruit crisp for dessert no matter what other treats entice me.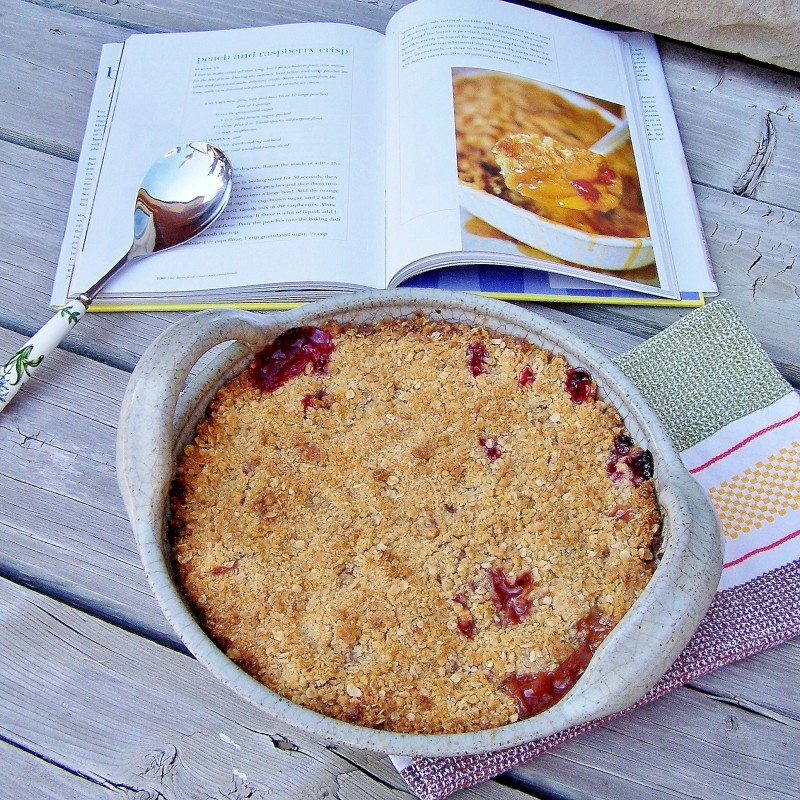 Well, given the choice between dark chocolate mousse and fruit crisp I'd definitely be that  person who asks, "Can I have a bit of both, in separate bowls, with separate utensils?  And a private room to go with that so I can enjoy them without interruption?"
But really, in summer, when all the delicious, juicy fruits are in season, fruit crisp is pretty much a weekly occurrence in my life.  It kind of replaces my need for soup and gets me through the warm summer months.
I usually tend toward a heavily oat-butter-brown sugar-based crumble, but this Barefoot Contessa recipe is a different, special kind of delicious with more flour and the addition of white sugar along with the brown.  "Crisp" is definitely the way to describe this, not crumble, and the topping makes the perfect complement to the softness, sweetness, and tartness of the peach raspberry filling.  This crisp is a wonderful way to use the freshest of fruit, can be customized to your favourite fruit – blueberries would be a great addition if they're you're favourite – but I highly recommend trying this one exactly as is.  Ina Garten knows what she's doing – this crisp is dessert perfection.
The version below is half the original recipe since I'm not usually serving 10-12 – but we don't halve the raspberries because they're just so good :)  The measurements may seem a bit odd due to the halving, but it makes sense when you're actually making it and this comes together really quickly once the peaches are peeled!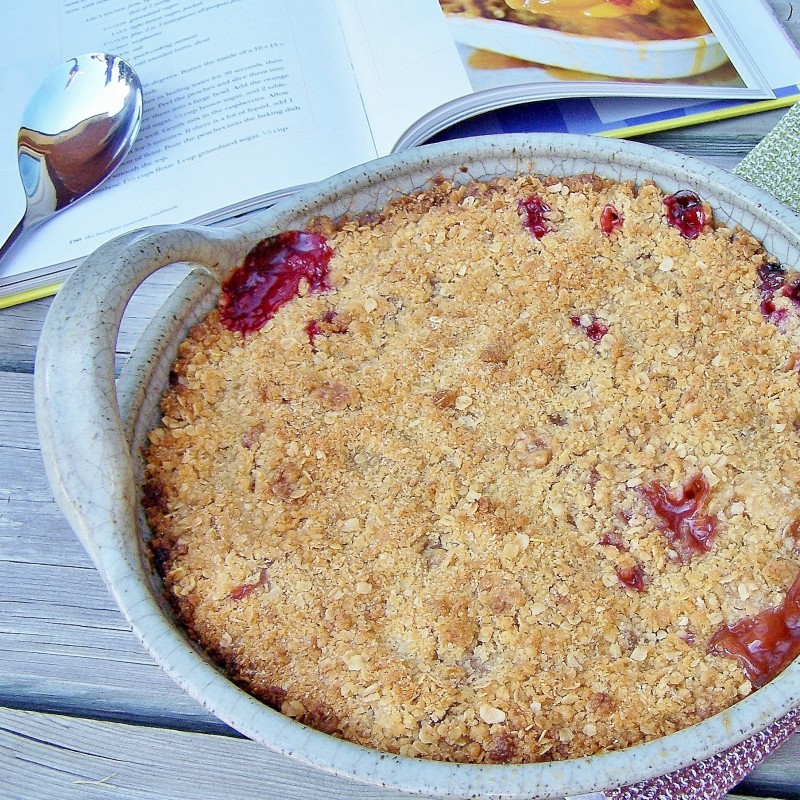 Author:
Anna @ Hidden Ponies
Ingredients
5-6 large, ripe peaches
⅝ cup white sugar
½ cup packed brown sugar
⅝ cups plus 1-2 tbsp flour
1 pint raspberries
⅛ tsp salt
½ cup quick cooking oats
½ cup cold butter, diced
Instructions
Preheat oven to 350º. Grease inside of 8"x11" baking dish or a deep pie dish and set aside.
Place peaches in large bowl and pour boiling water over them. Let sit 30 seconds, then pour off hot water and cover with cold. This allows peaches to be peeled very easily. Peel the peaches and slice them into thick wedges and place them in a large bowl.
Add ⅛ cup white sugar, ¼ cup brown sugar and 1 tbsp flour. Toss together well. Gently stir in raspberries. Allow mixture to sit 5 minutes. If there is a lot of liquid or you aren't going to cook it immediately, add 1 more tbsp. of flour. Pour peach mixture into prepared baking dish.
Combine ¾ cup flour, ½ cup white sugar, ¼ cup brown sugar, salt, oats, and the cold, diced butter in the bowl of an electric mixer fitted with a paddle attachment. Mix on low speed until the butter is pea-sized and the mixture is crumbly. (If you don't have a mixer, you can also do this by hand or in a food processor).
Sprinkle evenly on top of the fruit mixture. Bake 55-60 minutes, until top is browned and crisp, and juices are bubbly. Serve warm. Ice cream would not be a bad idea :) Store leftovers in the fridge.
If made ahead, it is still good cold, or reheat cold crisp in 350 degree oven for about 20 minutes.