I'm off for a mom-and-sisters' pedicure soon in preparation for tomorrow's wedding, but I just wouldn't feel right relaxing without sharing this easiest of recipes with you all :)  Really, it could well be that I'm the last to get on this mayo-chicken bandwagon, but just in case there are a few stragglers out there with me, I need to end that asap.
Up with juicy breasts! (*insert immature snicker here*)
This is one of those basic, go-to dinner recipes that will just never go out of style.  Unless chicken goes out of style, which I suppose in some camps it kinda has.  But not in my camp.
Whether you need a quick week-night dinner or a delicious meat dish to serve to friends, this one is a guaranteed success.  The mayonnaise keeps the chicken perfectly moist and juicy, and doesn't lend any strong flavour, letting the Italian seasoning and Parmesan cheese take centre stage.  The bread crumbs add crispy texture, and the overall result is classic and soul-pleasing.  You can put this combination on fresh chicken breasts or on chicken breasts that are still completely frozen and throw 'em in the oven, or even on any chicken pieces you may have lying around.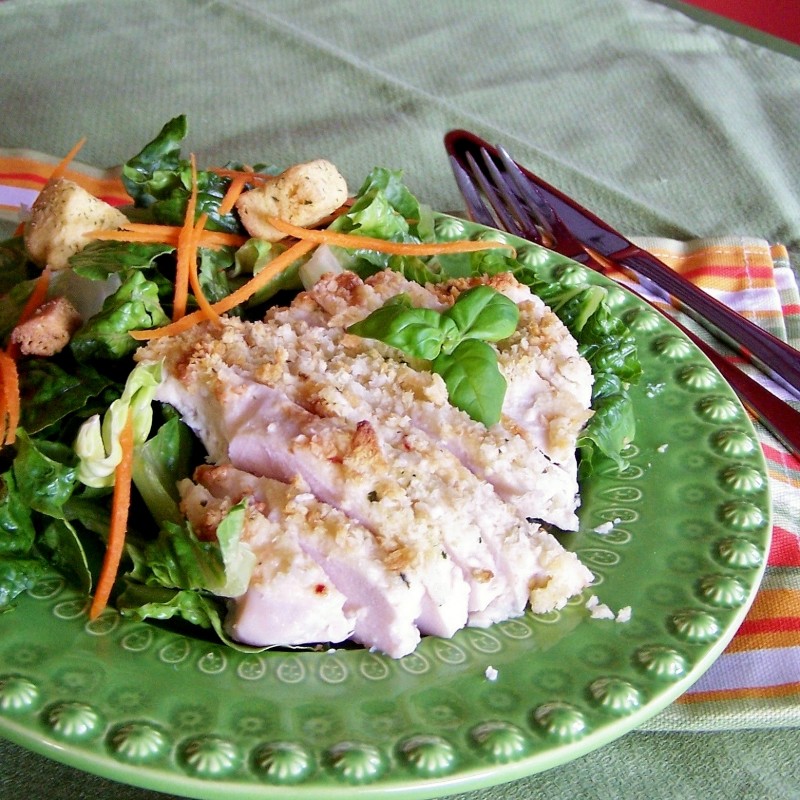 I've really been trying to increase the repertoire of dinner recipes available here, due to popular request, but I still have trouble convincing my family (and my stomach) to wait while I photograph their dinners and my budget and personality prevent me from making leftovers on purpose just to have enough to photograph :)  But extra chicken never goes to waste, and is never extra for long, especially with this coating.  Enjoy, and check back tomorrow for a special edition of Saturday Sweets in honour of the bride :)

Juicy Chicken Parmesan (aka the moistest chicken ever)
Ingredients
⅓ cup mayonnaise
¼ cup grated Parmesan cheese
4 boneless, skinless chicken breast halves (about 1-1/4 lbs)
4 tsp. Italian seasoned dry bread crumbs (if you have regular bread crumbs, toss them with ½ tsp Italian seasoning)
Instructions
Preheat oven to 425°F.
Combine mayonnaise with Parmesan cheese in medium bowl. Arrange chicken on baking sheet. Evenly top with mayonnaise mixture, then sprinkle with bread crumbs.
Bake 20-25 minutes or until chicken is thoroughly cooked (40 minutes if cooking from frozen).
Notes
Adapted from: http://www.hellmanns.ca/en-CA/recipes/detail/ 8043/1/ parmesan-crusted-chicken