So, I'm going to be honest. This post makes me nervous. Not because of the recipe (pure deliciousness), but because the First on the First challenge this month was to make candy of any type. Anna assured me that these are, indeed candy, since they are enrobed in something (in this case, delicious chocolate), so if they're not she's the one to blame.
I'm a firm believer that chocolate mint is one of those love/hate things. You are either a diehard fan of chocolate and mint together, as I am, or you think the two should never have been introduced, and should definitely not be found kabitzing on a plate.
My love for chocolate mint started way back as a wee one, when my mom, always encouraging learning, would allow us an Ovation (a standing ovation, of course, when she put them in a cup), when we would recite the vowels correctly. Of course, the true humor was lost on my 5 year old mind, but, to be true to tradition. A – E – I – O – U and sometimes Y. Good, right? :)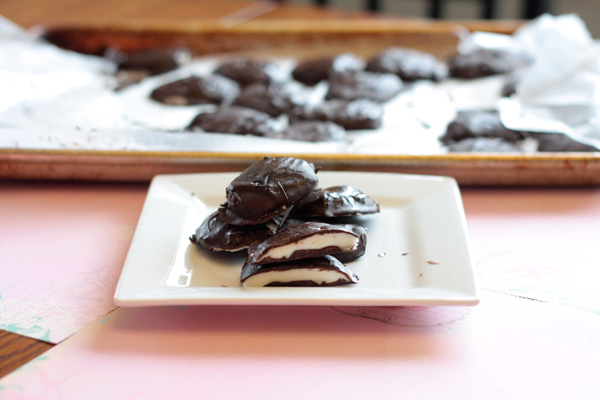 Anyways, these peppermint patties do not disappoint, for those with a love for Ovations and After Eights. They are truly delicious, and when kept in the freezer, are a refreshing and delightful snack. So, candy or not, these are delicious, and a super easy and quick  must-try to add that long list of yours :). They'd make a great after dinner munch, or put this recipe on your Christmas baking list, and only give to your friends who love chocolate and mint together (of course, that's to say, if you like the two, and have managed to be friends with those who don't ;)).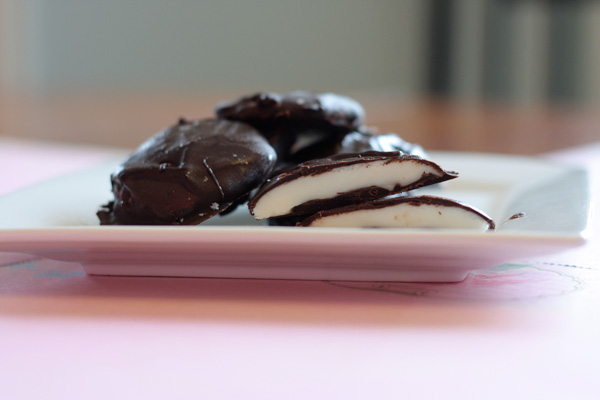 And, of course, I can't forget, to my fellow Canadians, Happy Canada Day!! What a great and beautiful country we have been blessed to live in! Have a great long weekend :).
Thanks to Krissy's Creations for this great recipe!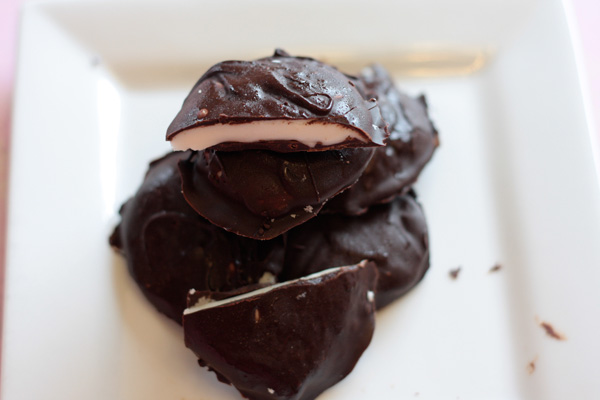 First on the First, Peppermint Patties
Delicious minty treats all covered in chocolate... mmmm
Recipe type:
Snack, Dessert
Ingredients
14 ounces (1 can) of sweetened condensed milk
6 cups icing sugar (aka powdered sugar/confectioners sugar)
1 tablespoon peppermint extract
3 cups dark chocolate chips
2 tablespoons shortening, butter, or margarine
Instructions
In the bowl of your mixer, beat together sweetened condensed milk, 3 cups of icing sugar, and the peppermint extract. Continue to add the rest of the icing sugar, ½ a cup at a time, until the dough is stiff and easy to handle.
Using your hands, or a cookie scoop, scoop 1-inch pieces of dough and roll them into balls, placing on a wax paper lined cookie sheet.
Flatten all your balls to discs, and place in the freezer to chill for about 30 minutes, or until you're ready cover in chocolate.
After 30 minutes, melt the chocolate and shortening in a heatproof and microwave-safe bowl. Microwave for 30 seconds, then remove it and stir. Place it back in the microwave and repeat microwaving in 30 seconds increments, stirring after each 30 seconds, until the chocolate has completely melted and is smooth.
Remove the chilled patties from the freezer and place them on the counter next to melted chocolate. Place a large piece of wax paper next to the melted chocolate.
Place one patty on top of a fork and dip into the chocolate. Using another fork, coat the patty completely and carefully place it onto the wax paper. Repeat with the remaining patties.
Put your patties into your freezer, and, once frozen through, put into a sealed container, store in the fridge or freezer, and eat at any time of the day or night!