Today I am shamelessly taking credit for something I did not make.
My mom made this delicious dessert, over on the other side of the country from me, and when she told me about it, I naturally encouraged her to take a picture of two and send them my way.  Food blogging 101: How to ask others for help; course coming soon to a university near you :)
That is not to say I haven't made this recipe – I actually have! But I haven't photographed it, or made it in such a pretty dish, or made it with strawberries, I've always made a strictly rhubarb version.  I've also enjoyed this recipe numerous times at my big sister's house, and it's a big part of the reason I planted rhubarb in my garden this year.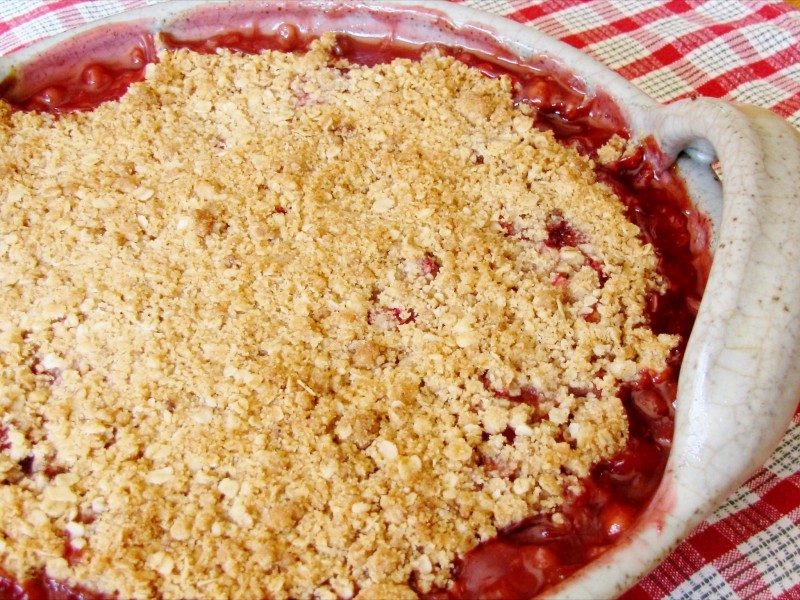 Which is all to say, this is a classic family favourite, with a more recent gluten free adaptation included in the recipe notes.  This recipe has been in our family for more years than I have, and I'm so glad my mom got pictures of the deliciousness so I can share it with all of you, because really, what's a recipe without pictures?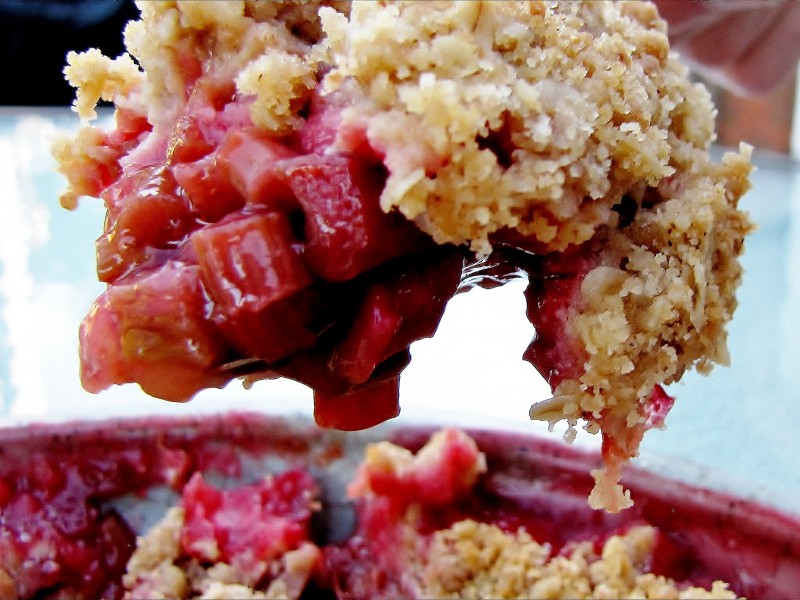 This is one of those crumbles with a crust on the top and the bottom, the best way to go for those, like me, who want maximum crumble-to-topping ratios.  A quick syrup is made and poured over the fruit for a tangy, sweet, sticky center that is quite irresistible, especially when topped with a bit of good vanilla ice cream.  Mom's promised some rhubarb treats awaiting us upon our arrival in Ontario later this summer and my mouth is already watering…remember how I didn't want to gain too much weight before my sister's wedding?  It's really because I know I'll gain 10 pounds in the time I'm at my mom's house.  FACT: If you put delicious food in front of me, at any time of day, I WILL eat it. All.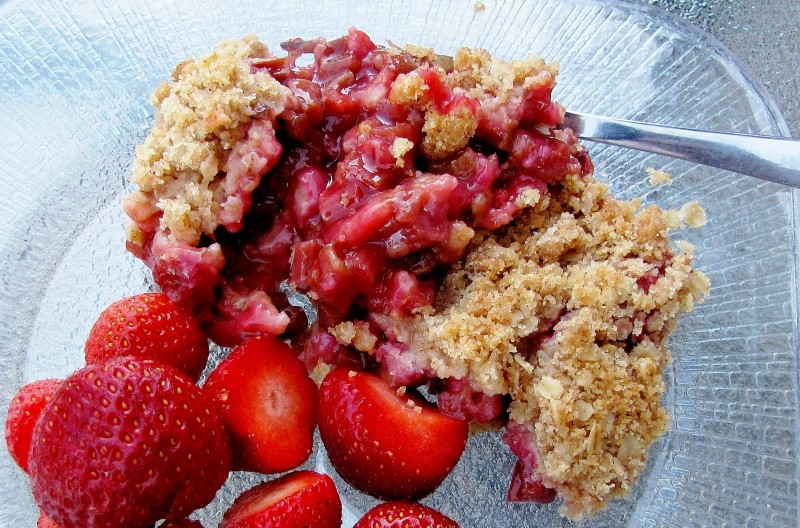 Now sally forth and have a great week full of fresh, delicious food!  And thank my mom for being willing to share her family jewels with the internet world ;)

STRAWBERRY RHUBARB CRUMBLE
Ingredients
4 cups diced rhubarb
½ - ¾ cup sliced strawberries
1 cup flour (see note for gluten free version)
¾ cup quick oats
1 cup brown sugar
1 tsp salt
1 tsp cinnamon
½ cup butter, melted
Sauce:
1 cup sugar
1 cup water
1 tbsp cornstarch
1 tsp vanilla
Instructions
Preheat oven to 350 degrees.
Mix together flour, oats, brown sugar, salt and cinnamon with the melted butter. Press ½ the mixture into a lightly greased 9"x9" baking pan or pie plate.
Spread rhubarb and strawberries over base.
Mix sauce ingredients in small saucepan and cook and stir over medium heat until thickened. Pour sauce over rhubarb. Sprinkle remaining crumbs over top and press down lightly.
Bake at 350º for about 1 hour.
Notes
In our family cookbook, the recipe comes with this note from Mom: "I got this recipe at least 30 years ago from a magazine in a Toronto newspaper that no longer exists. I haven't found one I like better for rhubarb! It can be made gluten free by using quinoa flour instead of the regular flour. If you can handle kamut flour, that also works well." (Anna's note: For gluten free purposes, also ensure you have gluten free oats, such as Bob's Red Mill).
Thanks Mom!!