I tried Cheerios for the first time last night.  Um, how did they become so popular?
I buy them for an easy portable snack for my kids, but had never actually tried them with milk.  I'm one of those who just splashes milk near my cereal bowl, since I'm technically sensitive to it and don't like soggy cereal anyway, so I just like to dampen the bottom a bit and mix it through.
Even with that technique, the Cheerios were soggy pretty much instantly on contact with the liquid. Eew.
Rant over.
In happy news, I've been unwaitlisted and am officially registered for part-time university again this fall, wheeeee! Philosophy and the Psychology of Adolescence…those should be easy enough topics to study while majorly pregnant, right?  I figure my due date is a solid 2 weeks before the exam period starts, so even if I go overdue I should be able to make it to the exams.  This may not have been my smartest decision ever, but it was that or give up on getting a degree at all in my frustration over constant delays, and Carl knew I wouldn't be happy if I made that decision, so he was super supportive of my ability to be functionally awake 2 weeks after having a baby.  I may have to settle for B's this semester, but at least I'll feel like I'm making progress :)
In other happy news we celebrated my big sister's birthday this past weekend!  She's only 18 months older than me, but many years wiser and more talented, and she really is the best big sister anyone could ask for.  I'm a big sister to 3 little sisters, and I can still say with confidence she's the best big sister around.
She even gave me this recipe for broccoli salad, which I in turn made for her birthday dinner I hosted on Sunday.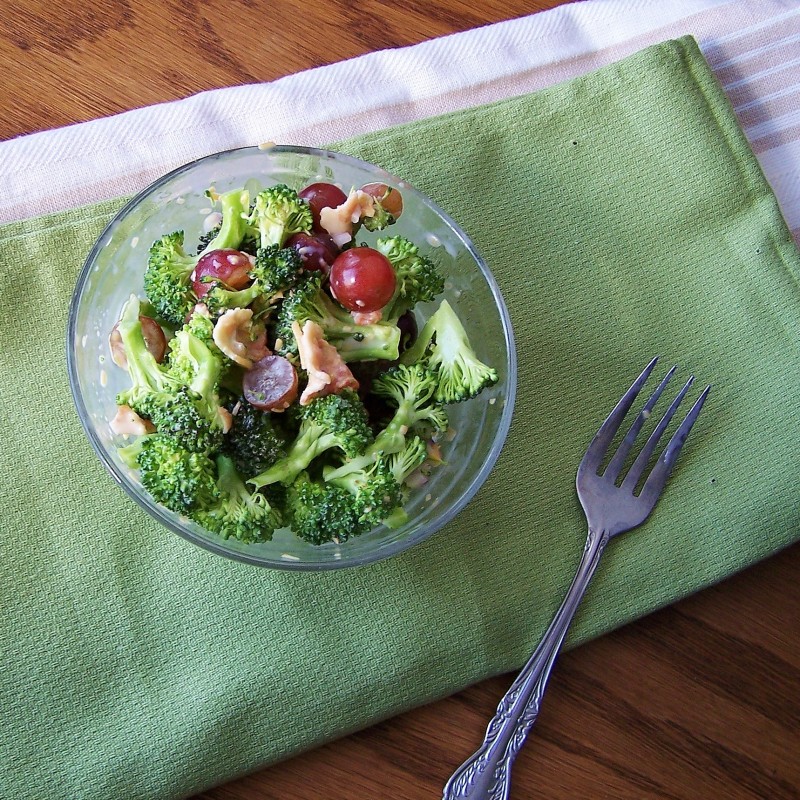 It ended up being a strange combination of foods for her birthday dinner, topped off with chocolate souffles that were worthy of a close up…but we were having too much fun to care! (Also, I'm not about to break out my rookie food photography attempts in front of my talented photographer sister :))
My initial plan was burgers, then I remembered burgers give me the major queasies right now, and there was nothing I wanted less.  However, I'd already made broccoli salad and asked Chelsea to bring her delicious spinach salad, so I was kind of on a barbecue theme.  BBQ Pulled Pork Enchiladas were the last-minute solution –  I wrote out my own recipe on Saturday night and then pretended I had found it somewhere reliable and followed the recipe, so now I know I can duplicate it!  I think I could've made way more, they disappeared so fast!  And never fear, I'll be making them again soon so I can share the recipe with you all, in both it's regular and gluten-free adaptions.
But for now, here's a side dish that to me is as much of a star as any main dish.  I think most people have had a version of this at some point, and, if you're anything like me, you've wanted more.  I've had this many times from Sarah's fridge, but never gotten around to making it myself – we're on a major raw broccoli kick around here, so I foresee this being a staple side dish all summer long.
What's your favourite summer salad? I'd love to hear about it!

Author:
Anna @ Hidden Ponies
Ingredients
3-4 cups broccoli in bite sized pieces
¼ cup finely chopped red onion
¼ cup cooked, crumbled bacon
½ cup grapes, halved
½ cup finely shredded cheddar cheese
DRESSING:
½ cup salad dressing mayo (such as Miracle Whip)
¼ cup sugar
2 tbsp vinegar
Instructions
Mix together salad ingredients. Combine dressing ingredients and toss with salad. Refrigerate at least an hour to let flavours blend.
Notes
Make ahead: Store, covered, in fridge, for up to 5 days. This is perfect to make in advance for a party, or to have in the fridge for a light summer lunch!