It's not too often I recommend eating a Saturday sweet recipe for breakfast and/or lunch!
This probably falls into the spot as #1 healthiest Saturday Sweet on our blog, but it is too sweet not to be considered perfect for the list.  Not to mention you can be enjoying it a mere 10 minutes after you decide to make it!
I go on peanut butter and banana sandwich kicks from time to time, and I've been on a major one lately. When I ran out of bananas recently due to poor planning for my obsession and bananas being in high demand for smoothies, this sandwich was born, and I have to say it's giving peanut butter and banana a serious run for it's money.  For people who think peanut butter and banana is just a gag-worthy combination (what's wrong with you?), this is a perfect alternative – fruit and nut butters are made for each other, as are fruit and chocolate.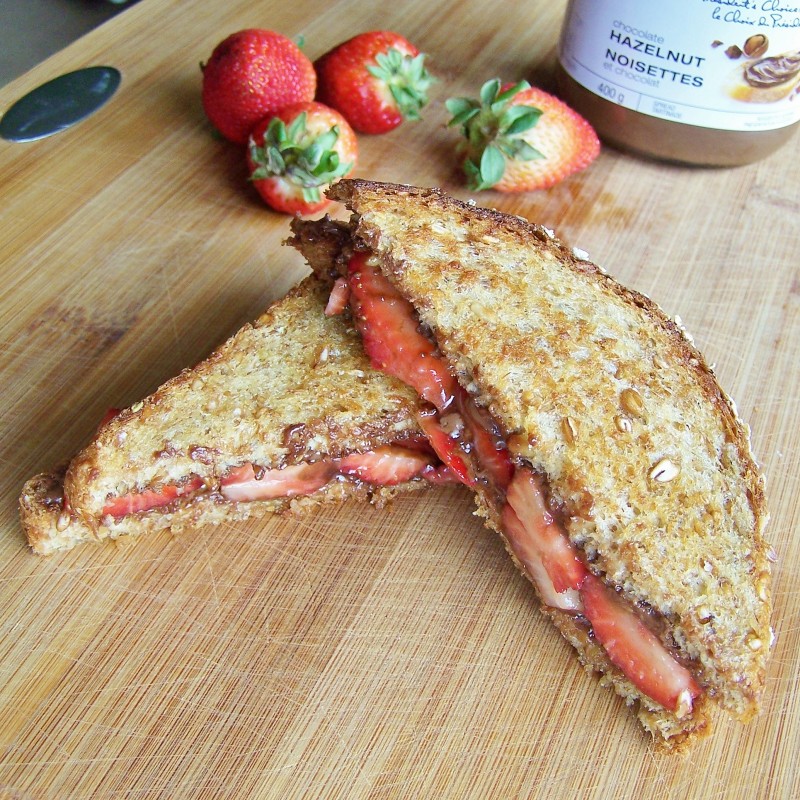 I was considering sprinkling one side with icing sugar too, but it was plenty sweet enough without that addition.  Although, I certainly wouldn't look down on anyone who included it.
This would make a perfect Mother's Day breakfast or brunch, with a strawberry-orange juice smoothie on the side . . . just sayin' :)  And it's easy enough to make yourself if no one's bringing you breakfast in bed, as will probably be my case.  A couple more years and the kids will be totally breakfast proficient  I figure, and my expectations will be RAISED, let me tell you.  If you don't want to grill it in order to skip the extra butter, this combo would be just as good between two slices of toast, and really, if you don't want the bread, you can just dip the strawberries into the jar of Nutella and I don't think you'll be disappointed :)
Have a great weekend everyone, and thanks for reading!!

Grilled Strawberry Nutella Sandwich
Recipe type:
Breakfast, Lunch
Ingredients
4 slices of your favorite bread
Butter
Nutella
6-8 strawberries, thinly sliced
Instructions
Heat skillet over medium-high heat.
Meanwhile, lightly butter one side of each slice of bread, then spread Nutella on the other side of each slice. For each sandwich, top one Nutella-ed side with a solid layer of thinly sliced strawberries and top strawberries with remaining slice of bread.
Place in hot pan and grill to desired darkness, flipping to brown both buttered sides.
Serve immediately.