I've mean meaning to share this cupboard with you for ages, but I somehow managed to lose the before picture, so you'll have to use your imaginations!
When my in-laws moved into the basement, it required some significant downsizing, and one piece of furniture they were going to get rid of was their large highboy dresser.  Solid wood, this thing weighs a ton, but they kindly brought it up the stairs for me, with me having visions of organized mess hiding nicely behind closed doors.  I love the detailing on the doors of this cupboard, and the fact that it is the perfect height for the kids to reach everything in it.
If you can picture it, this was a very dark, old wood finish with a shiny coating and little brass tassels for door pulls.  It never ceases to amaze me what a coat of primer and a couple coats of paint can do, and this has become one of my favourite pieces of furniture in the whole house.  It suits the style I'm going for perfectly, and it has been invaluable in organizing toys and perpetuating the appearance of neatness in the evening.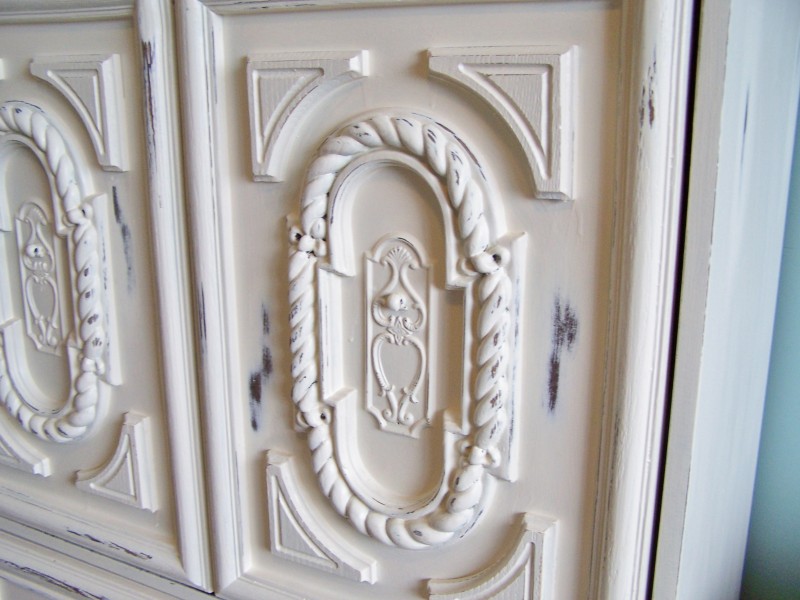 Steps to get here:
1) Light sanding with 100 grit sandpaper
2) 1 coat oil base primer (I use Zinsser Cover Stain)
3) Thorough sanding with 150 grit sandpaper
4) Coat of paint (I use Benjamin Moore Advance in a pearl/satin finish)
5) Let dry 16 hours, then sand lightly with 150 grit sandpaper.
6) 2nd coat of paint
7) Let dry 16 hours, then sand lightly with 150 grit sandpaper
8) 3rd coat of paint just for good measure (the product I use has a tendency to sag so it is better to do more thin coats rather than few thick coats for a high quality, smooth finish.)
9) Let dry 16 hours, then distress: sand heavily with 60-80 grit sandpaper, through all layers of paint and primer, back to original wood. I tend to focus on places that would wear naturally (edges, corners, etc.), then do light touches on flat surfaces (door and drawer face, sides), and a fairly heavy sand on top to complete the distressed look.
10) If desired, clear coat entire piece with a matte or low lustre varnish for uniform low sheen.  The paint is strong enough without this step, but has a slight sheen, so if you want a matte, old-furniture look you might prefer the matte finish.  This step will also even out any sheen differences created by the distressing.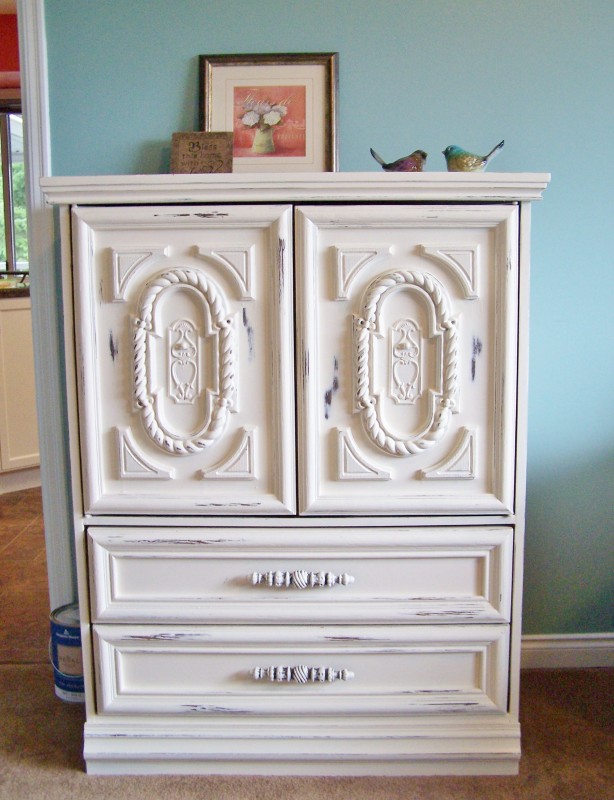 For the drawer handles, I just skimmed my roller over the brass and left it at that, with some of the brass showing through.  Here's a shot of the whole playroom, where the cupboard is right at home: