Ok, I know it's spring and people are turning away from thoughts of squash and soup, but seriously, this cannot wait for fall. Despite my super cute new bathing suit and an exciting trip and family wedding in the plans, I am putting off thoughts of summer for as long as I can, and the constant rain and cool weather we've been having is totally enabling me. I love it.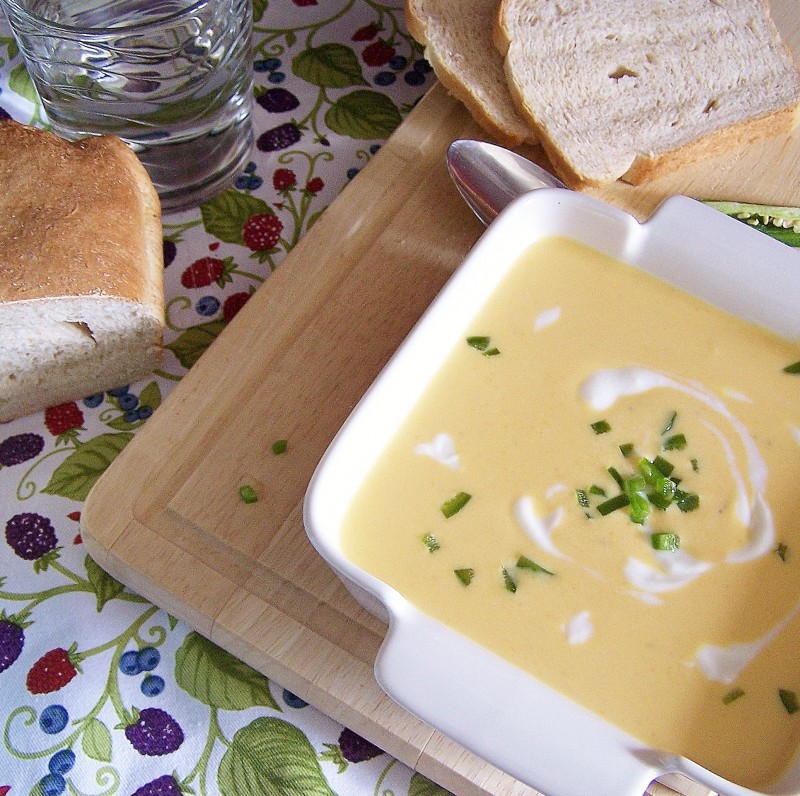 This is officially my new favourite soup.  Butternut squash has always ranked up there as one of my favourite soups, and the slight hint of jalapeno and perfect creaminess of this soup are everything I love about butternut squash soup and then some.  Serve this with quick biscuits, homemade pretzels, or fresh bread – wow.  Or jalapeno cheddar-loaded nachos cooked on an old baking sheet on the barbecue. Just sayin'.
Like most soups, this was just as good, if not better, the next day, so I highly recommend making enough to allow for leftovers!  The jalapenos do NOT make this a spicy soup, they just add a touch of background flavour and make a pretty garnish.  If you want more heat, leave the seeds and membranes in when you chop the peppers, but as it was even my 3 year old enjoyed this, and she generally turns up her nose at any soup that isn't chicken noodle.
I keep telling her when she doesn't like things, "Oh, you'll probably like this when you're 4", and she's always happy to concede that this may be the case. With the Big 4 coming up next week, I'm wondering if her palate will be a self-fulfilling prophecy, suddenly embracing new foods and cutting back the wary looks when I suggest she "just try" something!  I have my doubts, but as long as I can keep making this soup, I'm ok with it. :)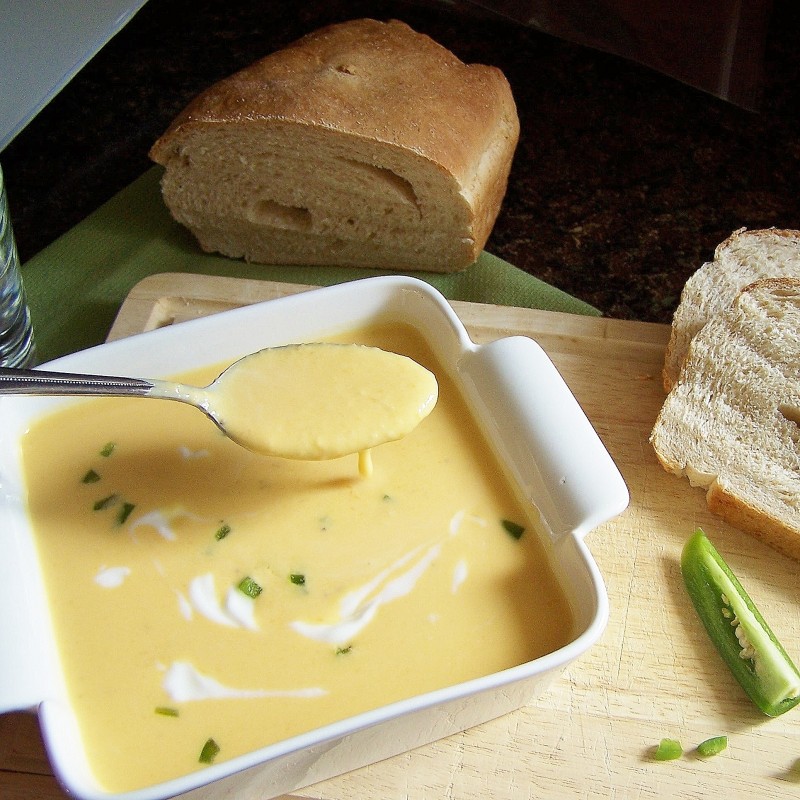 Butternut Squash & Jalapeno Cream Soup
Ingredients
1 Tbsp olive oil
1 small onion, diced
3 cloves garlic, crushed or finely minced
½ tsp dried thyme
3½ cups chicken stock
⅔ cup white wine
1 medium butternut squash, peeled, seeded, and chopped (about 1½ lbs)
1 large jalapeno, seeded and diced
½ cup heavy cream
4.5 oz light cream cheese
Salt and pepper to taste
Instructions
Heat oil in a large saucepan over med-high heat. Add onions and saute for 3-5 minutes, until onions are translucent. Add the garlic and cook, stirring, for 30 seconds, until garlic is fragrant.
Add the thyme, chicken stock, and wine, and bring to a boil.
Carefully add the chopped squash and jalapeno, lower the heat, cover, and simmer until vegetables are tender; 15-20 minutes.
Remove from heat and add cream and cream cheese. Puree the soup in batches in the blender, or use an immersion blender to blend until smooth.
Return to heat and bring to a very gentle simmer before serving to ensure it is heated through evenly. Taste and season with salt and pepper if desired.
Serve with a drizzle of additional cream or a swirl of sour cream or Greek yogurt.
Notes
You could use additional chicken stock in place of the white wine, but the flavour of the wine really makes the soup spectacular.