We don't usually post on Sundays, but "First on the Second" just doesn't have quite the same ring as "First on the First", so happy April 1st! No fooling here, sorry, and I do not look forward to the day someone shares the joy of April Fool's Day with my innocent kids. Believe me, you don't want that person to be you.
So, this month's challenge was royal icing, meaning I obviously needed something to decorate! With Easter just around the corner, I went with eggs – thank you, Captain Obvious, old friend. Brown may not be the most conventional colour for Easter-themed cookies, but sometimes a girl just wants gingerbread.   And brown, free range eggs are healthier anyway, right?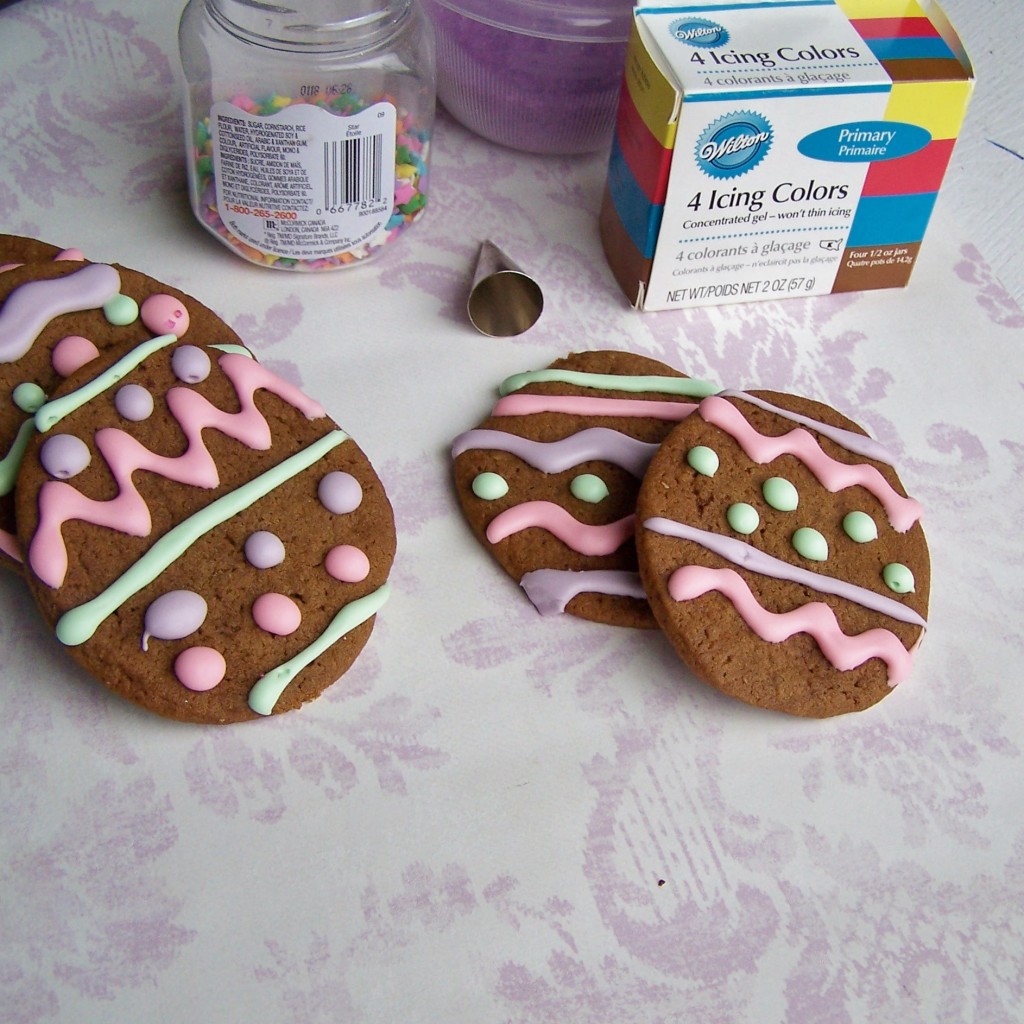 It could have been the fact that royal icing had me in mind of gingerbread houses, the only place I've ever used royal icing before.  I absolutely love gingerbread, and I so rarely make cookies that involve the rolling of dough that I couldn't miss the opportunity to make it.
I can't say I was super excited about making my own royal icing, since cookie decorating is really not my forte, nor much of an interest of mine, and I didn't want to go to the trouble with an icing that's supposed to harden like concrete and might chip a tooth during consumption.  I am very happy to report that the recipe I'm sharing today will not chip any teeth.  It probably will not hold any gingerbread houses together either, for that matter.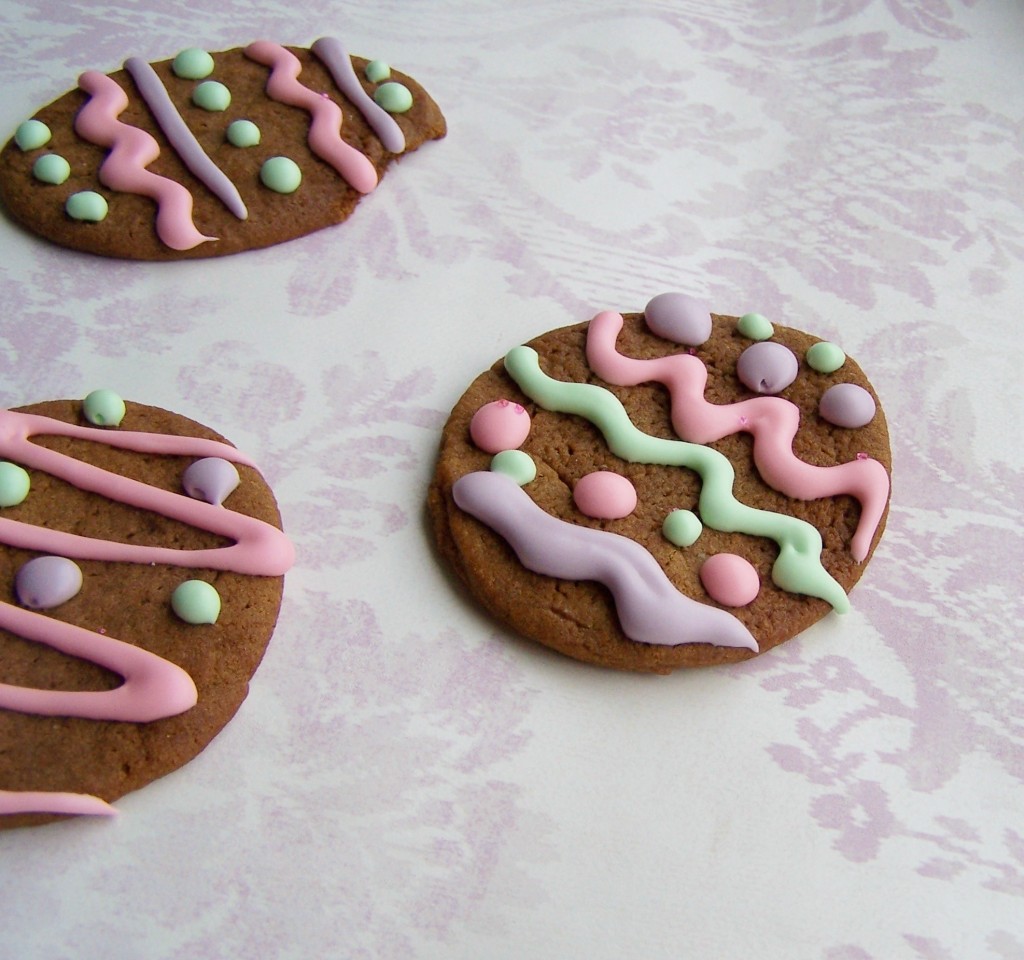 What it WILL do is set up beautifully, allowing you to stack your cookies with wild abandon without any fear of smushed icing and ruined artwork.  This icing would be perfect for cookies you are giving as gifts, something that you want to be able to package in a pretty way and showcase your artistic talent with.  Chelsea probably could have done some much fancier designs than me, being the artistic half of our blogging duo, but for my free range Easter eggs the expectations were low.  Naturally, Gemma was supervising and put in requests resulting in personalized cookies with a piggy, a rabbit, a crown, and other assorted faves, but believe me when I say none of those were picture worthy.
This gingerbread recipe comes from my big sister Sarah, and I am sharing it because it is just so completely delicious, with just the right amount of spice and chewiness, but I give fair warning that it is by no means the most forgiving dough out there.  I generally only share recipes I feel are relatively foolproof, but here is one that I feel does leave some room for error. But I also know that even if you roll your dough a little too thick and your cute cookie shapes all morph into one giant, puffy, oblong shape, you will still have something crazy delicious to munch on.  Having said that, keep your dough thin or all your shapes will morph into one giant oblong, puffy shape :)
Also, the cookies WILL spread, so leave ample room between them – I'm talking a good 2-3″.  We made semi-large gingerbread men with this recipe last year that baked up into frightening beer-bellied giants all holding hands, and yet I still made the same mistake this time and my first tray was a solid mass of gingerbread.  I enjoyed it no less, but if perfection and actual shapes are your goal…you get my drift :)
Thanks again to Kate and Carrie for inspiring us to try new things in the kitchen by hosting First on the First – be sure to check out what others did with royal icing down at the bottom of this post!  As with the other challenges so far, I was amazed how much easier this was to actually DO than it was to think about – this came together even quicker than regular icing, and was so easy to work with!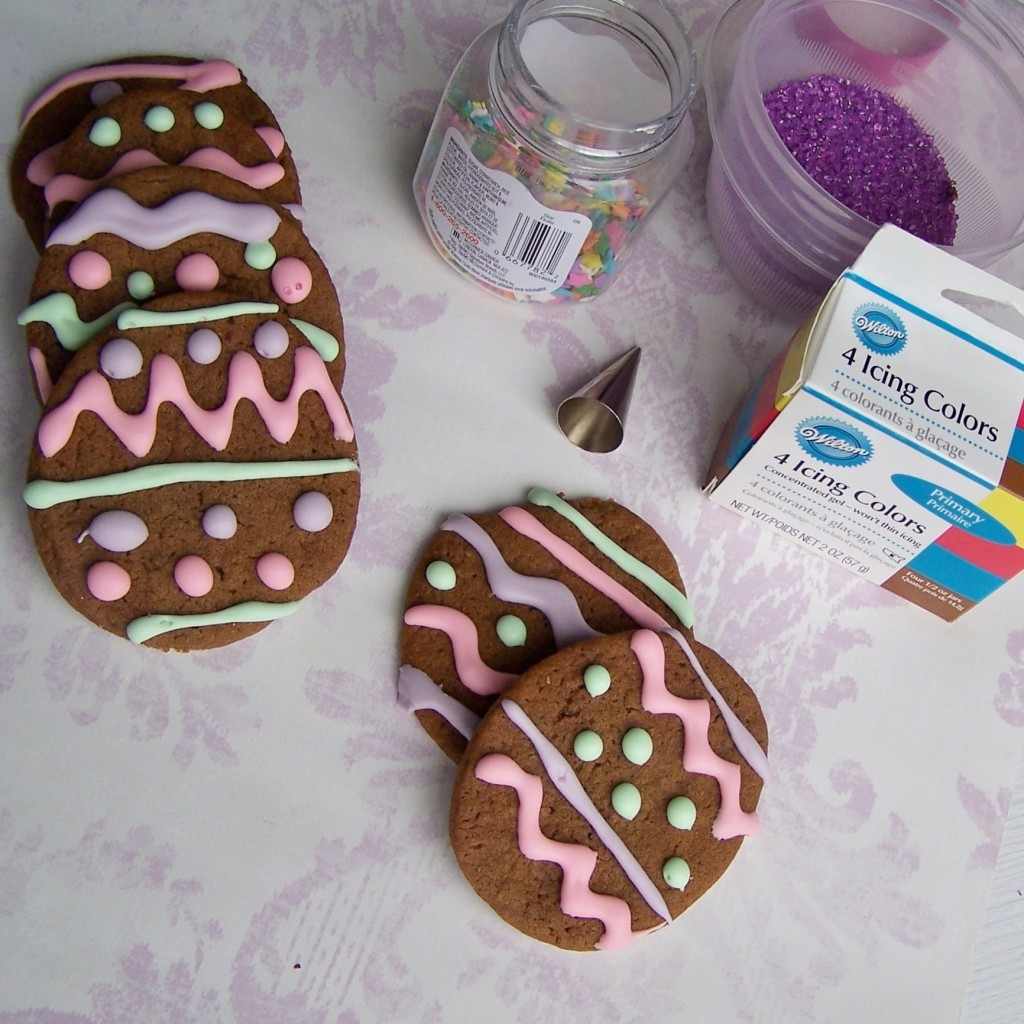 Gingerbread Easter Eggs with Royal Icing
This gingerbread is perfect any time of year, in any shape or form!
Ingredients
GINGERBREAD COOKIES:
2 cups all-purpose flour
1 cup whole wheat flour (or another cup of all-purpose)
2 tsp baking soda
1½ tsp cinnamon
1½ tsp ginger
½ tsp salt
1 cup butter
1½ cups packed brown sugar
1 large egg
⅓ cup mild/cooking molasses
ROYAL ICING:
4 egg whites (use Grade A, clean, uncracked eggs, they're stayin' raw)
4½ cups confectioner's sugar (aka icing sugar)
1 tsp extract of your choice (vanilla, almond, lemon, etc.)
Instructions
FOR COOKIES:
Preheat oven to 350 degrees.
In a small bowl, stir together flours, baking soda, cinnamon, ginger, and salt.
In a medium bowl or the bowl of your stand mixer, beat butter, brown sugar, eggs, and molasses until smooth and creamy.
Gradually beat flour mixture into butter mixture until well blended.
Chill dough for at least an hour for easier rolling.
On lightly floured surface, roll dough out to scant ¼" thickness. (The dough will be a bit sticky, so lightly flour your rolling pin or put a large piece of wax paper on the dough and roll on top of that to prevent sticking.) Cut into desired shapes with cookie cutters. Re-roll scraps as needed.
With spatula, lift cookies and transfer to an ungreased baking sheet, 2-3" apart.
Bake for 9-10 minutes.
Let sit on cookie sheet for a minute before removing to racks to cool completely.
I made 3 dozen medium-large cookies, but the number you get will depend on the size of your cookie cutters.
FOR ICING:
When cookies are fully cooled, prepare icing.
Beat egg whites in large, clean bowl with mixer at high speed until foamy. Gradually add confectioner's sugar and extract at medium speed, then whip on high speed until smooth and thickened. Use as-is or divide into small bowls and colour as desired.
Apply with a piping bag fitted with a very small icing tip or snip a small corner off a Ziploc bag and fill bag with icing.
Notes
Royal icing will harden as it sets to a strong, damage-resistant finish. Store iced cookies in the fridge due to the egg whites in the recipe.
Icing recipe adapted from allrecipes.com, gingerbread recipe via family cookbook.