Happy Saturday!!  This recipe reminded me again of how wonderful it is to blog with my sister – while I was planning Easter picnics for the kids, making weird brown gingerbread eggs, and going to concerts, she was hard at work on Easter recipes.  Since she gets to go away for the weekend with family, I get to be the bearer of her good recipes and good photos.  Teamwork at it's finest. (And I promise my kids do have a little chocolate in the bottom of those Easter baskets ;))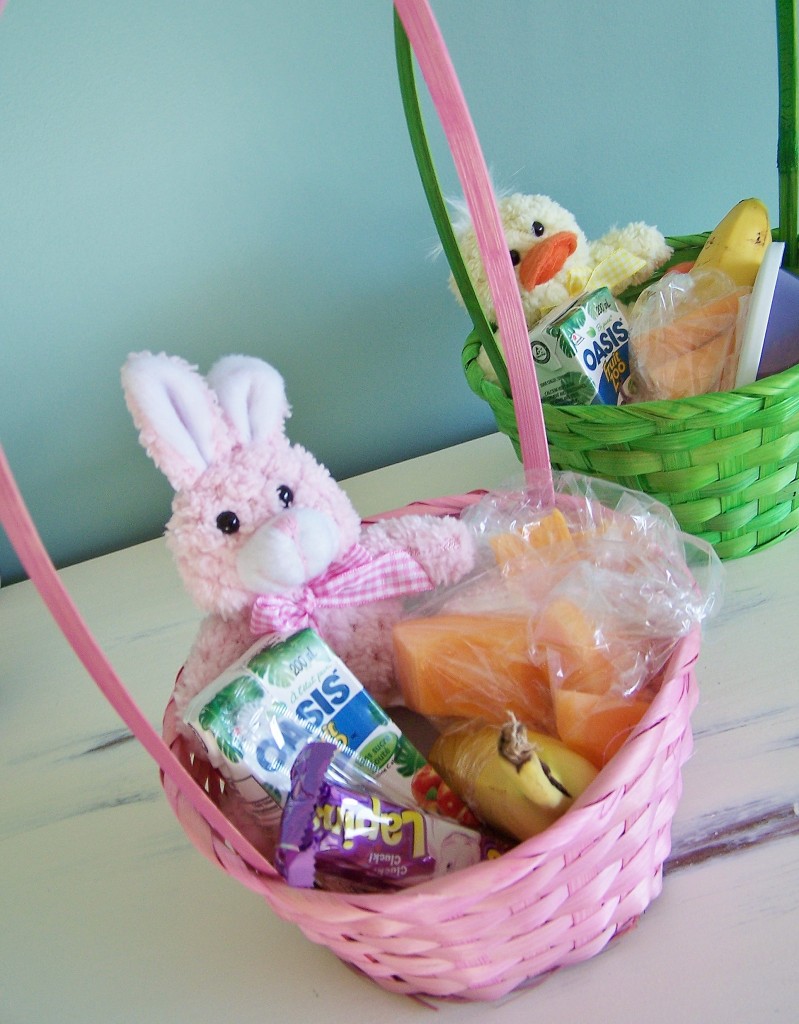 Easter is a pretty special weekend for me, even more meaningful than Christmas in my mind. Obviously, the birth of Jesus is totally necessary to our salvation, but His death and resurrection, as celebrated on Easter, are the real comfort and joy in our faith, and, maybe because of the lower commercial hype than Christmas, I've always found it easier to get into the spirit for Easter than any other holiday.
Is Easter a big holiday in your house, or just a really fantastic long weekend? (Because it definitely is that too!)
Our family traditions for the holiday, as with many family traditions, are mainly marked in my memory by food.  Hot cross buns, surprise bags of Easter treats on our beds (or, one weekend when I was away for Easter, tucked sneakily into my suitcase), ham, Jell-O, and poffert.  Family dinners, Mom up early to prepare special breakfast/brunch foods, and general family togetherness.  Not to mention new spring dresses saved for Easter Sunday, a tradition that always gives me the shopping itch a few weeks before Easter!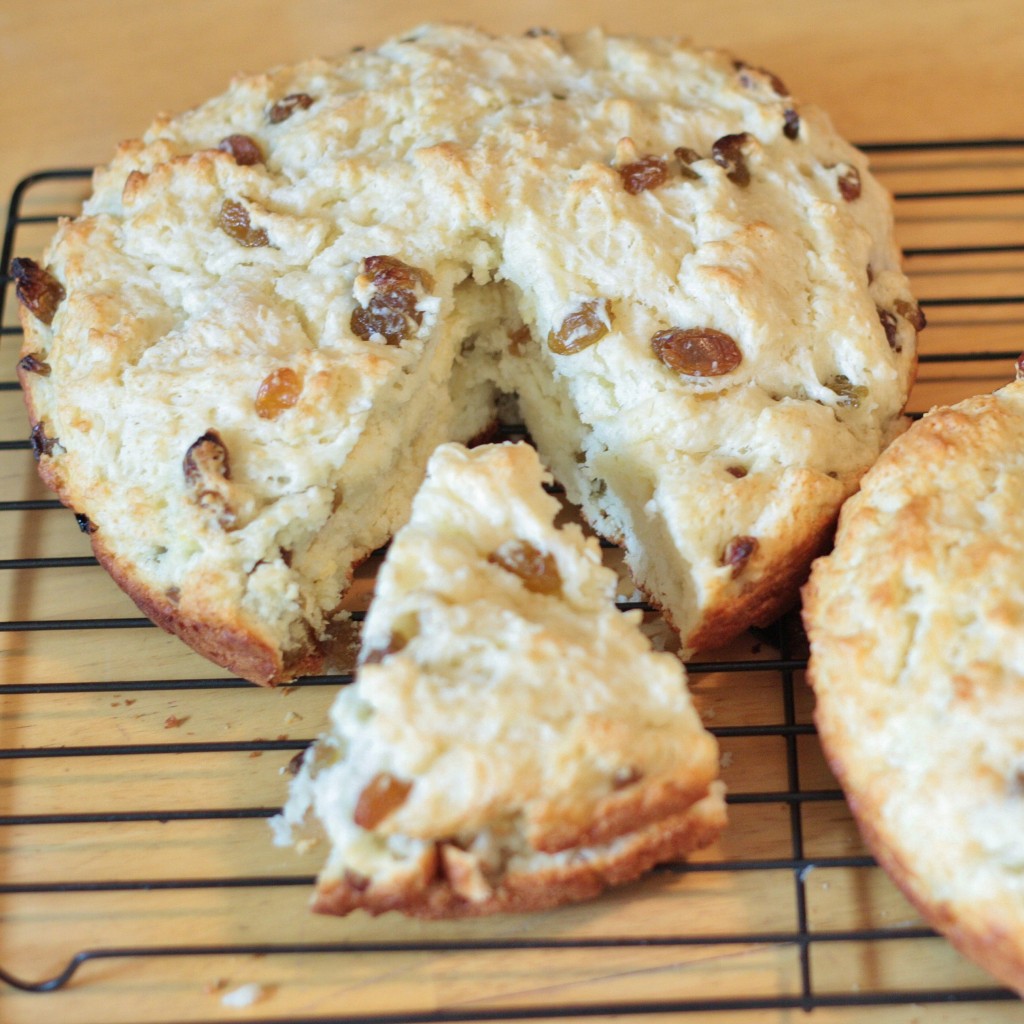 Today's recipe is for a Dutch quick bread that was an integral part of Easter in our house growing up. I don't remember having it at any other time of year, and foods like that, no matter how delicious they are, are important to me.  Some foods just shouldn't be eaten all year 'round, since food has such an incredible ability to set a mood, with smell, taste, texture, and timing.  My favourite cookies only get made at Christmas, tourtiere is for Christmas Eve, and this poffert should only be made at Easter.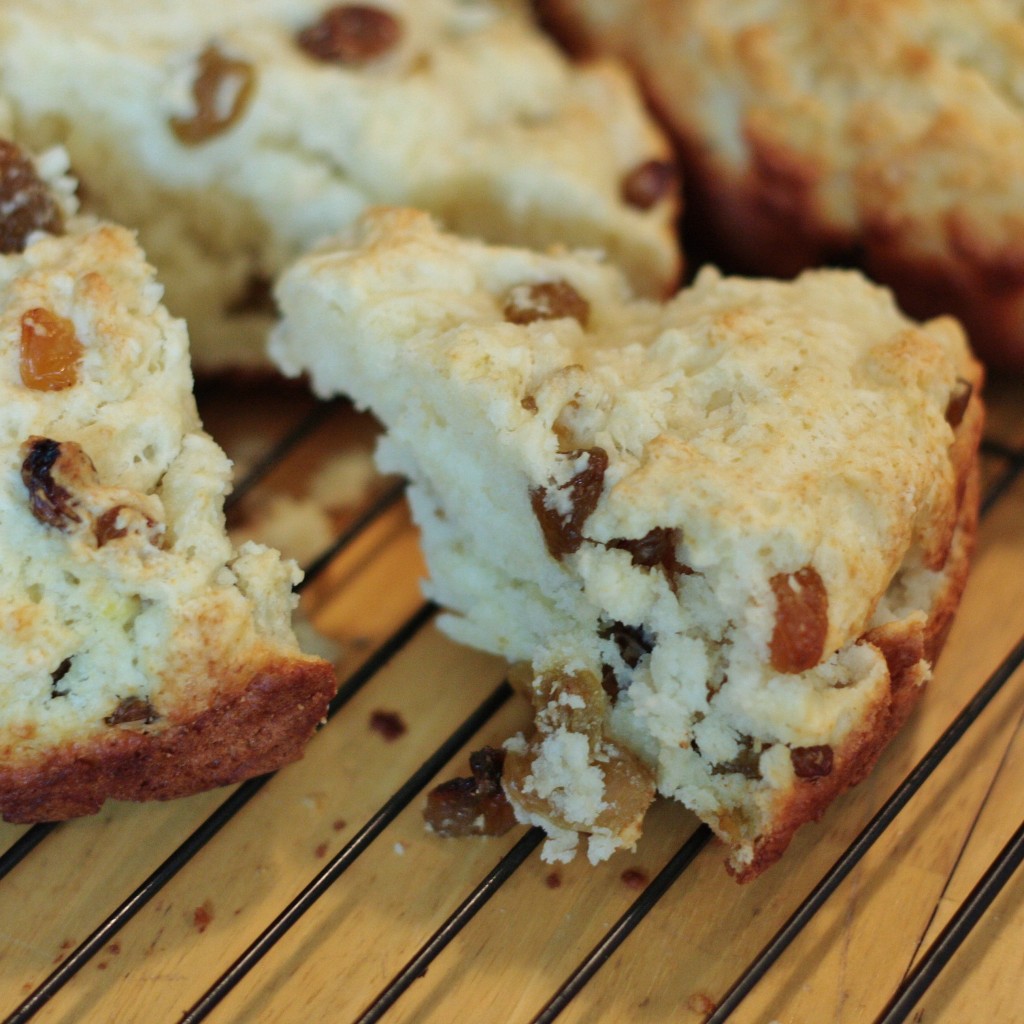 Obviously, these rules are only in my crazy head and need not apply to you – but isn't it fun having favourite foods to look forward to indulging in on a specific holiday?  Do you have any foods that you associate only with a special occasion? I feel like I need to start making a list of food traditions to remember, since until Chelsea mentioned the poffert I had totally forgotten about it! Naturally, I was immediately craving it and couldn't imagine Easter without it, making for some quick last-minute baking in my house, at which point I realized I didn't have raisins so I had to throw in a handful of mini chocolate chips.  As much as I dislike raisins in baking, this bread just wasn't the same to me without the 3 cups of the suckers.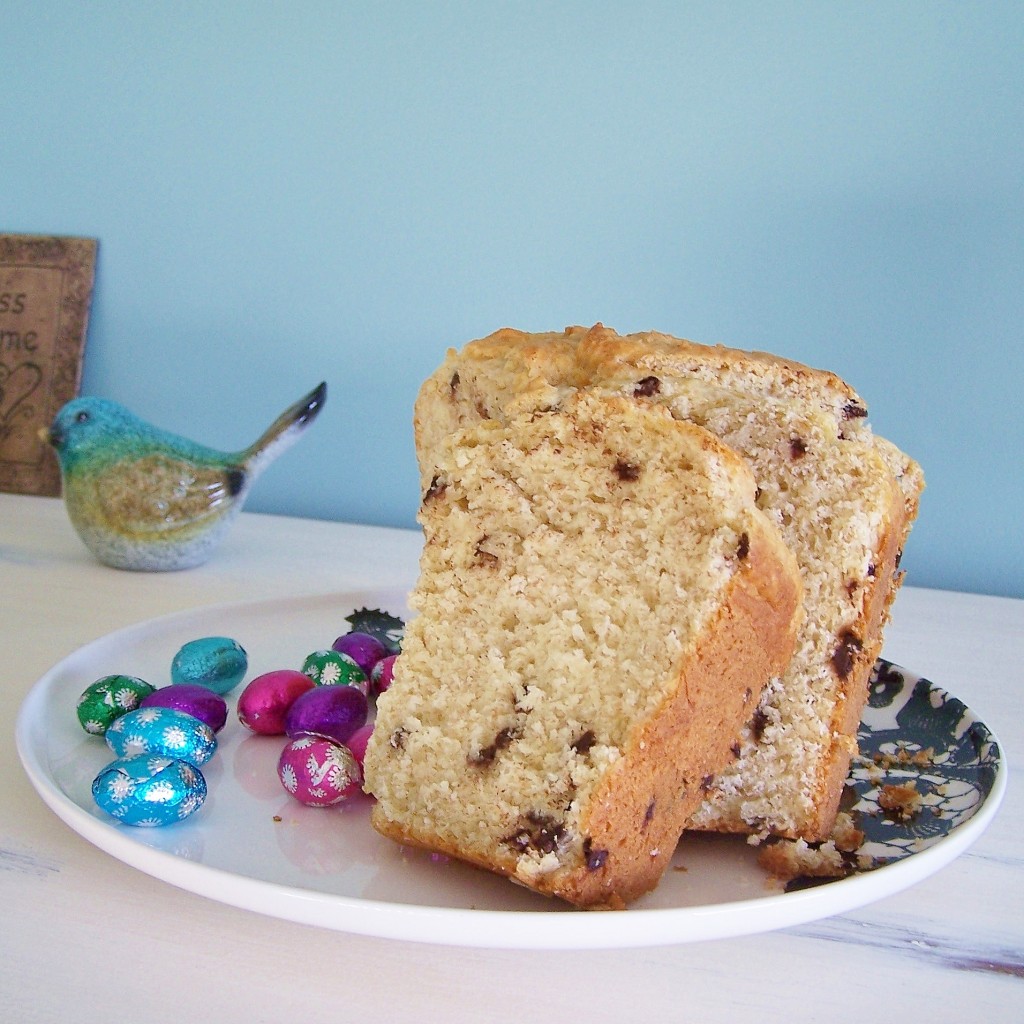 If you've never had poffert before, it's dense and kind of moist-dry.  It's crumbly and heavy and great with butter, almost like a scone or pancake batter in bundt cake form, if that makes any sense.  You might not even love it the first time you try it – it has the same effect as saltine crackers, in that you can eat only a couple bites before your mouth is completely gummed up and you will not be whistling anytime in the near future.  But if you're anything like my whole family, you'll find something about it just keeps you coming back for more.  The delicate sweetness, the crisp top, the raisins…I love everything about poffert.
Chelsea didn't have an angel cake pan/fluted tube pan and so she discovered that the recipe works just as well divided over two 9″ pie plates or cake pans, so there are no excuses not to try this traditional Dutch Easter bread!  The ingredients couldn't be more basic, but there is a lot of everything, in order to make this the dense weight it is.  The denseness makes it perfect for slicing thin and adding to a brunch spread – it'll go far! I always freeze half of mine if I'm not sharing it since it is best eaten in the first couple days after making it, and it thaws perfectly to taste like you made fresh poffert again.
Man, I feel like I'm doing a terrible job of making this sound delicious. Has anyone else had poffert before? Can you help me out? Back me up?  I'd appreciate it :)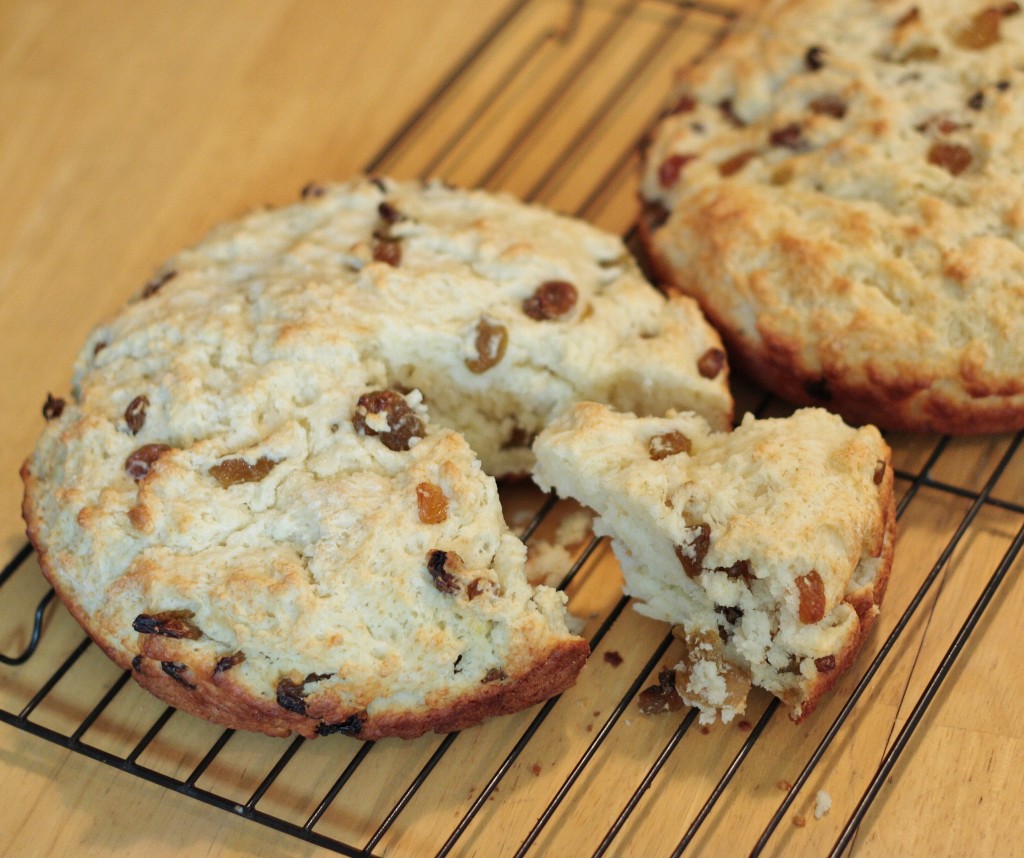 Happy Easter to you and yours!! I hope you have some time this year to reflect on and celebrate the true meaning of the season and to continue or initiate some family traditions and memories that will not soon be forgotten.  Thank you to my parents for making memories like this bread for us, and inspiring me to make holidays special and meaningful for my own family…I'd love to hear what makes the holiday special for you, or any special foods or activities you associate with Easter – I just might adopt a few for my own family!

A dense, traditional Dutch bread that has been part of Easter my whole life!
Ingredients
6 cups flour
Pinch of salt
9 tsp baking powder
1 cup sugar
½ lb (1 cup) butter, melted
6 eggs, beaten
3 cups milk
3 cups raisins
Instructions
Preheat oven to 325 degrees.
Mix flour, salt, baking powder, and sugar in a very large bowl.
Mix all remaining ingredients in a medium bowl, then add to dry ingredients, stirring until well blended.
Pour batter into large greased fluted tube pan (angel cake pan), or divide over two greased 9" pie plates or cake pans.
Bake for about 1 hr 15 min, until toothpick inserted in center comes out clean.
Cool in pan 10 minutes before removing from pan to cool on rack.