There are few things that make me crazier than hair in my dishwater.
Tell me I'm not alone in this?
I do not have a dishwasher at my disposal, and I actually don't really mind doing the dishes, but, when there is a hair in the water, it gives me the heebies in the very very worst way. How on earth does that ONE hair manage to find its way to my fingers and wraaaap around and between each and every one while I'm washing a plate?
Obviously, I immediately drop the plate and turn my full attention to restoring circulation to the fingers under attack.  That one hair, one of the same that drops out of my head in a slight breeze, or breaks just looking at a straightening iron, suddenly holds on with all it's keratin strength.  Cloaked in wet blonde invisibility, that hair is a string of bondage from which I must be free.  I splash, I pry, I swish with vigor, I try my very best to unravel, and when I finally think I have that all- powerful, victorious moment of getting it off, its wrapped firmly around the other hand, entwined into the very fingers that so valiantly set the others free.
And when I say it's stuck, I mean really, really stuck. Arm flailing, finger shaking, panicked waving kind of stuck.  I go back and forth from wet hand to wet hand with that same single, tangled hair until I just end up shaking my hand so wildly  the hair has no choice but to let go and fly off.
Right into my dishwater.
And I try to be positive and say, "It's only a teeny tiny hair, in a great big sink of dishwater".  Surely it will never find its way back to me. I dive back in to wash that same, fateful plate. And that one, single, vicious hair is waiting.
And we start all over again.
Can you guess how I feel about swimming in the ocean with the seaweed?
But how's your Saturday morning going? :)
Besides a hairy dishwashing experience, mine is going great, mostly thanks to these squares. Now, I must make a couple disclaimers. I know it's St. Patrick's Day and these are not green.  Don't pinch me. The squares in the picture are the ones I made last week. And proceeded to eat, nearly all by myself. (Did I mention they're gluten free? Hooray!).
I didn't make them with Rice Krispies but I've included that option since I think the added crunch would be fantastic.  So, until I make these again (which I'm sure won't be long), and keep them around long enough to photograph (which may be a little longer), could ya let me know if you try them that way?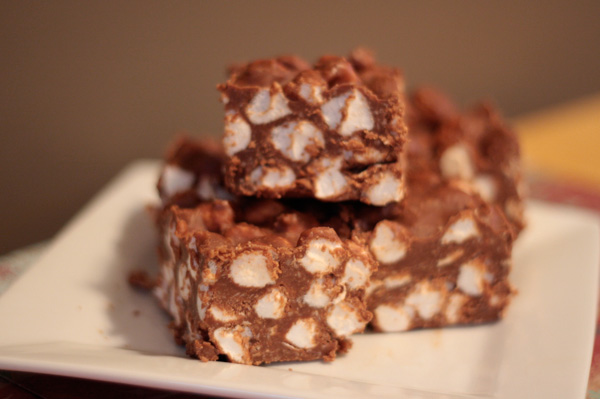 Unless, you are a Rice Crispy hater. Then, never mind. As-is is perfect.
Hope you all have a great, hair-free Saturday!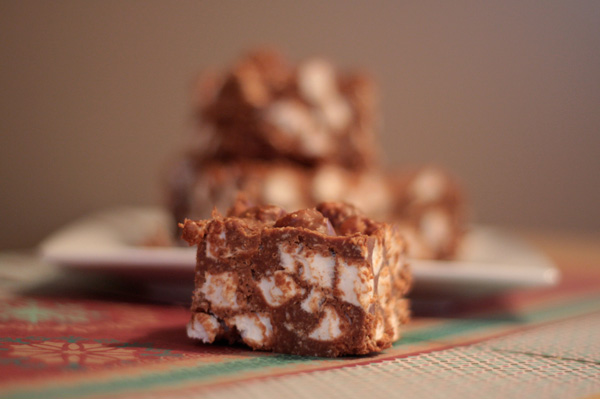 Saturday Sweets - Calico Squares
A delicious and irresistible square, that's so easy to make, and even easier to eat!
Recipe type:
Snack, Dessert
Ingredients
1 cup peanut butter
1 cup butterscotch chips
1 cup semi-sweet chocolate chips
½ cup butter or margarine
3-4 cups mini marshmallows
1 cup coconut
2 cups Rice Krispies (optional)
Instructions
In pan over low heat, or in microwaveable bowl in microwave set on Medium power, melt together peanut butter, butterscotch chips, chocolate chips, and butter. Stir to blend well.
Gently fold in marshmallows, coconut, and Rice Krispies, if using.
Press mixture into greased 8"x8" or 9"x9" baking dish. Refrigerate until set and cut into small squares. These are best kept in the fridge, as they can get quite soft at room temperature.