I think my favorite room in our house is Gemma's bedroom.  When we moved in, I already loved the room, with its sloped side ceilings, the white planks in the center of the ceiling, and the airy feel with all the gorgeous light coming in the window.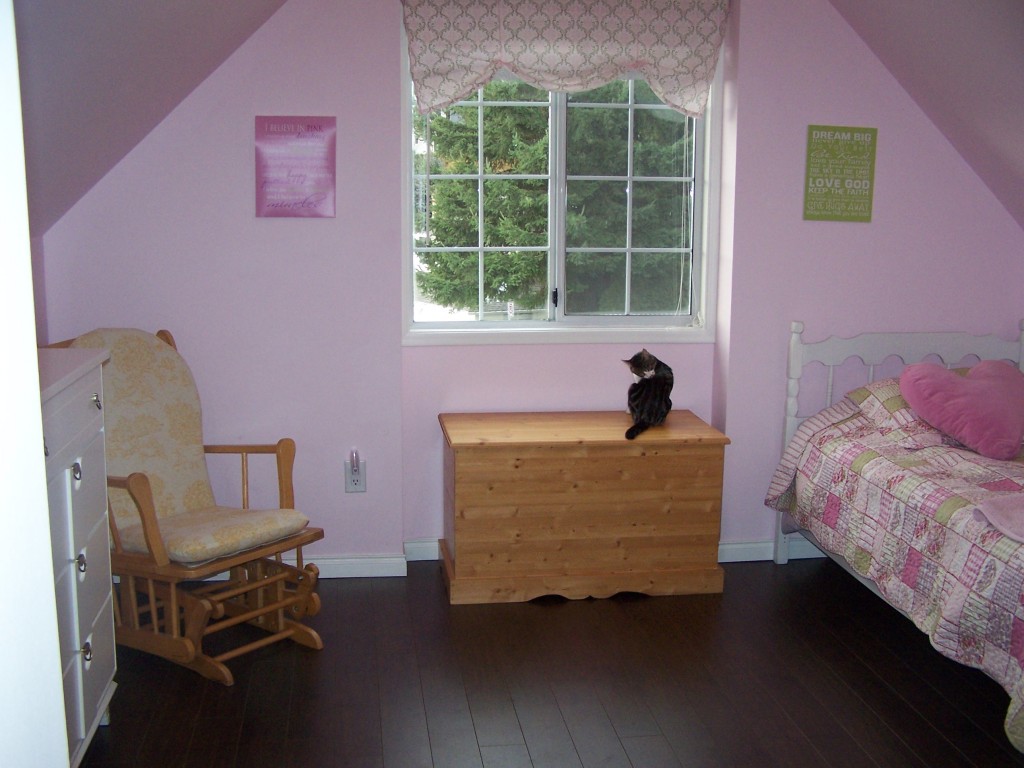 It often takes me a long time to completely finish a room down to all the finishing touches, but with this bedroom it was so easy.  I knew exactly how I wanted it to look, and, as rarely happens on a budget, everything came together absolutely perfectly to make that vision a reality.  This is a room I would've loved to spend time in as a girl, and my 3 (almost 4) year old loves it too.  There are few things more important in her world than hearts, blankets, and pink, and this room has all those things. Not to mention a curious kitten!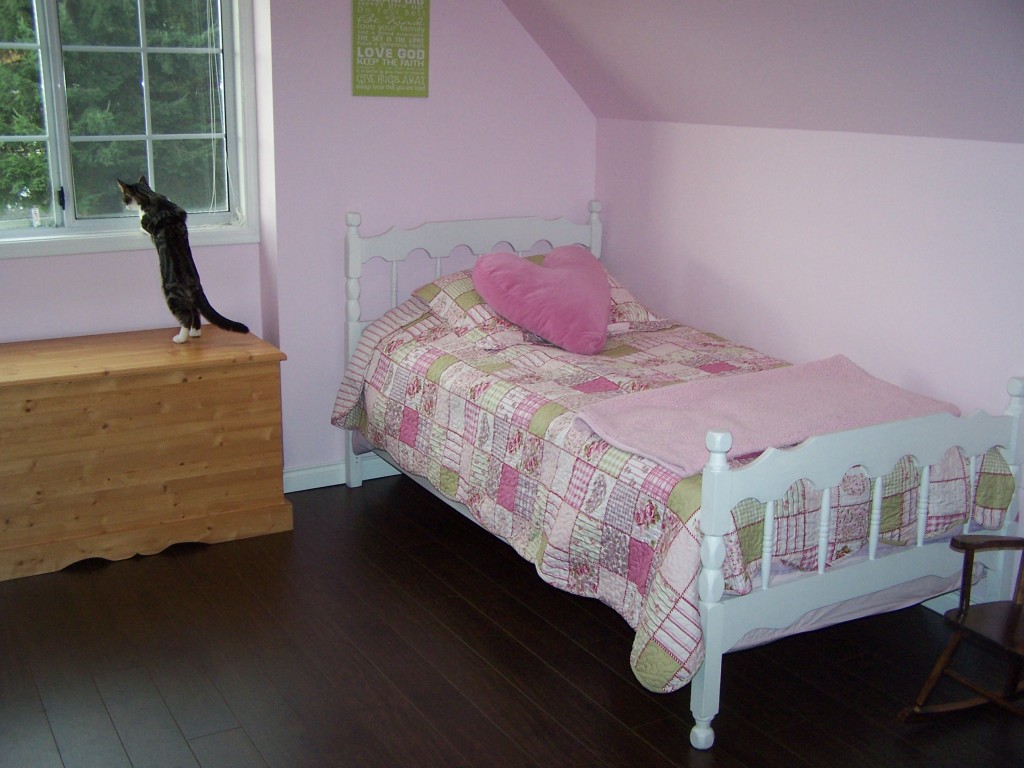 I love that this girly room still has a slightly timeless feel, and isn't a theme or phase-based room that she will outgrow by the time she's five.  Certainly, I don't imagine it will last into her opinionated teenage years, but I'm hoping we can get a good seven or eight years out of it, by which time even I might be ready to let it go.
Her room is really big with great light, so when we moved in all it needed was a fresh coat of paint (Benjamin Moore's Pink Peony: 2078-70) and new flooring to replace the ugly old carpet.  I found her coverlet and sheets at Quilts Etc., and other than that we basically took all our extra furniture and put it in her room.  I made a really simple curtain (a giant rectangle with two ribbons to give it some flounce), recovered the glider chair (a free find!) with a yellow and white toile, and repainted a chest of drawers, the lower portion of an old dark oak bookcase, and an ugly low bookshelf all in a warm, crisp white (Benjamin Moore's Mascarpone: AF-20).  The chest is the hope chest my dad made me as a teenager, which now stores linens and extra Christmas decorations.  The bed, mattress, and box spring were all second hand steals, and the child-sized rocking chair is a special heirloom from my mom's childhood.  Overall, the entire room, including the floor, trim, paint, and all accessories, cost about $300, and it is packed with furniture that tells a story.
My talented sister Sarah designed me some fabulous pieces of wall art in a couple of my favourite quotes…even though Gemma can't read them yet, I love the messages in both of them. I want her to grow up believing that happy girls are the prettiest girls, and that a good attitude, big heart, and deep love for God are all she needs, regardless of what the world will eventually tell her.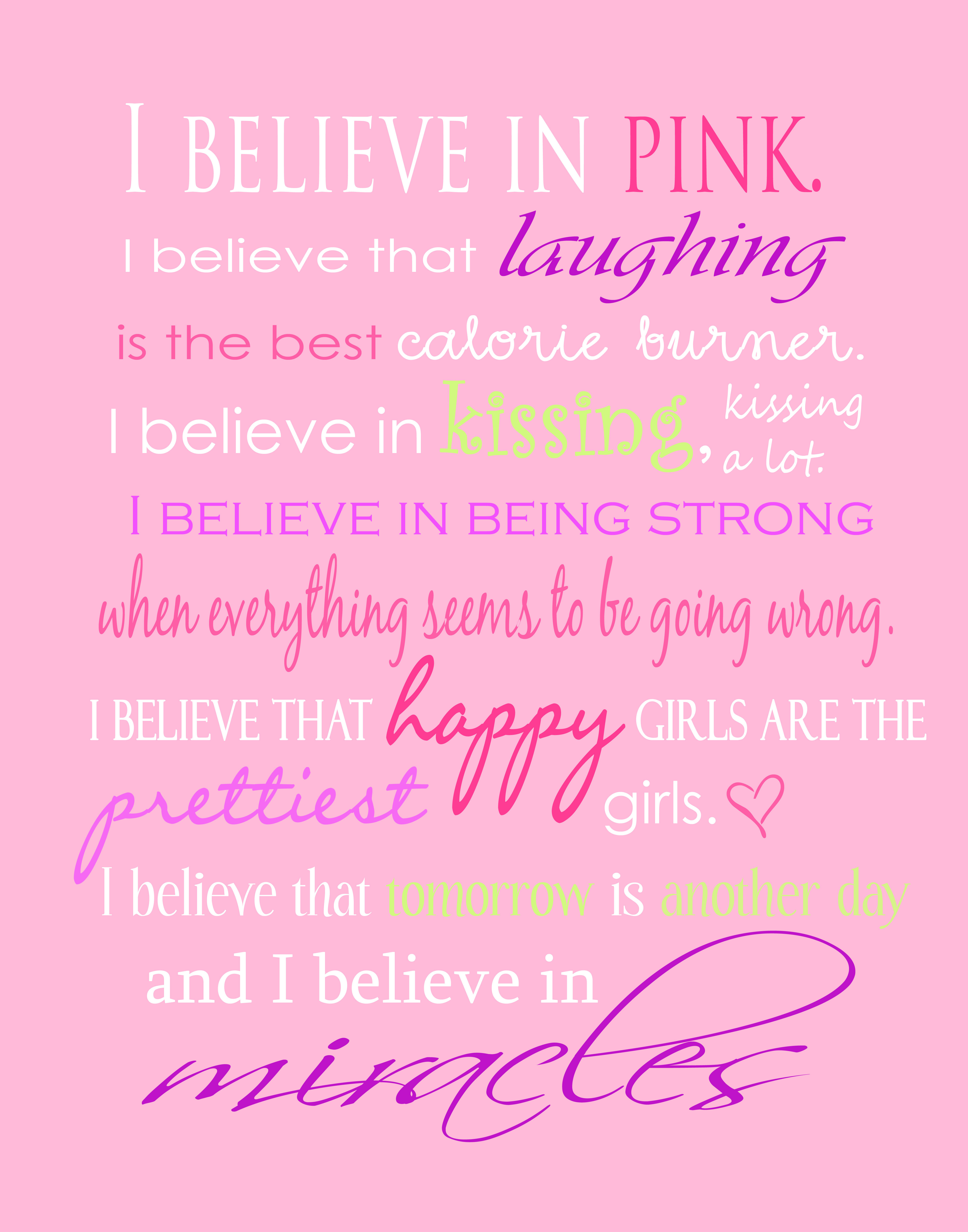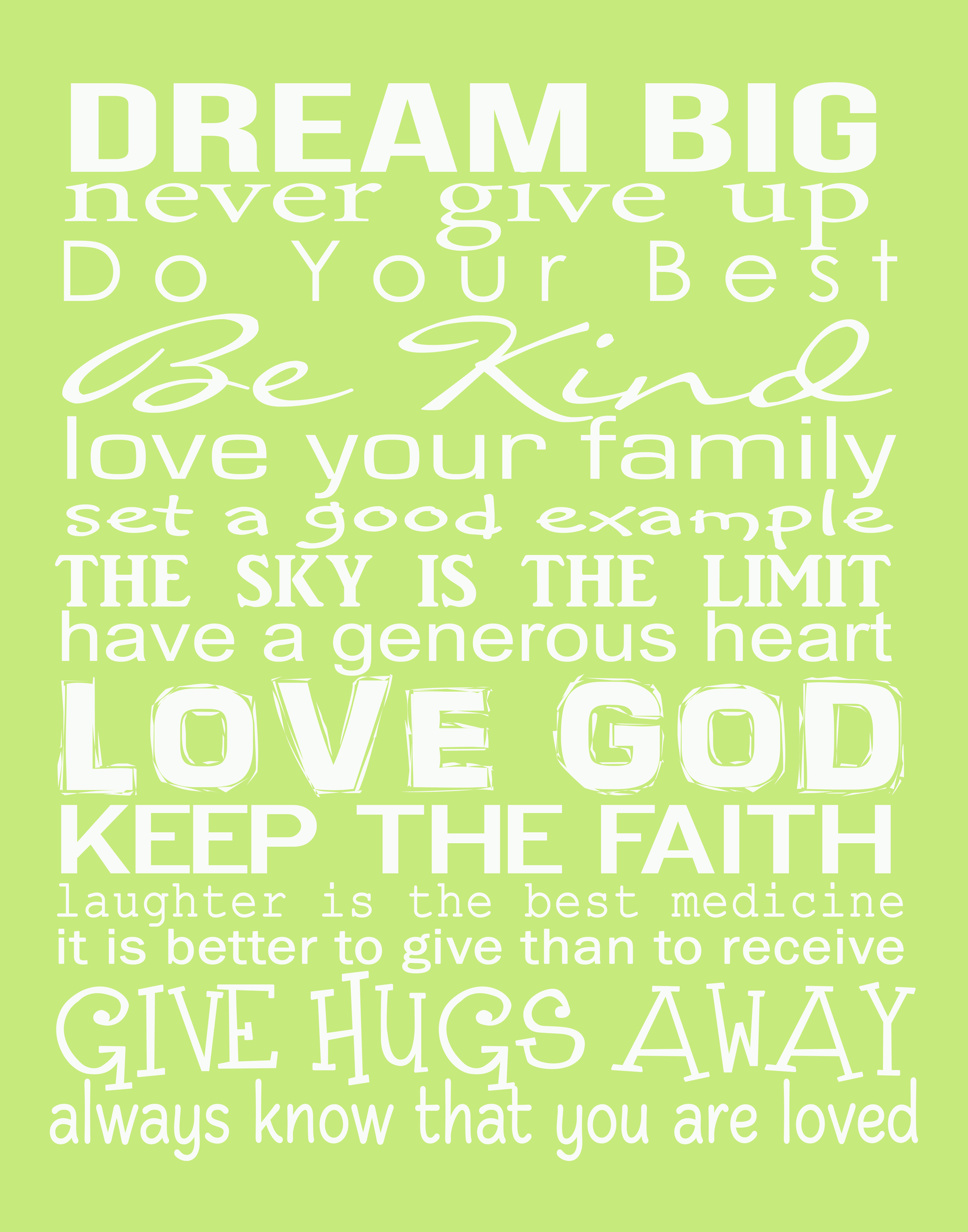 Here are the before shots of the glider chair and chest of drawers:
And after: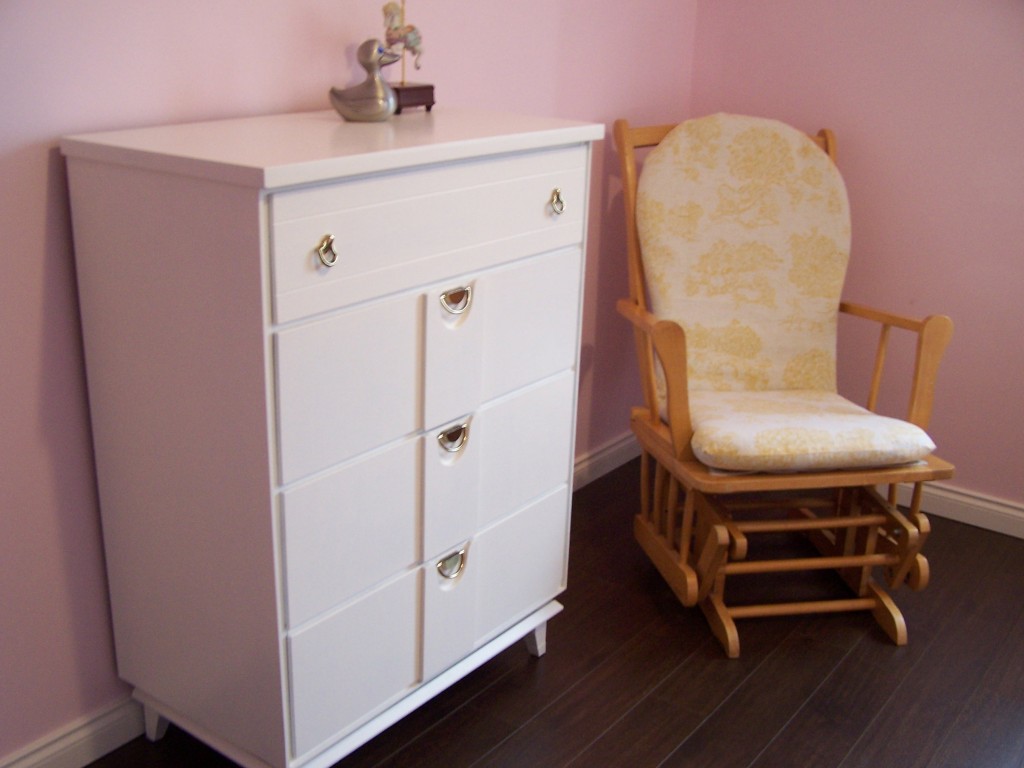 I will never fail to be amazed by what a coat of primer and paint can do…I still want to change the finish on the dresser handles to complete the update, but I'm so happy with the white look.  The little cupboard you can spot at the end of the bed in the first picture is the lower half of the bookcase I mentioned, which has served us well as a mini pantry in all our previous mini houses, but I'm so happy it has found a new home since that means I actually have real live cupboard space in my kitchen :)
Our kids have never played in their bedrooms, partly because they shared a room until recently and it didn't work with varied naptimes and bedtimes, and now they have no interest in playing in their rooms unless they have friends over.  While there are certainly times I'd love to send them to their separate rooms for some individual playtime and time for myself, I'm actually really happy that the bedrooms have remained a kind of oasis, one area of the house that is almost always clean, orderly, and restful.  I walk into the kids' rooms and literally feel like I can breathe a little deeper, and they seem to have the same reaction, both falling asleep within minutes of their heads hitting the pillow.
Now if I could only make my room as clean and peaceful, with a place for everything and everything in its place…good thing I love a project :)