You know the age old saying "Do as I say, not as I do?" Well, I'm quite afraid that this will be the theme of my parenting.
You see, I don't like veggies that are cooked. I don't like the chunkies in my soup. I know, mom, the tastes all blend and they don't even taste like veggies.
I just don't like em.
However, to my little one, I say, eat your veggies. They're good for you. I'm just saving them all for you. That's why I don't have any myself. Ahem.
With that said, I love eating healthy, so things need to get a little creative in my kitchen. This soup is definitely the answer, and for those of you who do love the chunky monkey veggies, you are more than welcome to skip the blending portion of the recipe.
For those, like me, who prefer pureed goodness, or who have picky eaters in their family, this recipe is perfect just as I have it!
This delicious recipe is adapted from a fellow Canadian, Dara at Cookin Canuck. She has all sorts of delcious meal ideas on her site, and this is one is a prime example!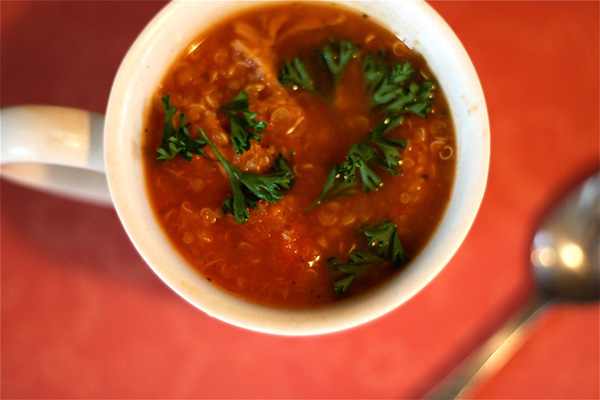 Hearty Chicken Stew with Butternut Squash & Quinoa
Delicious and healthy stew for those cozy at-home nights.
Ingredients
1 butternut squash, roasted and cut into cubes
3½ cups chicken broth
2 cups chopped cooked chicken
1 tbsp olive oil
1 medium yellow onion, finely chopped
½ tsp kosher salt
4 cloves garlic, minced
1½ tsp dried oregano
2 cups tomato sauce
⅔ cup uncooked quinoa
Freshly ground black pepper, to taste
¼ cup minced fresh flat-leaf parsley
Instructions
Cut butternut squash in half, cover with foil, and roast in oven for 40-45 minutes at 400F. (This can be done a day or two in advance, or in the morning to speed up prep! You can throw your chicken in at the same time for the cooked chicken you will need, just check the chicken at about the 30 minute mark as it may cook more quickly.) When squash is fork tender, remove from oven, scoop out seeds and discard them. Scoop flesh out of peel and chop roughly.
In large saucepan or Dutch oven, heat oil on med-high heat. Add onion and cook, stirring occasionally, until the onion is starting to brown, 8-10 minutes.
Meanwhile, in another saucepan set over medium-high heat, bring the chicken broth to a simmer.
Add minced garlic and oregano to the onion and cook, stirring, for 1 additional minute.
Add tomato sauce, and chopped roasted butternut squash. Stir to combine.
Add the hot chicken broth, and remove from heat, temporarily.
With immersion blender, or regular blender, puree mixture until smooth.
Return to stove, and bring to a simmer. Add quinoa, cover, and cook until the quinoa turns translucent, about 15 minutes.
Add cooked chicken and simmer, uncovered, to heat through (about 5 minutes).
Stir in parsley. Add salt and pepper to taste.
Serve and enjoy!