I've been holding out  on you. And, I'm sorry.
I have been meaning to post these deliciously amazing squares for ages, but the world has seemed to be against me.
Well, that, and my love for them.
You see, it seems they never seemed to stick around long enough for me to be able to photograph them for you.
SO super delicious, SO lemony fresh, with raspberry zing. It's true, it took three times before they made it in front of my camera. Which, I would say, is a great review in and of itself. Oh, and did I mention they are the quickest and easiest?
So, with that all being said, make these today!
This recipe comes from one of our favourite blogs, Two Peas and Their Pod. If you haven't  before, you should check them out!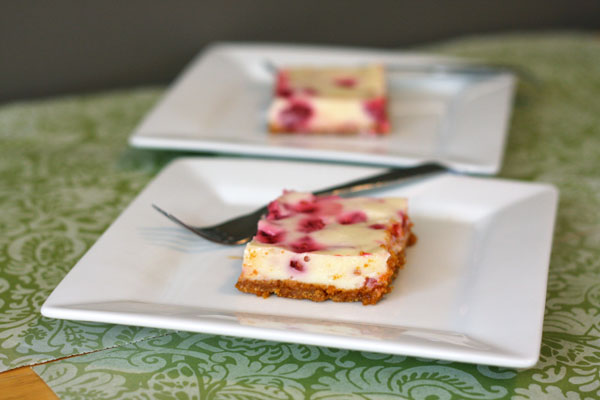 Delicious and refreshing lemon raspberry bars
Recipe type:
Dessert, Snack
Ingredients
FOR THE CRUST:
1-½ cup Graham Cracker Crumbs
6 Tablespoons Butter or Margarine, Melted
¼ cups Sugar
1 whole Lemon Zested
FOR THE FILLING:
2 whole Egg Yolks
1 can Sweetened Condensed Milk, (Fat Free if possible), 14 Oz.
½ cups Fresh Lemon Juice (I used lemon juice from a bottle which worked great too)
1 teaspoon Lemon Zest
1 cup fresh or frozen Raspberries
Instructions
Preheat the oven to 350F. Spray an 8x8 baking dish with cooking spray, or grease lightly. Set aside.
In a medium bowl, combine the graham cracker crumbs, melted butter, sugar, and lemon zest. Stir until graham cracker crumbs are moist. Press crumbs into the prepared pan, pressing the crust mixture one inch up the side of the pan. Bake for 10 minutes.
While cooking the crust, combine the egg yolks and condensed milk until well mixed. Stir in the lemon juice and lemon zest. Stir until mixture begins to slightly thicken. Gently fold in the raspberries. Fold carefully so you don't break the raspberries and make pink squares!
Pour the lemon raspberry filling evenly over the graham cracker crust. Bake for 15 minutes, or until just set.
Cool to room temperature, then chill for at least one hour before serving. Cut into bars and serve. Keep bars in the refrigerator for up to five days. (If they will last that long!!)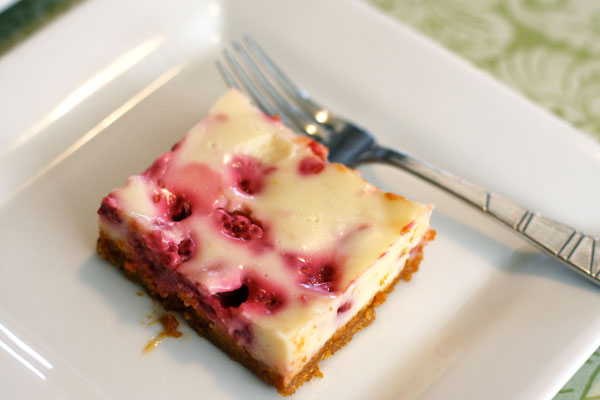 In case you're thinking this looks familiar, Anna has blogged about this before, making the same recipe in pie form.  However, the pictures were in serious need of improvement, and this recipe is so good we wanted to give it a second feature and remind you all how good it is just as you're starting to think about spring and summer baking :)