There's something in the air… I know you're feeling it… It's loooooove.
Mingled with the aroma of…. mmmmm….brownies!
Since today is your last day to get ready for Valentine's day, I am bringing you a delicious, easy way to impress your loved one. Originally named "Knock you Naked" Brownies, I thought I'd keep our version a little less scandalous ;). I can't take credit for this recipe, I found it on the queen of all blogs, and one of my faves, The Pioneer Woman, and you can see the step by step images as well right here. I just have the deeee-licious final product pictures. YUM.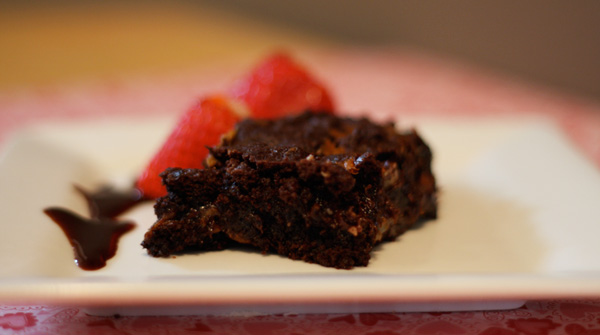 I don't know about you, but I happen have big plans for Valentine's day this year. It's true, I am a hopeless romantic, and I've invited a special visitor over to, well, heat things up. It's true, romance isn't dead in this relationship! Have you guessed who the secret guest will be?
That's right! The furnace man. (If I changed a recipe name to be less scandalous, were you really hoping for something else? :)) We are getting a new furnace on the day of love… what could be more romantic than that?
So whether you are sharing your day of love with a new love, an old love, or some friends, these brownies are the way to go. In fact, if you don't have love in your life, these may tide you over for some time – in fact, they may be better. You'll fall in love, they're dark and delicious, you'll want to show them off to your friends and family, but you won't want to share. Sounds like a match made in heaven!
Fair warning: you'll most likely want to eat these in copious amounts. With ice cream. Or whipped cream. And strawberries. Oh. Boy.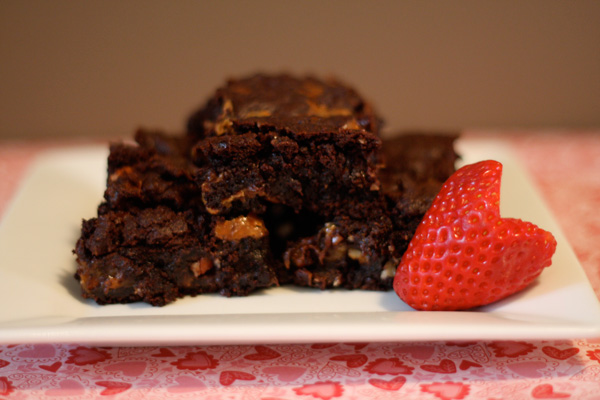 A Knot in your Knickers, Brownies
Delicious brownies to share with your loved one this Valentine's day!
Recipe type:
Snack, Dessert
Ingredients
1 box (18.5 Ounce) of cake mix (I used Devil's Food)
1 cup Finely Chopped Pecans (or walnuts)
⅓ cup Evaporated Milk
½ cup Evaporated Milk (additional)
½ cup Butter, Melted
60 whole Caramels, Unwrapped
⅓ cup Semi-Sweet Chocolate Chips
Instructions
Preheat oven to 350 degrees.
Mix cake mix, chopped nuts, ⅓ cup evaporated milk, and melted butter in large bowl.Stir together until totally combined. Mixture will be very thick.
Press half of your mixture into a well-greased 9 x 9 inch square baking pan. Bake for 8 to 10 minutes. Remove pan from oven and set aside.
In a double boiler (or a heatproof bowl set over a saucepan of boiling water) melt caramels with additional ½ cup evaporated milk. When melted and combined, pour over brownie base. Sprinkle chocolate chips as evenly as you can over the caramel.
Turn out remaining brownie dough on work surface. Use your hands to press it into a large square a little smaller than the pan. Use a spatula to remove it from the surface, then set it on top of the caramel and chocolate chips. (For this part, my half of the dough was not as stiff as it, perhaps, should have been, due to a warm kitchen. My one piece happened to be a few, and a little messier, but it cooked together pretty well, and was delicious nonetheless!
Bake for 20 to 25 minutes. Remove from oven and allow to cool to room temperature, before covering and refrigerating for several hours. When ready to serve, cut into squares and carefully remove from the pan. If desired, heat the brownies slightly, and serve with your favourite sides, or eat them on their own!