Could you tell from the name that I didn't know what to call these?
Just to clarify for those of you on a food budget, don't go running for cover, these sandwiches will most definitely not break your bank, and there really is a method to my madness in naming.
Let me explain.
The original recipe that I used for this recipe was actually for a Shrimp Po'Boy. They were beyond delicious (and I recommend trying them with shrimp, for anyone who is so inclined), but, like most dinners, I made it in the evening, hence, no light, hence, no picture (I do have electricity, don't worry, but anyone who's ever tried to take a picture of food in low light knows that it makes a McDonalds burger look appetizing).
But I  digress. For a delicious Shrimp Po'Boy sandwich, and beautiful picture of it, you can find it here.
However. This sandwich is no longer considered a po'boy, since a true po'boy is made with a baguette, and, since gluten free doesn't come in a baguette form in my neighbourhood, the dish became a sandwich, and, in need of a new name. Plus, I thought, anything that's good spice-wise with shrimp is most likely, probably, almost certainly delicious with chicken. So why not try it? So I did. And so here is the result, a delicious (gluten free) Chicken Rich Girl Sammie.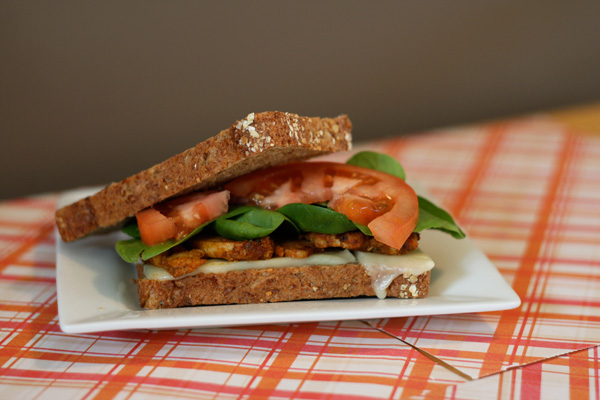 For those of you who have never tried these spices together, you must. For those of you who have only ever seasoned shrimp with garlic salt and butter (yes, that's me too), try this recipe with shrimp. Healthy. Delicious. Ah-mazing.
Enjoy! :) Adapted from Bon Appetit's Shrimp Po'Boy recipe.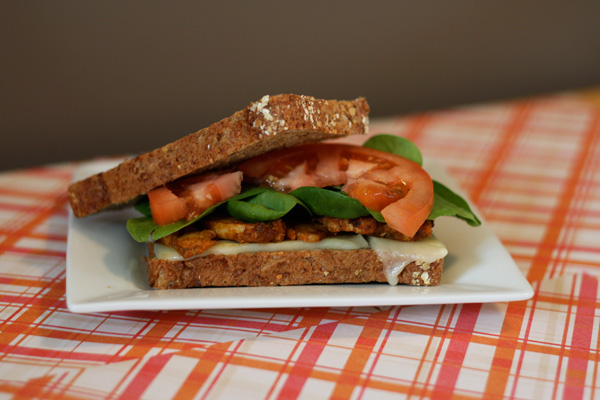 Chicken Rich Girl Sammies
Delicious Chicken Sandwiches which can easily be made gluten free!
Recipe type:
Lunch, Dinner, Entree
Ingredients
2 chicken breasts
2½ teaspoons salt
1-4-1/2 teaspoon cayenne pepper, depending on your tastes
1 teaspoon garlic powder
1 teaspoon paprika
1 teaspoon chili powder
½ teaspoon dried oregano
½ teaspoon dried thyme
½ teaspoon freshly ground black pepper
Extra Virgin olive oil for frying
2 chicken breasts (or ¾ pounds medium shrimp (about 18), peeled, deveined)
4 pieces of bread of your choice, or 2 8"-long French rolls, split horizontally
Mayonnaise, or Vegannaise (I highly recommend veganaise - as yucky as it sounds, it is absolutely delicious, and much better than regular mayonnaise!
Mozzarella or Monterey Jack Cheese, 8 slices
Shredded iceberg lettuce or spinach
Sliced tomatoes,
If you like: dill pickles, hot pepper sauce ( I left these out, but I'm sure they'd make great additions!
Instructions
Mix all your spices together.
Cut up your chicken breasts and toss with the spices to coat.
Add oil to hot frying pan, and cook coated chicken until done (5-8 minutes).
While chicken is cooking, toast your bread, and top with mayonnaise, cheese and tomato. If you like, at this point put these under your oven's broiler for a minute, for extra melty cheese and extra crispy bread.
Pull out of the oven and top with cooked chicken, lettuce, and tomato.
Enjoy your delicious sandwich!