There is no comfort food that gets me quite like macaroni and cheese.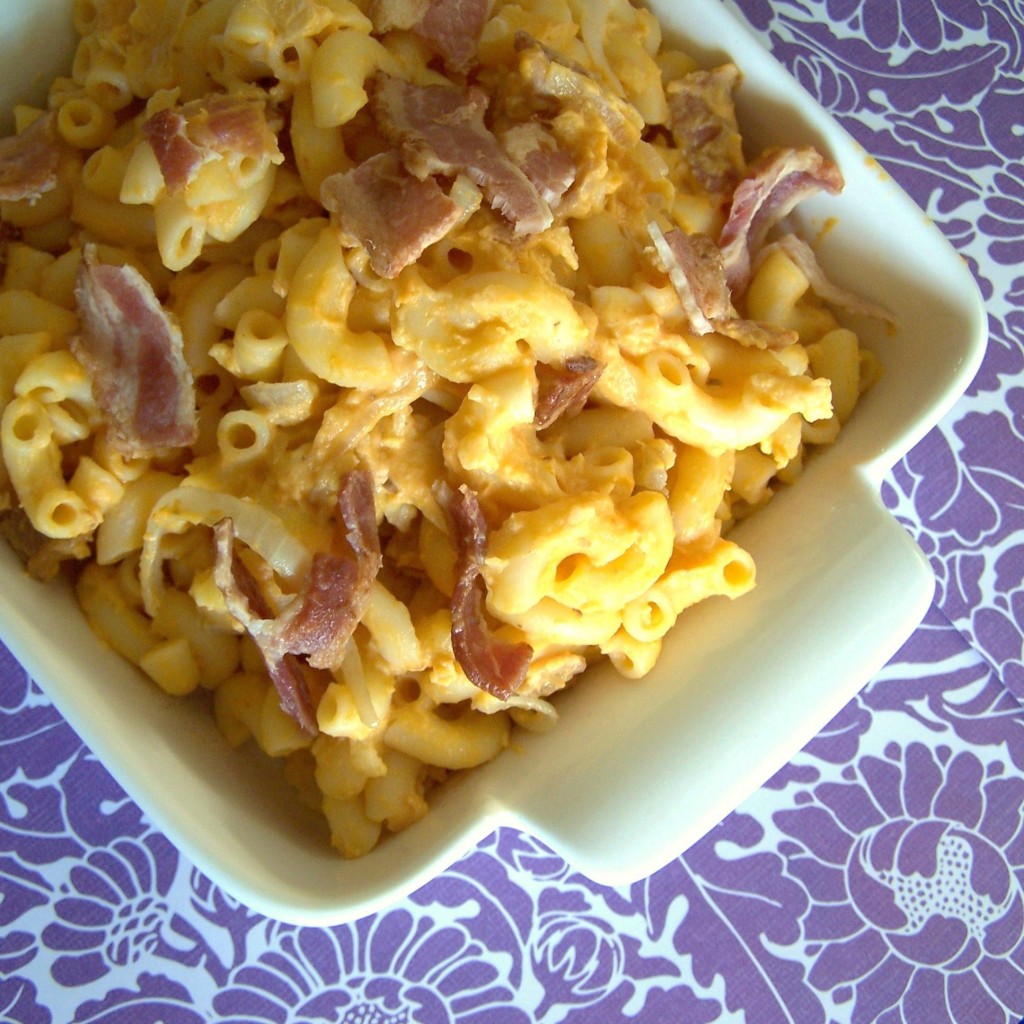 Do you think you can guess why? Let's try a little multiple choice.
A) I love pasta.
B) I love cheese.
C) All of the above.
You guessed it, the answer is a resounding C!
This mac 'n' cheese is great for momentarily fooling the family, since it has the same crazy orange colour as the boxed stuff.  However, in this case the colour is coming from nutritious pureed butternut squash.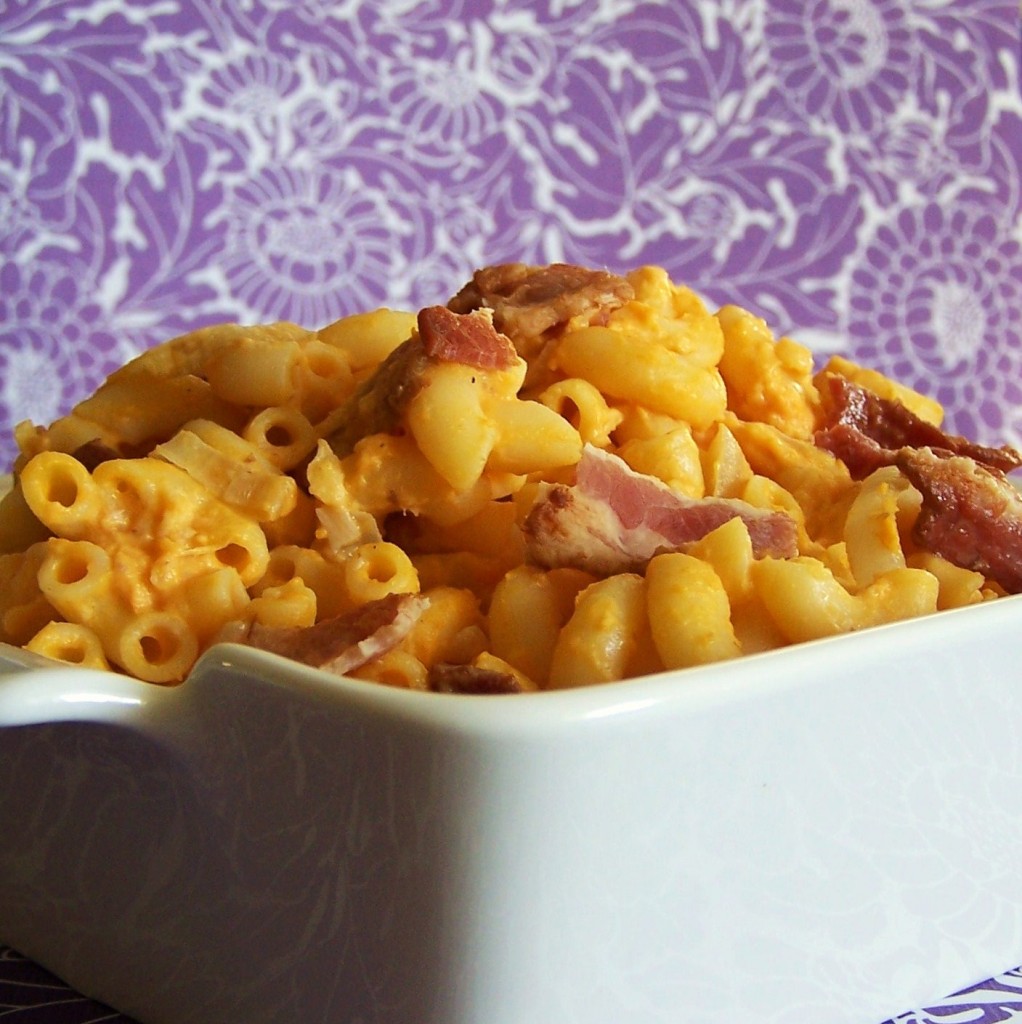 The deception won't last long, though, as this really doesn't taste at all like the salty delicious horror of chemicals.  The butternut squash puree is very sweet, and is cut perfectly by the salty bacon and Parmesan cheese, not to mention the chicken stock and cream sauce.  I love butternut squash, and am so happy to have another way to use it aside from my usual soup!  This dish is definitely a mix of sweet and savoury, and a nice addition to the fall/winter menu.
Despite it's cheesy, rich appearance, it's actually surprisingly light, with chicken stock replacing some of the heavy cream, and all that butternut squash puree in place of more and more cheese.  Due to it's lightness, it can dry out when reheated, so if you're freezing this for future reheating I would recommend adding another tablespoon or so of butter and an additional splash of cream and/or chicken stock. Enjoy!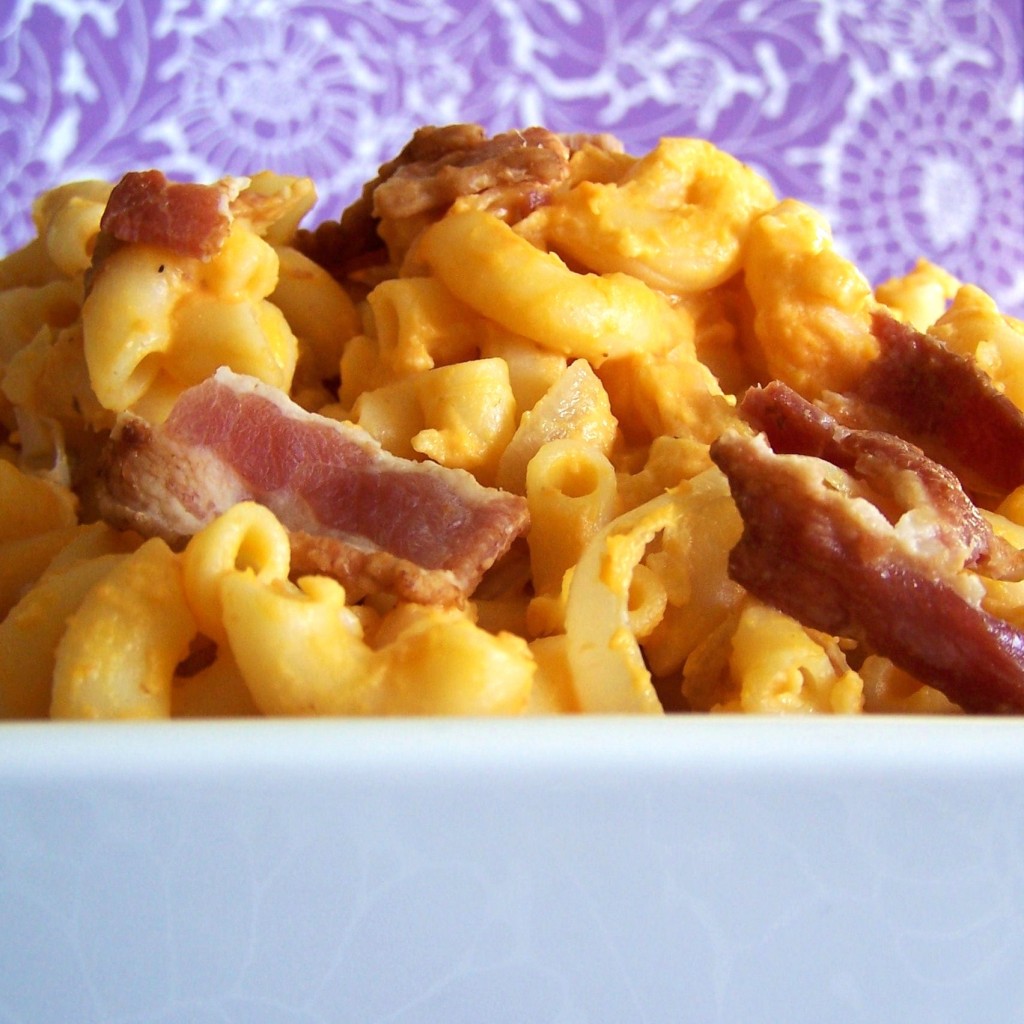 Bacon & Butternut Squash Mac 'n' Cheese
A healthy twist on mac 'n' cheese that still definitely qualifies as comfort food.
Recipe type:
Entree; Dinner
Ingredients
8-10 slices bacon, roughly chopped
2½ cups dry elbow macaroni
2 Tbsp butter
2 oz cream cheese
1 cup butternut squash puree (canned, or see below for instructions for homemade)
⅔ cup evaporated milk or heavy cream
¼ cup chicken broth
1 tsp salt
¾ cup shredded cheddar cheese
¼ cup grated Parmesan cheese
4 green onions, chopped (optional)
Instructions
Cook bacon in frying pan until quite crisp. Set bacon aside and drain fat.
In same pan, melt butter and cream cheese, then stir in butternut squash puree, evaporated milk, chicken broth, and salt.
Meanwhile, cook pasta according to package directions.
When pasta is cooked, toss with sauce, cheeses, green onion, and reserved bacon. Stir until cheese is melted.
Serve with fresh ground pepper and additional cheese, if desired.
Notes
To make your own butternut squash puree, simply cut the top off a butternut squash, slice it lengthwise (I enlist my hubby for this task), drizzle with about a tsp of olive oil, sprinkle with salt and pepper, and roast on a large baking sheet, cut side down, for 45-50 minutes at 400 degrees, until fork tender. Let cool enough to handle, then scoop out seeds and discard. Scoop out remaining squash and discard skins. Puree squash in blender or food processor until very smooth, baby food consistency. Any extra squash puree can be refrigerated for up to a week or frozen for longer storage.
This recipe was inspired by and liberally adapted from the fabulous Lindsay, who constantly inspires me with her recipes, photography, and relaxed, friendly writing style – if you're only going to read two blogs (this one being one, of course :)) I recommend reading hers.  You'll notice her original version has a lot more "stuff" in it, and I made it that way and we enjoyed it, but I changed it the second time to suit our tastes, and the kids' tastes. Try it both ways and let me know your thoughts!