Alright ladies, lock your cupboards before you read this recipe.
I have to admit that I love cookie dough. It's just one of those things. I would probably eat cookie dough rather than have an actual cookie. The only thing that puts me off just a touch is the raw egg factor.
Wait a minute. What's that you say? A recipe for cookie dough truffles with no raw eggs?
Look. Out.
These little delicious truffles are something I will risk a cranky baby for, and that is truly saying something. As you may not know, my beautiful baby girl is a very picky eater, and has a very delicate stomach to anything that I eat. Especially to chocolate. Sound like a cosmic joke? I thought so as well, but have surprisingly have been able to give up my one love for another.
Until these came along.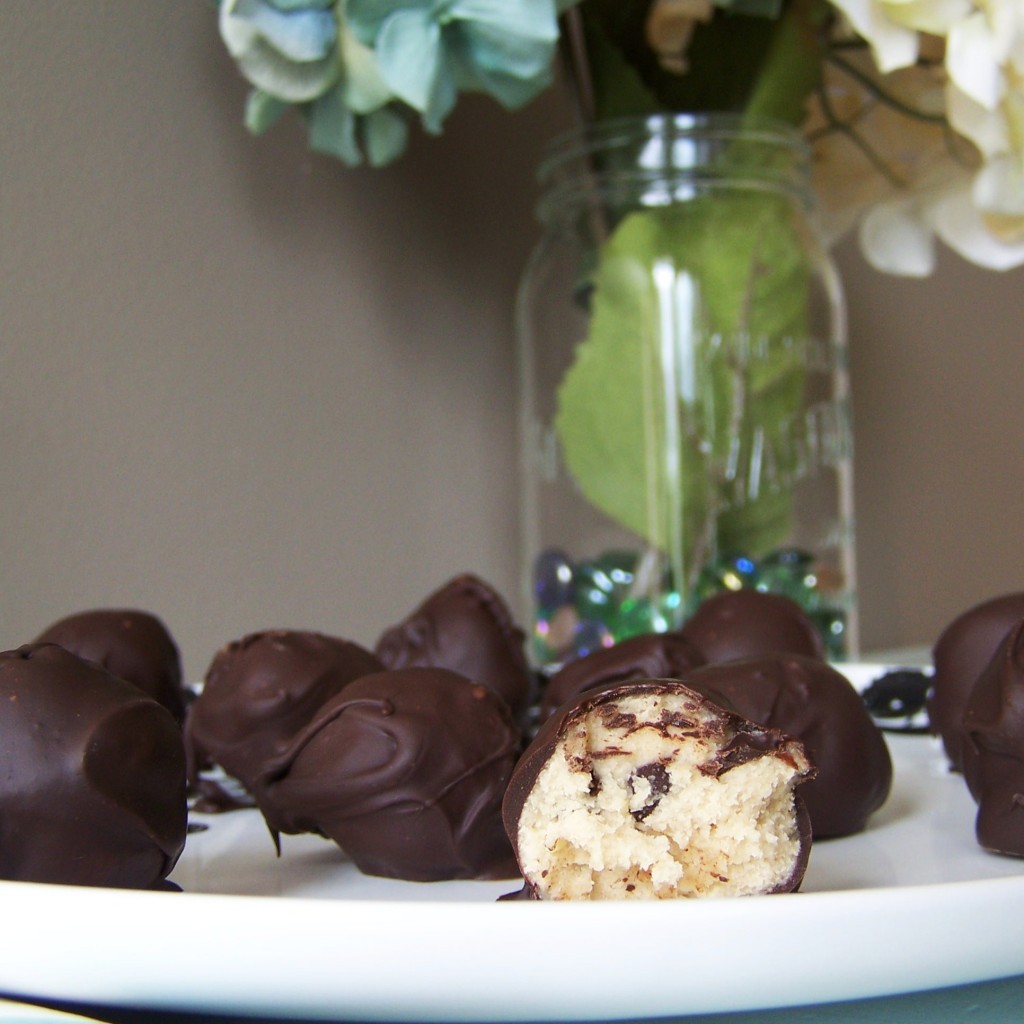 I promise I did very well, and behaved myself, and B ate almost all of them on his own (as a true testament to their deliciousness since he did not, as he usually does, forget about them as soon as they were off the counter and into the fridge, but kept going back for more).
Unfortunately, while he was at school one day, my willpower was weaker than normal. And, let's just say, there were a few leftover truffles in the fridge.
Aaand he came back after a long day, and, well, the truffles were no more. The conversation went something like this:
B: Are there any more of those truffles left?
c: No, they're all gone.
B: You aren't supposed to eat those!
c: I only ate one, right after I fed little b.
B: There was more than one left…
c: Yes. Well, I ate one after each time I fed her. Did I forget to mention that?
B: sigh.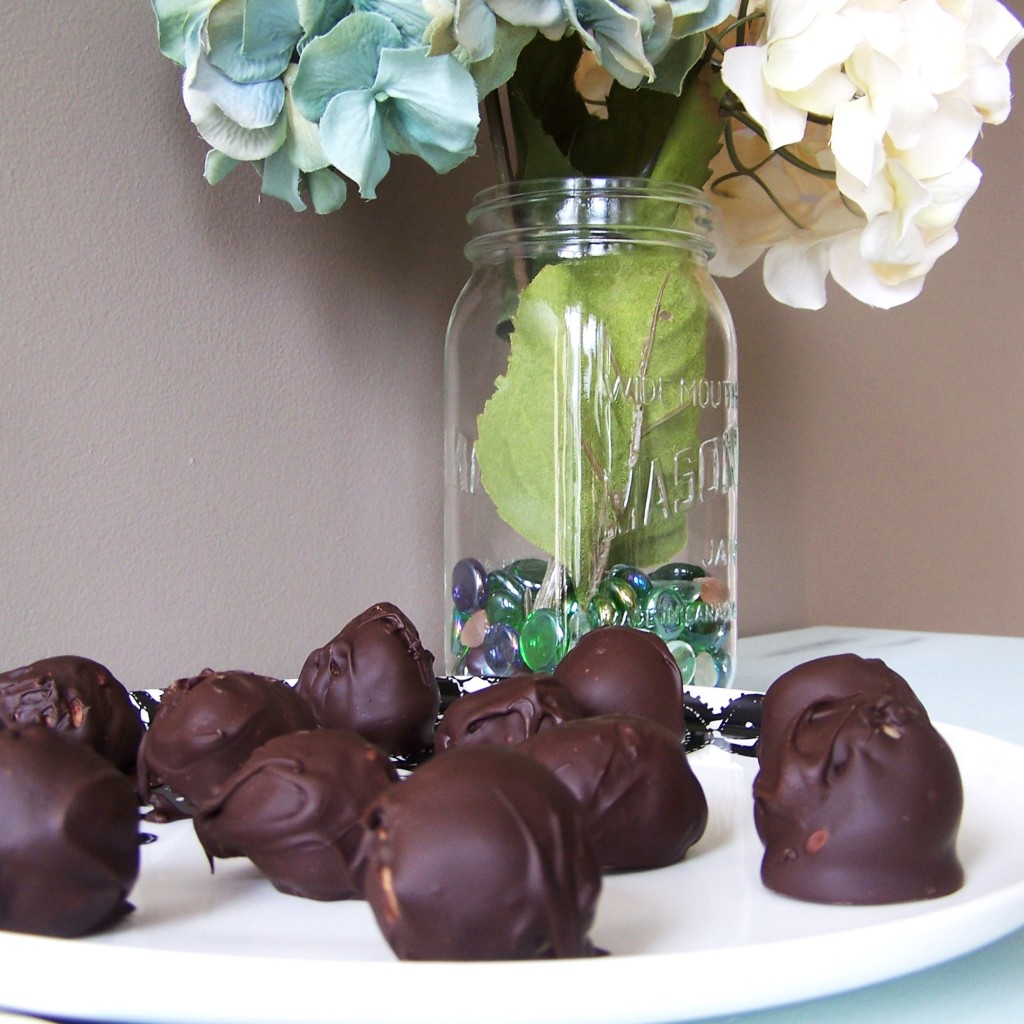 Evil, delicious truffles. Try them. Trust me.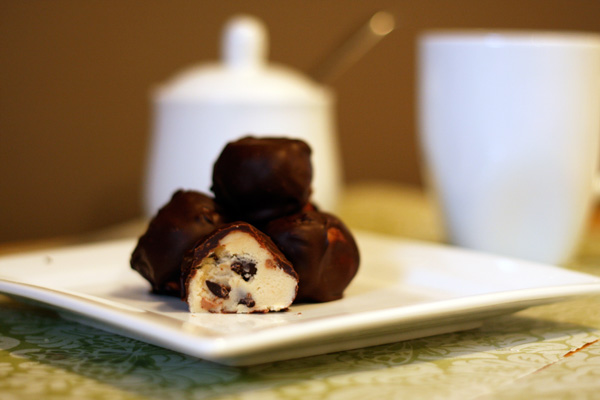 Recipe barely adapted from the fabulous Erin @ Dinners, Dishes, and Desserts, where you can find all kinds of tempting treats!

Cookie Dough Truffles
Ingredients
½ cups butter
¾ cups brown sugar
1 teaspoon vanilla
2 cups flour
1 tsp salt
1 can (14 oz) sweetened condensed milk
1 cup chocolate chips
1 pound semi-sweet chocolate, for melting
Instructions
In an electric mixer, beat together butter and sugar. Add vanilla. With mixer on low, slowly add in the flour and salt, until completely incorporated. It will be very dry but that is okay. Beat in milk until well combined. Stir in chocolate chips.
Cover and refrigerate for about 1 hour. The dough should be very firm.
Using a small cookie scoop, scoop out dough and roll in hands to form balls. Place on a lined baking tray. Refrigerate again for at least 30 minutes, or until you are ready to dip.
Melt chocolate in the microwave or using a double boiler. Dip dough into melted chocolate. Place on the lined baking tray. If desired, decorate with sprinkles, colored sugars, chocolate chips, etc. Allow the chocolate to fully harden.
Store in an airtight container in the fridge, or freeze for longer storage. When you want them, thaw them in the fridge for a few hours or overnight.
Makes approximately 36 truffles, depending on size.
Notes
These are also great with a Tablespoon of peanut butter mixed in! Recipe barely adapted from Dinners, Dishes, and Desserts.