What was your new years resolution?  To eat healthier?
Well, you know it's Saturday, so of course it's time to share a sinfully sweet recipe with you! If you've made a resolution to avoid delicious sweets this year (or at least until February), you had better stop reading immediately. If you keep reading, please don't report me to your personal trainer. Pretty please?
For real, you will most likely have all the ingredients that you need to make this most delicious snack, and it is ADDICTIVE. I need someone to lock my refrigerator right now and throw away the key. I can hear it calling me. It's true. This bark has bite. Ahh evil bark, I am coming for you.
This bark is so delicious, and easy to  make, and I have a love-hate relationship with finding the recipe. It's like that bad boy that your parents were afraid you would fall for in high school. Then again, I married mine, and turns out he is just as irresistible and sweet as this bark.
Oh gag, right? :) It was his birthday this week, so I needed to send him some extra love.
Anyways, to help with the corniness, here is some oh-so-delicious chocolate, and pretzels, and caramel. Mmmmmmm. Crunch it in big pieces, small pieces, whatever you like, but crunch it, and love it.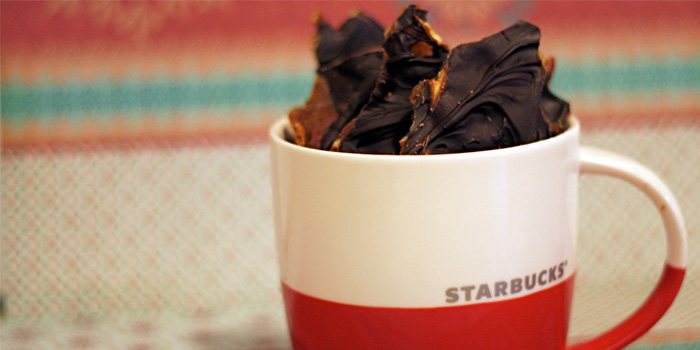 Salted Chocolate Caramel Pretzel Bark
(recipe from www.legumeloyalist.com)
makes 1 sheet of bark
Ingredients:
1 cup (2 sticks) of unsalted butter
1 cup light brown sugar
bag of mini pretzels
12-oz bag of semi-sweet chocolate chips
sea salt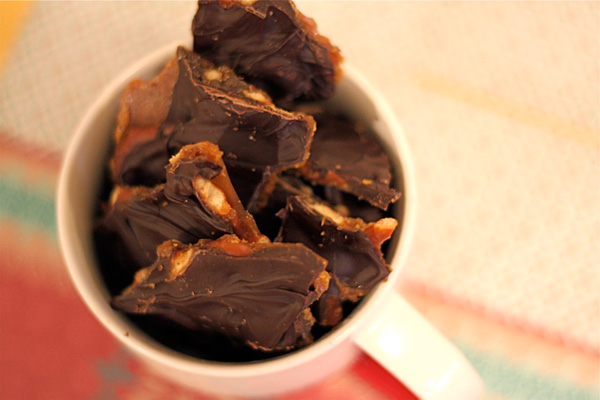 Directions
1. Wrap a baking sheet with tin foil. (Anything else, like parchment paper, sticks and is supremely difficult to separate from the caramel, so be sure you don't substitute!) Preheat the oven to 400 degrees.
2. Melt the butter in a saucepan over medium heat. As it melts, cover the baking sheet in an even layer of mini pretzels. (You may not need the entire bag.)
3. Once the butter is melted, add the sugar and stir to incorporate. Allow the sugar and butter to softly simmer and bubble, but don't let it boil, so adjust the heat accordingly. Stir occasionally. The browning process should take about three minutes from when it starts to bubble.
4. Once the sugar and butter have caramelized, pour the mixture evenly over the pretzels on the baking sheet. Strafing it back and forth down the length of the sheet works well. The caramel hardens pretty quickly so it's important to pour it as evenly as possible from the start. If you end up with any clumps, just use a spatula to spread the caramel as best you can. But clumps are not the end of the world! Bake the pretzel-caramel mixture in the oven for 5-7 minutes.
5. In the meantime, melt your chocolate chips in the microwave, checking and stirring regularly to prevent scorching.
6. Pour the chocolate over the pretzel-caramel mixture evenly, again being careful to strafe chocolate back and forth down the length of the sheet.
7. Spread any remaining thick spots of chocolate with a spatula. Sprinkle sea salt evenly over the bark. Place it in the fridge to cool and harden for about an hour.
Once it's done, the tin foil should pull off easily and you can break the sheet into smaller, bark-like pieces, and enjoy!