Rumor has it Chelsea has been promising more healthy meals on the blog…but until we have evidence to back that up, carry on coming over for a sweet fix! :)
I do actually have several dinner recipes I can't wait to share with you, and am so happy to be back on meal planning track after a good 6 month break, but we can't start off the New Year without Saturday Sweets!  Also, my dinner pictures are super craptastic due to darkness outside and sunshine ceiling flourescent lighting inside. Maybe I will actually have to learn something about artificial light sources…or just wait for summer when I can cook like a crazy person while the days are long, and store posts for the long, dark winter months.
Which is more likely? I'm gonna go with wait for summer…sorry. I'm like a squirrel. Or another creature that works hard in the summer and hibernates in the winter.  Maybe that's why I've always preferred winter.  Ah, laziness. Your siren call tempts me every gray, cold day…
But here is a treat totally worth getting out of bed for: Almond Joys.
I saw these on Tasty Kitchen and immediately knew I had to try them – I love that site for recipe inspiration, and you can find us over there too – you should join, and, if you want to be friends, we're friendly. :)
Apparently the original Almond Joy is a chocolate bar, and a delicious one at that.  I can't say I've ever had one, or even seen one.  Granted, I don't eat many chocolate bars, but still, I feel like I live under some sort of rock, since I have been seeing Almond Joy-inspired treats all over the place, from biscotti to muffins to blondies to the recipe I am about to pimp enthusiastically. I might have to try one, but I'm already guessing mine are better. Kinda like the movie vs. book comparison, that's how I feel about store-bought vs. homemade. Has anyone ever seen a movie they liked better than the book it was based on?
Anyway, THESE THINGS ARE TASTY.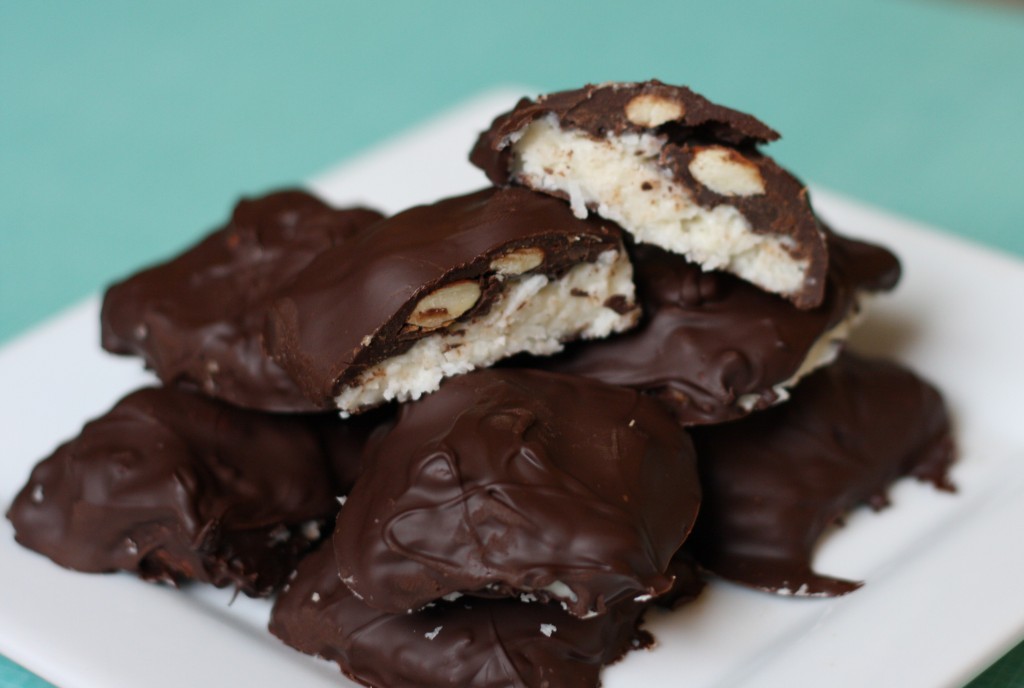 I don't know what to call them, since they aren't a cookie, but are too small to be a bar, and too flat(ish) to be a square…wait, sqaures can be flat. Ok, they are squares. Glad we got that sorted out.
THESE SQUARES ARE TASTY.
They are also coconutty, almondy, chocolatey, chewy, crunchy, chocolately, and no-bake. They are a win (win, win, win, win, win, win. Yes?)
If you have a coconut lover in your family (I have a couple), these are a sure hit. Surprisingly, they are also a hit for non-coconut lovers, like Chelsea, thanks to the almond and chocolate, and they are gluten-free! So many more wins!
They only non-win is that they take a couple steps, but they are fun steps, I promise, and very quick and easy steps.  Bascially, you make your base and let it set in the fridge. Then you melt a little chocolate so you can stick your almonds to your squares like so: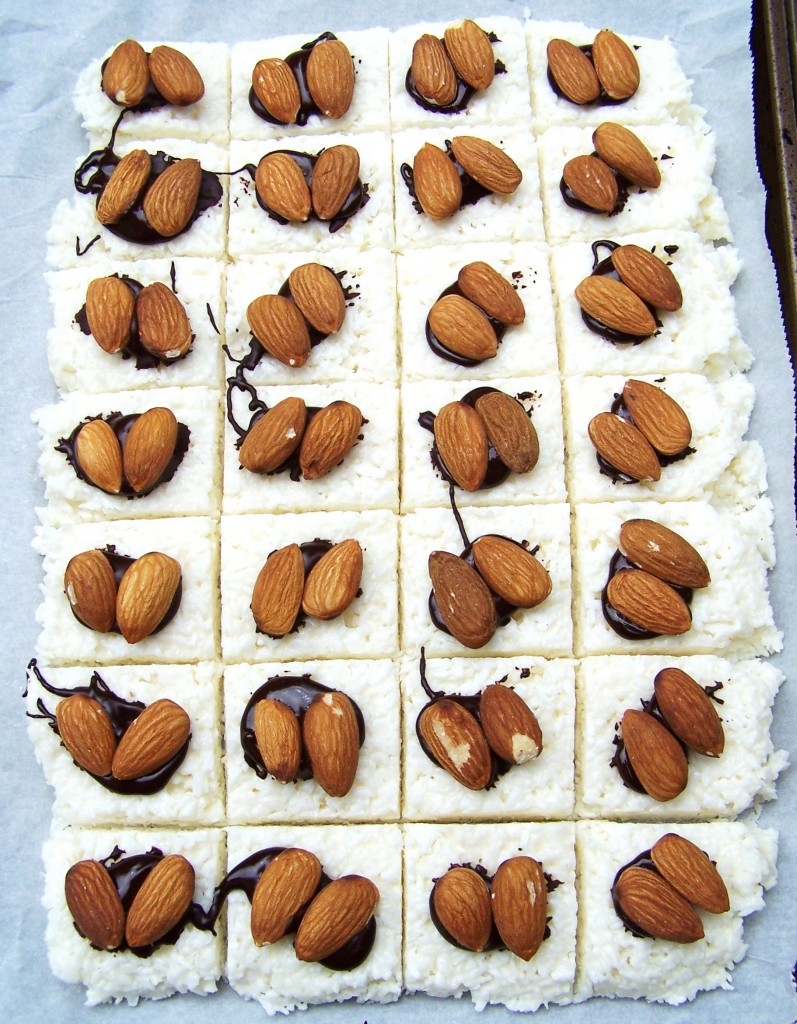 And then comes the messy fun of dipping them in more chocolate.  To make a true Almond Joy-esque treat, you have to dunk the whole thing, balanced on a fork or something equally precarious, but I preferred the way I did it the second time around, which was to pick up a square with tongs and dunk it upside down into the chocolate.  This got a solid coat on the top and sides, but a minimal amount on the bottom, making them a little less messy to eat and just a bit less sweet. Try some both ways and let me know what you prefer! Either way, bring your strong teeth for chomping into those almonds (I like to warn people they're there so they can prepare with the proper jaw pressure before biting) and enjoy!  These really do taste like a delicious chocolate bar, and the steps make it look hard but really, these are super easy.

A mini homemade version of the popular chocolate bar.
Recipe type:
Squares; Dessert
Ingredients
½ cup sweetened condensed milk
½ tsp EACH almond and vanilla extract (or choose one, but both is best!)
1½ cups icing sugar
1 (200 g) package unsweetened coconut (approx. 1⅔ cups)
2 cups semisweet chocolate chips, divided
50 whole almonds
Instructions
Line 9x9" or 8x11" baking dish with parchment paper, extending paper over ends to use as handles. Set aside.
Combine sweetened condensed milk and extracts in large bowl. Add the icing sugar ½ a cup at a time, stirring to fully incorporate. Add coconut and stir until well combined. Press mixture into prepared pan and chill in the refrigerator for 30 minutes.
After chilling, transfer the mixture (with the parchment paper underneath) to a cutting board and cut the mixture into 1x2" bars.
Melt ¼ cup of the chocolate chips in the microwave, and top each bar with a small dab of chocolate, then place 2 almonds on each dab.
Place bars (with parchment paper still underneath) onto a baking sheet and transfer to the freezer for 30 minutes. This keeps them from getting too messy during the dipping process!
When the bars are chilled, melt the remaining chocolate chips and dip each bar into melted chocolate, coating as completely as possible. (I used tongs to dunk each bar upside down, meaning most of mine didn't have much chocolate on the bottom...no biggie.)
Return dipped bars to parchment paper of wax paper-lined baking sheet and chill in the fridge until firm.
Store in the fridge in an airtight container.
Notes
Transfer remaining sweetened condensed milk out of metal container and store in a sealed container in the fridge for up to 2 weeks. Leftovers can be used in our Chocolate Toffee Bars (a half batch in a 9x9" or 8x11" dish) or in the filling for Chocolate Chip Cookie Dough Cupcakes.
Alternatively, double the Almond Joy recipe and make it in a 15x10" jelly roll pan - you'll get 35-40 squares that way, requiring double of everything except the almonds...you'll need about 80 almonds.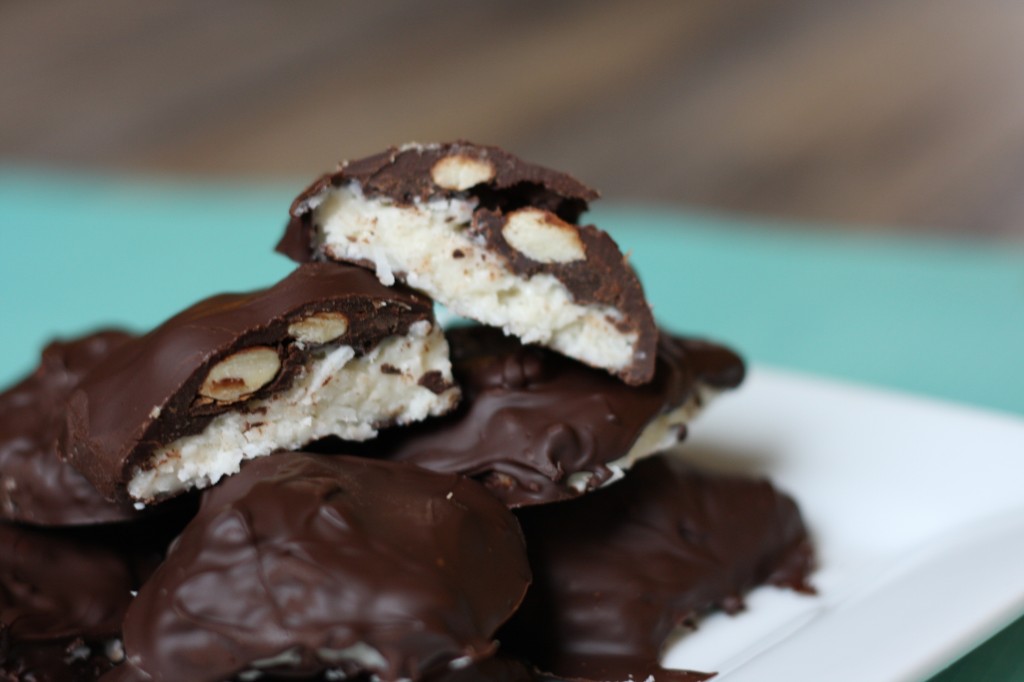 Recipe barely adapted from Greens 'n' Chocolate via Tasty Kitchen.