I was so excited to participate in the First (Annual?) Great Food Blogger Cookie Swap this year!  This online event took off with amazing speed, and resulted in more than 22,000 delicious being shipped all over the world! Pretty amazing, right??
Of course, after signing up I immediately went into planning mode as to what to make.  Obviously, it had to be something delicious, and the requirements stated that it had to be a recipe not previously posted on my blog, and it had to travel well and still taste fresh 2-3 days later due to shipping time. With the help of my mom, I decided on these Empire Cookies!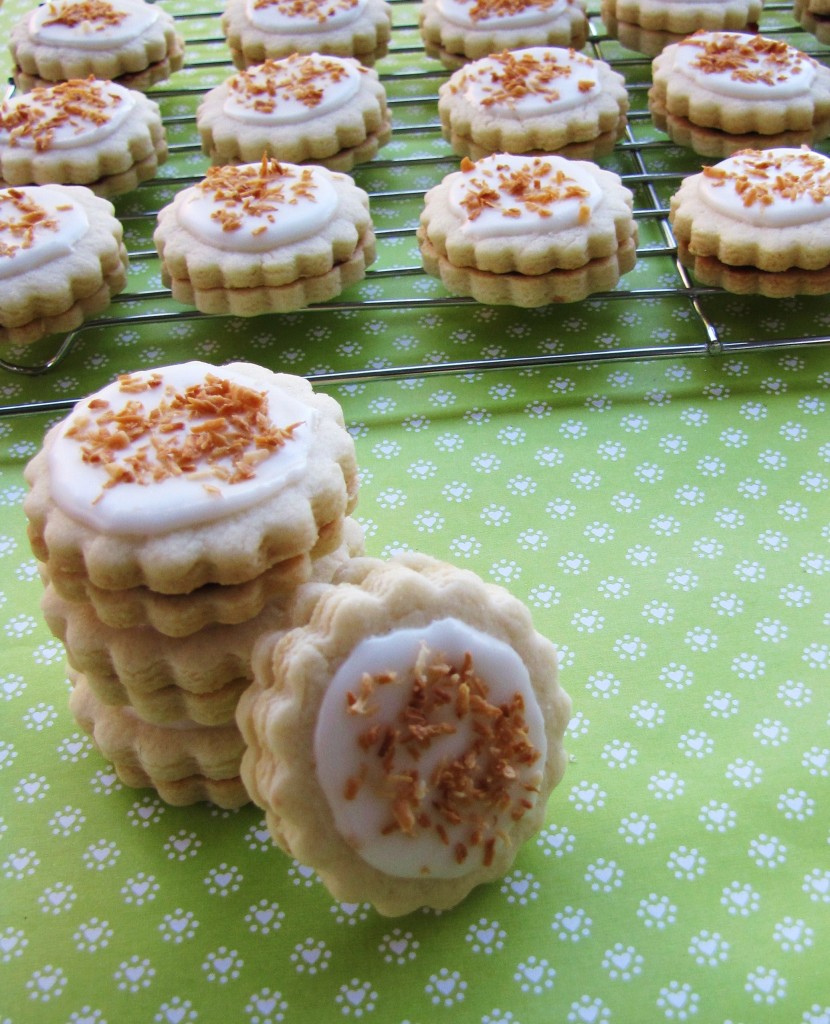 Empire Cookies were kind of a funny choice for me for a couple of reasons.  I cannot over-express my love for cookies, but I'm all about drop cookies – quick, easy, and addictive.  These cookies require rolling of dough, which is definitely not my forte. I also don't like jam, and these cute little numbers sandwich a layer of jam.
So what was I thinking? Why would I make a cookie like this to send around the country?? Well, it turns out they are rather delicious, and jam is not so bad when it's spread thinly between two delicious cookies.  And really, two cookies in one? You all know I'm gonna be down for that.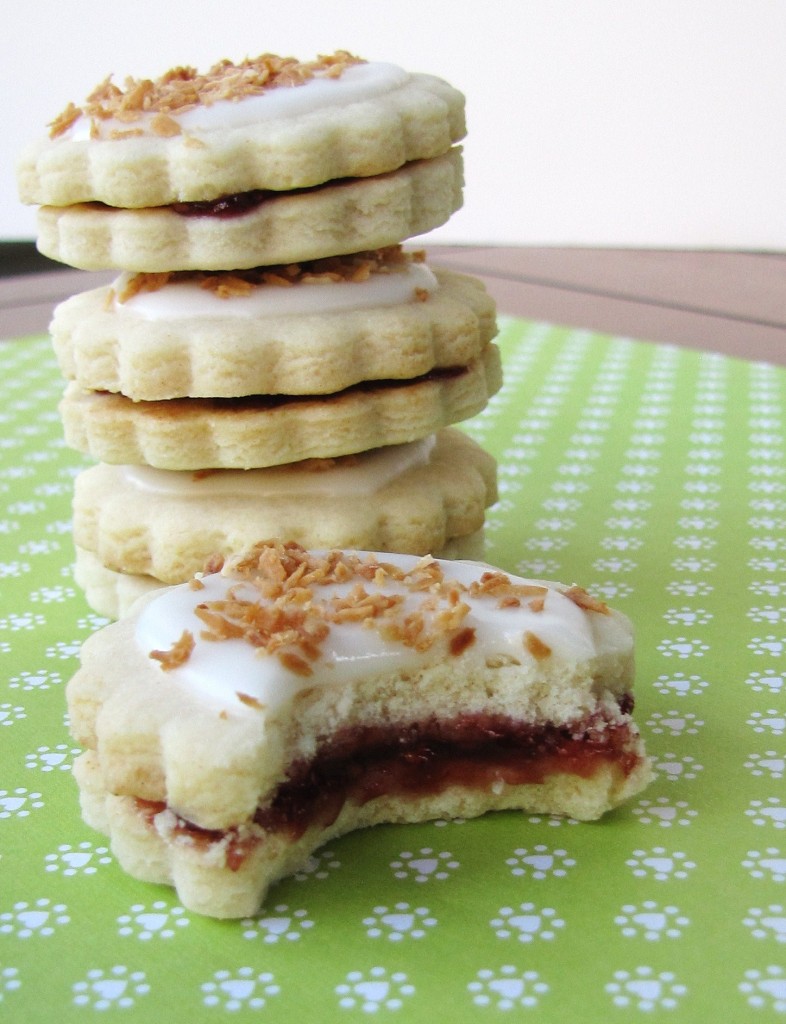 I may also have been influenced by the fact that my mom and her fabulous rolling skills were going to be staying at my house (they shared a bed), and, as an avid and talented baker, she was easy to enlist into my schemes.  She even brought her cookie cutters all the way from Ontario to help me out!
She also had the patience to let a little one help with the process (don't worry, her hands were clean :)). To be perfectly honest, I can't even call this a group effort; this was all them. I supervised, shouted opinions, toasted the coconut, and kept the 1-year-old a reasonable distance from trouble.  That should count for something, right?  As you can see, they had things totally under control, discussing the best course of action: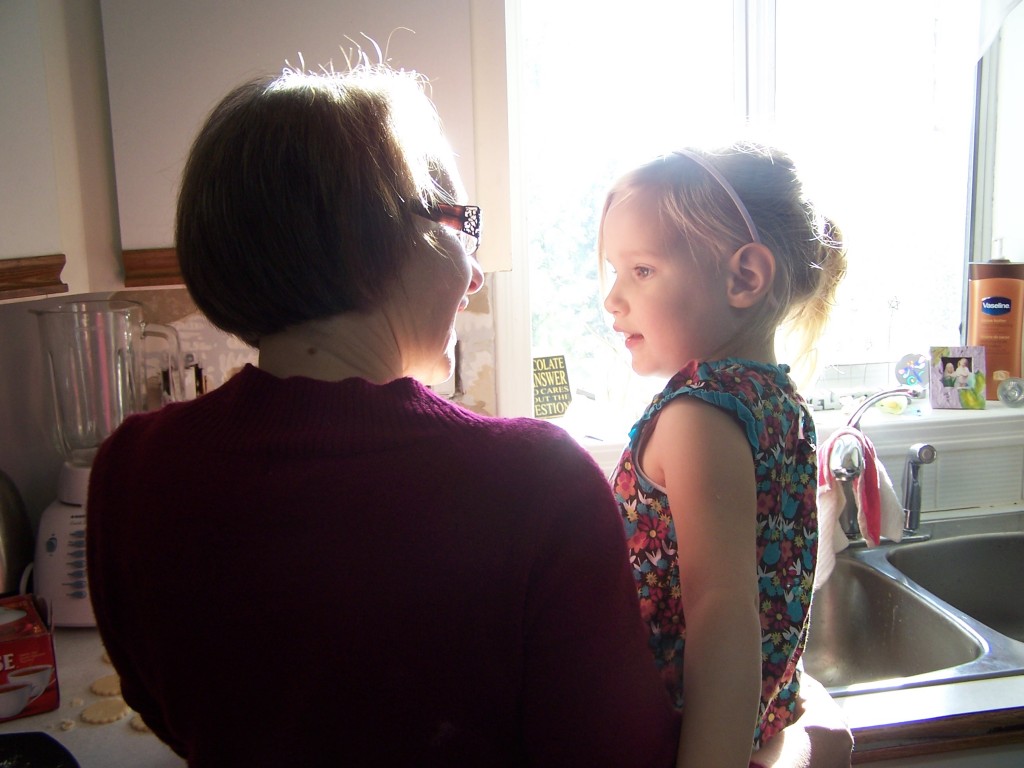 These cookies are also my mom's recipe, inherited from her British ancestors, and it is a classic that will never go out of style. So if you have some time to roll some dough, these make an impressive, traditional, delicious addition to any holiday baking platter.  They are equally delicious with vanilla, almond, or coconut extract, so feel free to choose your favourite! Garnish with toasted coconut, as we did, or an almond slice, candied cherry, or some festive (edible) glitter.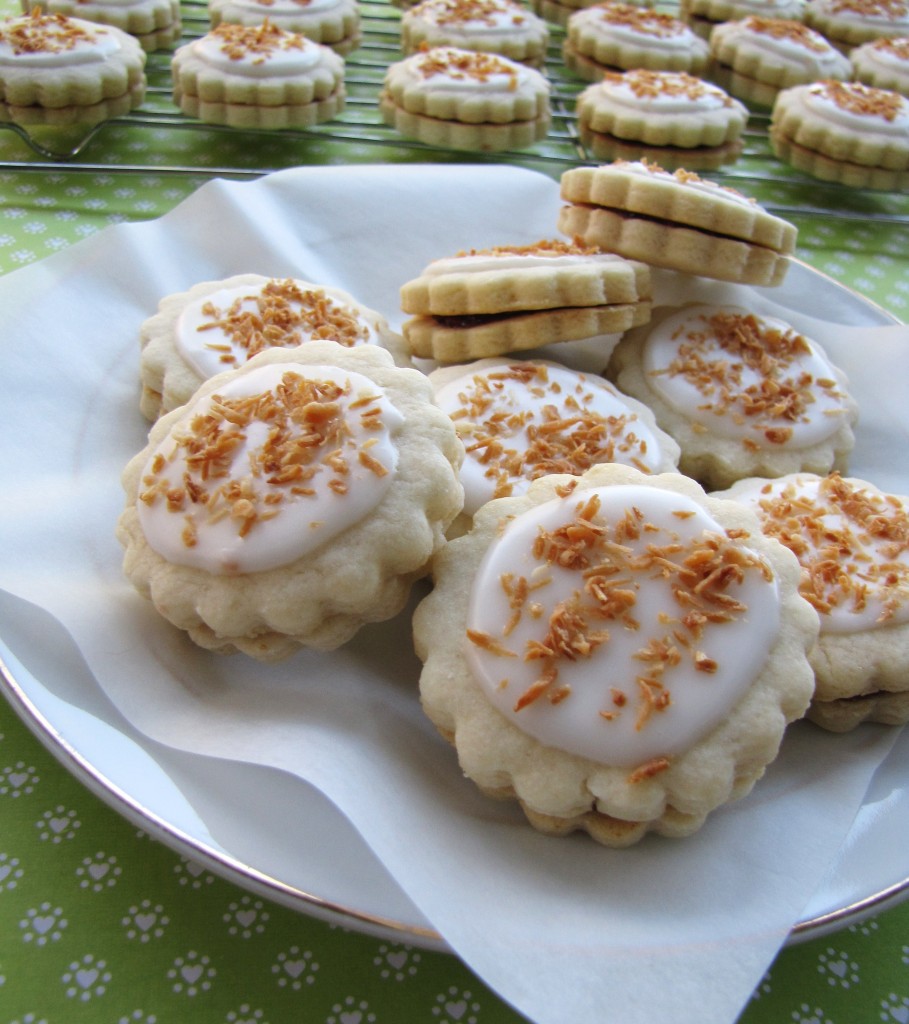 As for my end of the cookie swap, I received delicious cookies from 3 amazing women: Kristy, Meghan, and Sharana, and you should definitely check out their blogs to see what delicious cookies I enjoyed! They arrived in perfect staggered timing too – just as I finished one box, another arrived! I'm a little sad the pattern won't be continuing. :)
I was thrilled to hear that all my cookies arrived safely and were well received, and a HUGE thanks goes out to our organizers, Lindsay and Julie, who shouted out the idea and then took on the massive task of matching people based on location, food allergies, etc., and who, despite the immense amount of work it must have been, are already talking about a next year!! If you'd like updates on what's up for next year,or if you missed out this year and want to participate next time, you can sign up here to get those updates – I highly recommend joining the fun!
The Great Food Blogger Cookie Swap: Empire Cookies
Ingredients
½ cup butter, softened
½ cup sugar
1 egg
1 tsp almond, vanilla, or coconut extract
2 cups flour
1 tsp baking powder
⅓ cup raspberry jam
Icing:
1 cup icing sugar
¼ tsp of whichever extract you used in the dough (almond, vanilla, or coconut)
1 Tbsp hot water (approx.)
Instructions
Preheat oven to 350.  Line a baking sheet with parchment paper and set aside.
In large bowl, beat butter and sugar until fluffy.  Beat in egg and extract.  In separate bowl, whisk flour with baking powder.  Stir into butter mixture in 2 additions to make a smooth dough.
On lightly floured surface, roll dough to a scant ⅛" thickness.  Using 1½" round cookie cutter, cut out shapes, re-rolling dough as necessary.  Place on prepared cookie sheet - you can put them very close together as they do not expand much when baking.  Bake 9-10 minutes, until lightly golden on edges.  Transfer to racks to cool completely before adding jam and icing.
In small bowl,combine icing ingredients, adding more hot water if necessary to make a thin, very spreadable icing. Spread over half the cookies - these will be the tops. Decorate each top as desired before icing sets.
Spread remaining half of cookies with a thin layer of jam and sandwich with the tops.  Let stand until icing is dry and jam is set before storing; about 3 hours.
Notes
These actually taste even better 1-2 days after baking, as the cookies soften slightly and the flavours develop.