Did you all think I might get sick of streusel one day?  After eating these scones (my favourite breakfast), this cake, and these muffins? 
NEEEVVVVVERRRRRRRR!!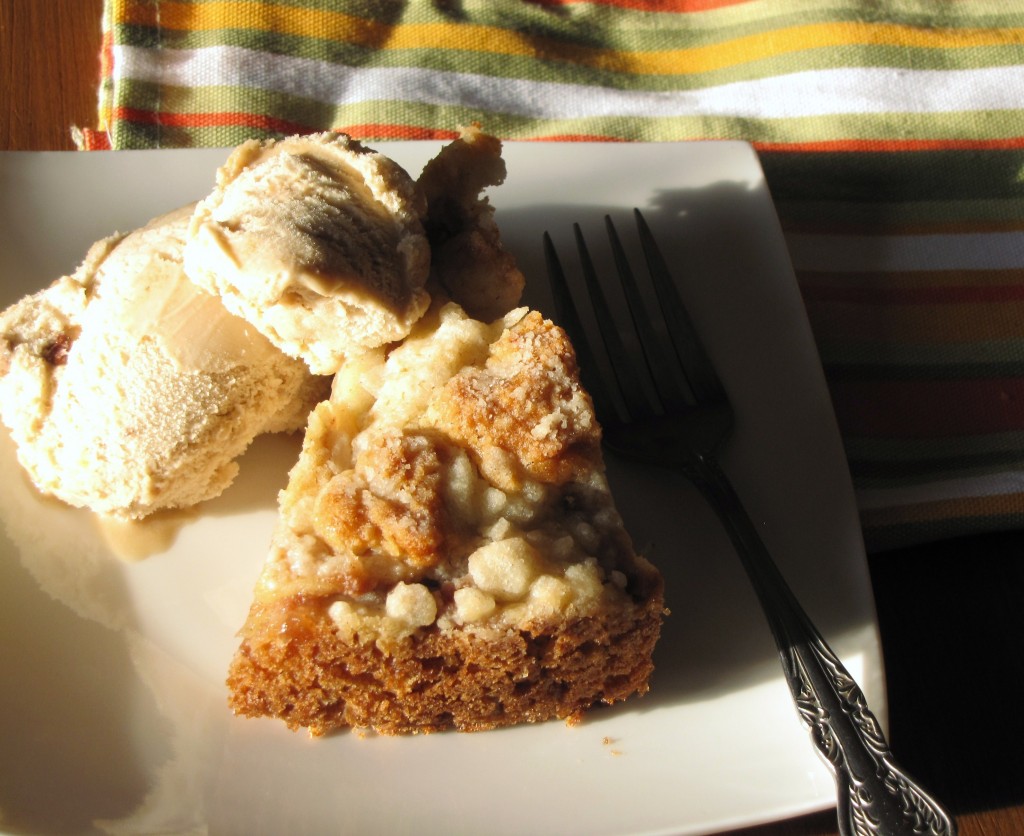 Mmmm, streuselly streuselly streusel. Coommmme to meeeee.
Ahem.
Remember awhile back when I scads of apples and made apple pie filling? Yeah, don't worry, I didn't remember either.  That's what happens when I put things in my little freezer in the garage. We didn't have anything besides our fridge freezer for the first five years of our marriage, and the first time Chelsea and I were having a mass production day Carl and I had a discussion about this fact:
Carl: What are you and Chelsea doing today whilst I watch the darling children? (ever the gentleman, he is)
Anna: Trying 8 new recipes.
Carl: Really? What are you going to do with the food?
Anna: Sample and photograph everything and freeze the rest.
Carl: Um, have you looked in our freezer?
Anna: It's a little full, huh?
Carl: It's a booby trap! Ice cream and frozen peas attack me every time I open the door!
Anna: (*shrugs*) I can probably rearrange it and fit everything.
Carl: There is NO WAY you can fit anything but a SINGLE popsicle in that freezer.
Anna: (*shrugs) It'll be fine!
Carl: (*sigh) I will buy a chest freezer. Today. While you are at Chelsea's.
Anna: (*Smiles coyly) Ok, if you really think it's necessary.
But do you think my fridge freezer is any less full? It's just so convenient, so not downstairs, so not in the dark and cold garage.  It probably needs de-icing or whatever one does with chest freezers. (*shrugs) It'll be fine!
Anyway, yes, I made that apple pie filling, made a pie with it, put the rest in that far-distant freezer, and promptly forgot about it. Then my mom mentioned on the phone one day that she had made the same pie filling and was making apple crumble bars with it. I was flabbergasted. "But Mom, it's pie filling!" Yeah, I am not what you might call an "out of the box" thinker at times.  So, thanks to my mom's casual words, a whole new world opened up to me and my pie filling!
Of course, this recipe can be made with canned pie filling as well, and I've done just that with cherry pie filling and cran-raspberry pie filling, and it's delicious that way too! I love a basic, quick coffee cake and this definitely fits the bill.  It is moist and dense and, if you drink the stuff, perfect with coffee.  And whipped cream. Or butter pecan ice cream. Really.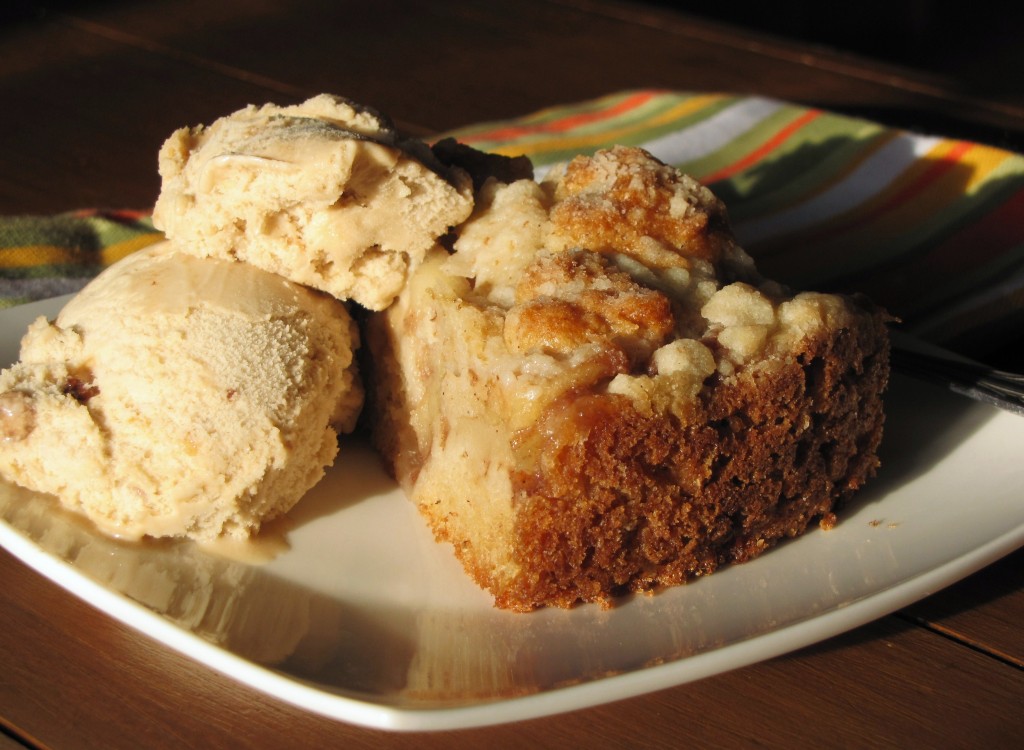 Apple Streusel Coffee Cake
A delicious coffee cake that can be made with any of your favorite pie filling flavors!
Recipe type:
Dessert: Cake
Ingredients
2¼ cups flour
¾ cups sugar
1 tsp cinnamon
½ tsp salt
¾ cup butter
½ tsp baking powder
½ tsp baking soda
1 egg, beaten
¾ cup buttermilk or soured milk
1 can of the pie filling of your choice
Instructions
Preheat oven to 350 degrees. Grease a 10" springform pan and set aside.
Combine flour, sugar, salt and cinnamon in a large bowl. Cut in butter until crumbly.
Set aside ½ cup of the mixture.
Add baking powder and baking soda to remaining mixture. Combine egg and buttermilk and add to dry ingredients, stirring just until moistened.
Spread ⅔ of the batter over the bottom of the prepared pan. Spoon pie filling over batter and drop remaining batter by teaspoonfuls over pie filling (some filling will show through).
Sprinkle with reserved ½ cup of crumb mixture.
Bake for 50-60 minutes, until lightly browned and toothpick comes out clean from the center.