You know those times when you're in an impossible situation, but you can't, in good conscience and good manners, do what you would like to do, which is make a head-first dive-and-roll jump for the nearest exit?
I had one of those moments the other day.
Many years ago, a girlfriend of mine introduced me to eyebrow threading. I've never had my eyebrows done any other way, and would recommend it to anyone. It's amazing how the ladies do it so quickly; zoopzoopzoop and you're out in five minutes, feeling like a new person. It's true, new eyebrows make my face feel brand spankin' new. And I like that.
The only problem is, people who use this technique are in short supply here in Vernon, and hence, the people who thread are also in short supply…as in, one person in town does it, for a cost three times greater than what I'm used to paying.  Sooo, I was thrilled when I heard a radio ad for threading, and called the company right away to book an appointment.
Believe me, it was high time.
When I went to the appointment, my first warning sign was that the threader wanted to have conversation with me. In English. Now, I'm not biased, but this is a traditionally Indian beauty treatment, and let me tell you, those ladies know their stuff. If you have never seen threading, you should. The threader takes….well, thread, wraps it around her fingers, holds it in her mouth, and proceeds to shape your eyebrows perfectly between the wrapped thread. How, you ask? I have not a clue. They are artists.
Well, after telling me I had light eyebrows (how informative), and that I should get them tinted (I didn't come to be insulted) she got to work. Zoop, Zoop…and…..nothing.  What happened to the zoops? Then out came the tweezers. Now, tweezers, in my experience, should only come out at the very end of a threading appointment, because if they were the main event I would just do this at home.
She handed me a two inch wide mirror, and pointed out that my eyebrows, significantly decimated, were different."They are pretty similar", she said reassuringly.
Oh no.
"Don't worry", she went on, "No one compares eyebrows anyway."
Gulp.
She brandished the tweezers and asked, "Would you like me to take some more off of this one?"
Well, I had recently been shown this gem of an image on Pinterest, only a few days prior to this experience. Needless to say, visions of eyebrowless faces danced in my head. Hence, the sweaty palms and accelerated heart rate. Was I going to leave a different person?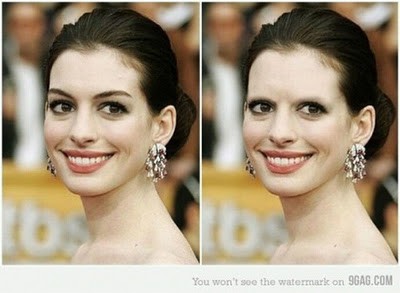 Me: "No thank you. This is perfect. From what I can see by looking at one eyebrow at a time, this is as far as I dare go."
And off I went. I was as nervous to look in the mirror as I am to public speak. And that's saying something.
Amazingly, with a couple more tweaks, my eyebrows ended up being the best they've ever been. Or maybe my two eyes can only look at one eyebrow at a time and I am deluding myself.
Whatever the case, I apologize to said threader/plucker/tweaker for my doubts and thank her for finally, after nearly three years of living here, giving me a place to avoid the dreaded unibrow. Because yes, I will be back.