I have come to a realization about myself: I am not into process.
We've pretty much finished renovations around here, with the exception of our kitchen and ensuite, and renovations continue in force in the basement, and this, combined with my love of perusing food blogs, has made me come to this striking realization about myself.
I don't care when things are in disarray, I don't care too much about what's going on in that disarray, and I don't want to know if something went wrong.  When it's done and colour and beauty and evidence of change are involved, I am there.  I will ooh and aaah like nobody's business, I will tell all my (4) friends, I will applaud, and I will love it hard. 
I enjoy the experience of the process when I'm the one in it, hands-on, and I understand that work goes into things but, quite frankly, I don't want to think about it.  Clearly you combined your flour, butter and sugar if you are making a classic cookie of any kind.  Clearly you put up drywall if you painted and hung pictures. Clearly you have installed pipes if you are using your toilets and sinks freely.  Clearly you have spent time in the kitchen if you have a beautiful end product to tell me about.  Do I have to see all the steps or can I just enjoy the fruits of your labour? 
I know life is a journey, not a destination, and all those other wise things, and of course I have absolutely no problem with people who take pictures of their flour and sugar, or people who actually watch entire decorating shows and not just the before and after shots.  I agree that those are beautiful things.  I am just not one of those people.  
Part of the problem here that makes me this way is that I am not a visual learner. I know this probably puts me in the minority, but give me a textbook or even just a well-written paragraph, or just let me try, and I will figure it out.  
Have you ever purchased a piece of furniture from IKEA? In the interest of keeping costs down and only needing one instruction sheet for anyone in the world, they limit their instructions to pictures with vague arrows and, if you're lucky, numbers as to where to start and finish.  I look at those instructions and die a little inside.
Of course, even I like the occasional picture or chart in a textbook…but only because it means my reading progress will be faster minus half a page.  Does anyone actually look at those diagrams and think "Ooooh, THAT'S how the digestive system works, now I see."?
And I love pictures on blogs, or Pinterest, of finished products.  For example, some oh-so-cute reindeer cookies that inspired me to make them yesterday with my 3-year-old, who promptly burned herself in our hurry to get those faces on, resulting in these delicious, if slightly moodier, fellows: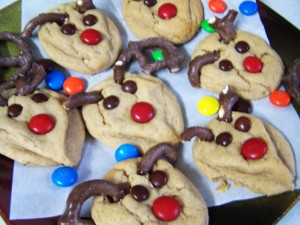 Since I didn't change the recipe and she has much nicer reindeer, I'll just send you over to the lovely baking Kerry for details…and as a side note, if you buy the chocolate covered Rold Gold pretzels declaring themselves "tiny twists", let me inform you they will be quite regular sized, not at all tiny, thus requiring the broken antlers seen above…it seems our reindeer are in mating season; fighting is rampant and antlers are being brutalized.
So, to summarize, pictures = good.  Process pictures = rapid scrolling.  But I'm still gonna stick it out for the recipe.
But does this put me in a minority?  Do you all LOVE seeing the behind-the-scenes work, or do you like the end product (the "reveal") the best? Do you really want to see how messy my kitchen is the majority of the time? How many toys are usually scattered around my living room floor? How many meals I could scavenge from the bits carried around the house burr-style on pants, shirts and faces? Do you really want to see how my flour and sugar look in the bowl, to make sure yours is in a comparable pile before you begin mixing?
Because if you do, please, let me know. I will probably not oblige, but I am interested in knowing how you feel.