Have you met my new friend Meringue?
I was a little skeptical at first, but, like many people, the things I sometimes end up liking the most are the ones that I have the most doubts about. While this does not bade well for my character judgment, not to mention books, movies, etc., I love being pleasantly surprised.
I met these cookies shortly after I had little b, when Anna came over to have a baking day with me. Despite my insistence prior to babe that I would never be slowed down by the small task of childbirth, Anna ended up doing the bulk of the baking, while I did the bulk of the watching. She picked this recipe because I was missing my true (food) love, chocolate, and she told me that this was the perfect solution. Not enough chocolate so as to disrupt the balance of life with a delicate nursing babe, but just enough to make me exceedingly happy.
Did I mention they are also gluten free, and quite low in calories?
Did I also mention that I love Anna? Not just because she makes me delicious food, I promise :)
So, my recommendation? Try these cookies today – look at that short ingredient list! You will love me. Skeptical about cookies made from egg whites? I know I was. But they are de-e-licious. Crispy and sweet and delicate and melt-in-your-mouthy. And oh, so pretty.
Happy Saturday!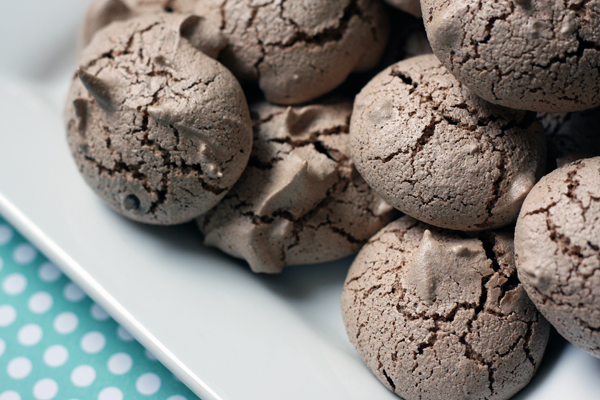 Chocolate Meringue Cookies
A crisp, sweet change from your typical cookie.
Ingredients
3 large egg whites
¼ tsp cream of tartar
¼ tsp salt
1 cup sugar
3 tbsp unsweetened cocoa
3 tbsp semisweet miniature chocolate chips
Instructions
Preheat oven to 250F.
Beat egg whites, cream of tartar, and salt at high speed of a mixer until soft peaks form. Add sugar, 1 tbsp at a time, beating until stiff peaks form.
Sift cocoa over egg white mixture; fold in. Fold in minichips.
Cover a baking sheet with parchment paper; secure to baking sheet with masking tape if necessary. Drop batter by teaspoonfuls (they're small!) onto prepared baking sheet. They can be very close together as they will not spread much with baking.
Bake at 275F for 45-55 minutes or until crisp and dry. Cool on pan on a wire rack. Repeat procedure with remaining batter, reusing parchment paper. Store in an airtight container (see note).
Yield: 4 dozen small cookies.
Notes
I like to put them in the freezer; they stay fresh and don't need any thawing before eating. A little dangerous if you use your freezer to limit your baking intake I'm afraid... :)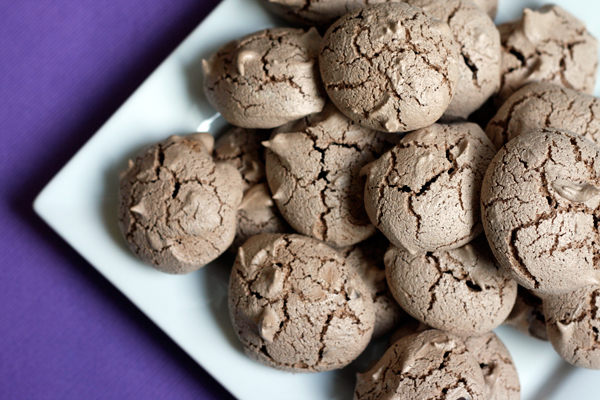 Note: Cream of tartar is not the cheapest ingredient out there, but it will last you forever and is also the crucial ingredient in homemade play dough if you're into that kind of thing! You can also buy it in bulk for very cheap if you just need a teeny bit, like this recipe calls for.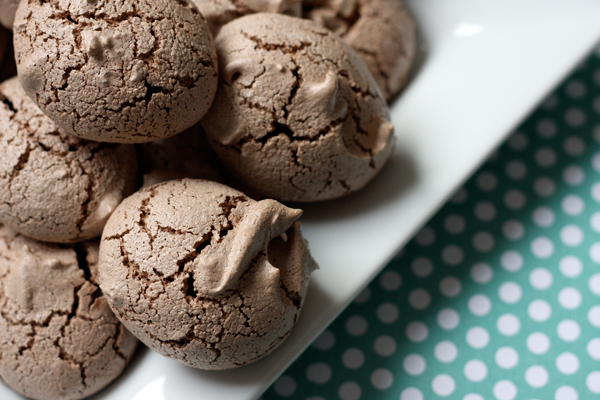 Recipe adapted from Cooking Light.