Is it really Saturday already?
I've been pretty absent from the blog scene, but I can tell you I have a much cleaner house because of it, not to mention a gorgeous redone coffee table, 2 painted bookshelves, a painted chest of drawers, and a couple other items primed and waiting for attention.
Here's a little teaser to prove I'm making progress :) Gemma's room is turning out exactly as I had envisioned, perfectly sweet and girly, just like her: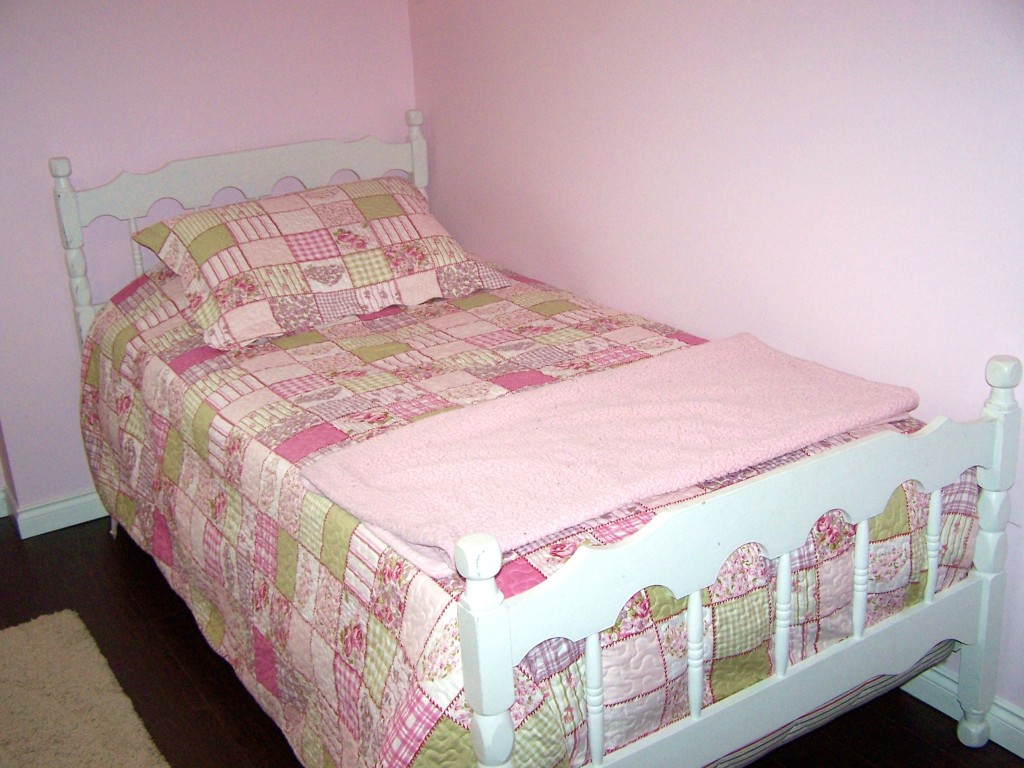 And of course I had to bake a thing or two while waiting for my paint to dry, to counteract all those fumes!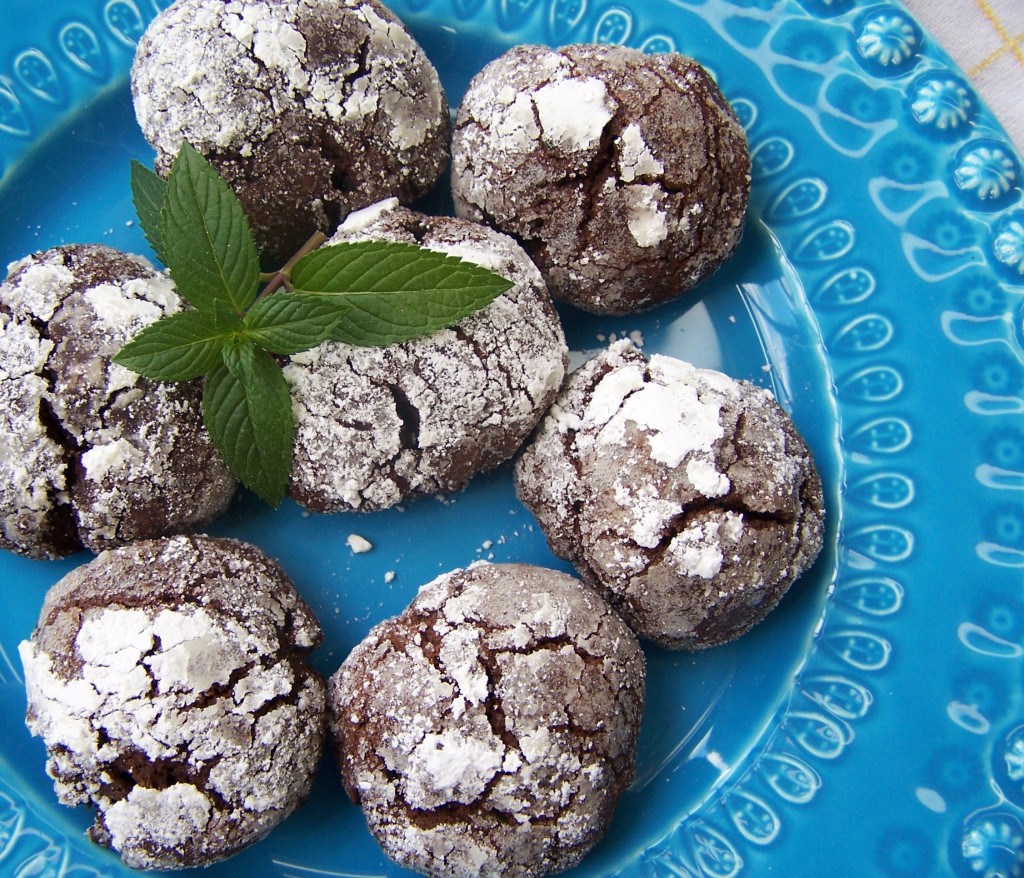 These cookies taught me a couple things. Did you know you can roll cookies in icing sugar before you bake them and have the icing sugar stay visible rather than all melting in?
Me neither, but if you roll the cookie dough in regular sugar first, it works! A miracle, I tell you.
Also, have you been introduced to mint sugar?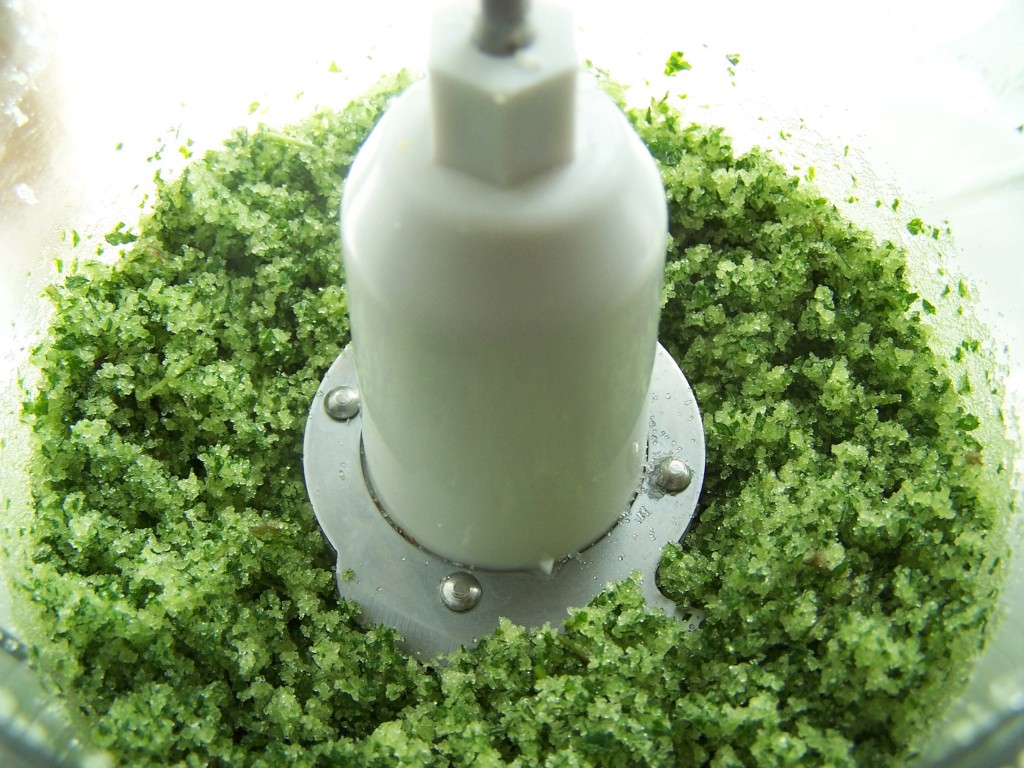 It is a thing of beauty, isn't it?  Just whir together some mint and sugar in your blender or food processor, et voila! Mint sugar! Also so exciting, I took these pictures INSIDE my house – hooray for kitchen windows!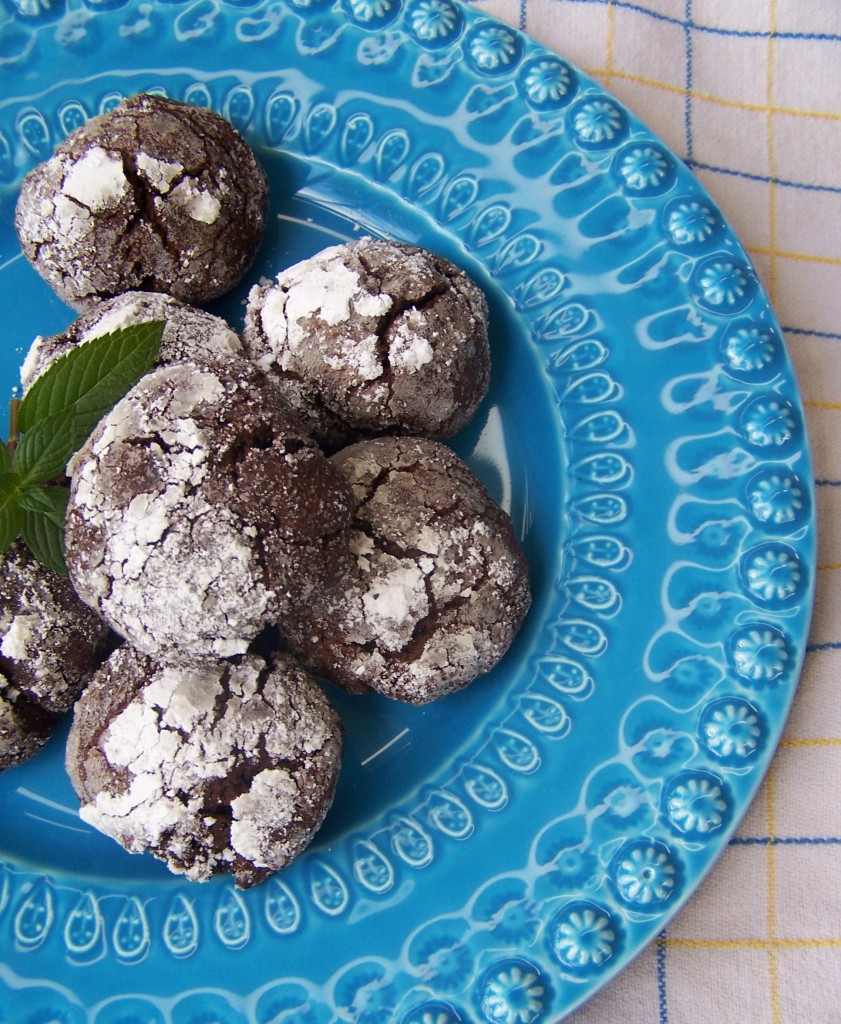 I had a plethora of fresh mint in my herb garden that I had no idea what to do with, and this recipe uses a CUP of it! I was worried the fresh mint would give the cookies a bit of an earthy, overly "green" flavour, but fresh herbs are much less potent than dried and the cup of mint simply made for a nice, fresh, back-taste to the chocolate.
Now, I am a huge fan of mint and chocolate combined, and a huge fan of dark chocolate, so I may have been a bit biased when it came to these cookies, but if you like those things I highly recommend giving these a try.  Eaten out of the fridge or freezer they have the rich, dense texture of a cookie truffle…and that's a good thing.
They aren't the prettiest cookies I've ever made, as they do indeed crackle, and don't really spread themselves into pretty circles while baking, so for the second batch I did take the time after rolling them into a ball to flatten them between my palms into some semblance of "cookie shape" before rolling them in the sugars.
Recipe barely adapted from Simply Scratch, via Tasty Kitchen 

Dark Chocolate Mint Crackle Cookies
Author:
Anna @ Hidden Ponies
Ingredients
1½ cups all-purpose flour
¼ cup unsweetened dark chocolate cocoa powder (regular cocoa also tastes great - I tried it :))
½ tsp baking powder
½ tsp salt
1 cup fresh mint leaves, loosely packed
½ cup granulated sugar
7 oz (7 squares of baking chocolate) semi-sweet, dark, or bittersweet chocolate, roughly chopped
6 Tbsp butter
3 eggs
1 tsp vanilla extract
⅓ cup additional sugar for coating cookie balls
⅓ cup confectioner's sugar for coating cookie balls
Instructions
Whisk together flour, cocoa, baking powder and salt. Set aside.
Place mint and ½ cup sugar in food processor and pulse until it resembles coarse, wet sand. Set aside.
In a saucepan over low heat, melt chocolate and butter, stirring often, till completely smooth. Remove from heat and pour into a large bowl. Add the mint sugar to the chocolate and stir to dissolve sugar. When the chocolate has cooled a bit, add eggs and vanilla and stir well.
Add a third of the dry ingredients to the chocolate mixture; mix by hand. Repeat with 2 more additions of dry ingredients, stirring well after each addition. Cover with plastic wrap and refrigerate for 30 minutes, until firm enough to handle without totally sticking to your hands.
Preheat oven to 350.
Using a tablespoon or small ice cream scoop, scoop dough evenly and roll into balls. Flatten balls slightly between palms - they will not spread much at all during baking. Roll the dough balls in the additional granulated sugar, then dip tops and sides in icing sugar.
Place balls 1" apart on greased or lined baking sheet and bake for 10-12 minutes. Let cool on cookie sheet for a couple minutes before removing to racks to cool completely.