Happy Thanksgiving to you all, Canadian or not! I hope you're all having a fantastic long weekend with family and friends full of lots of good food.  
We have so much to be thankful for over here, even the rainy, gray weather that gives my kids the opportunity for some quality puddle time.  
We're also thankful to have a big enough house to host Thanksgiving dinner! We had the pleasure of my wonderful big sister and her family's company for dinner last night, and we all had to loosen our skirts/pants a little as the night wore on.  
Big sisters should know more than little ones, I think, and my big sister is no exception. I never fail to learn something from her and her wealth of kitchen knowledge and tips, from "Did you know an ear of corn has as many strands of silk as it has kernels?" to "Cheese sauce is just as easy to make in the microwave!"  I have warned her that I now expect to learn something when cooking with her, so she can have tips prepared for sure-to-be-future occasions.  I can't share all the tips though since I have 3 little sisters I may need to impress with my superior knowledge at some point ;)  
Ok, I'll share one more she shared with me as I was complaining about the small state of my dishwasher: "You know, if you actually WASHED some of the big dishes there would be more room in here".  She then proceeded to do said handwashing for me…everyone needs a big sister like her, really.
Anyway, I didn't take pictures of the dinner, but I can tell you we had some, and the potatoes, which are always a hit and great to make-ahead, was just this Twice Faked Potato recipe in large casserole dish form.  And I made my mom's stuffing recipe for the first time, and will be eating copious amounts of the leftovers for lunch as soon as I'm done telling you all about my pie.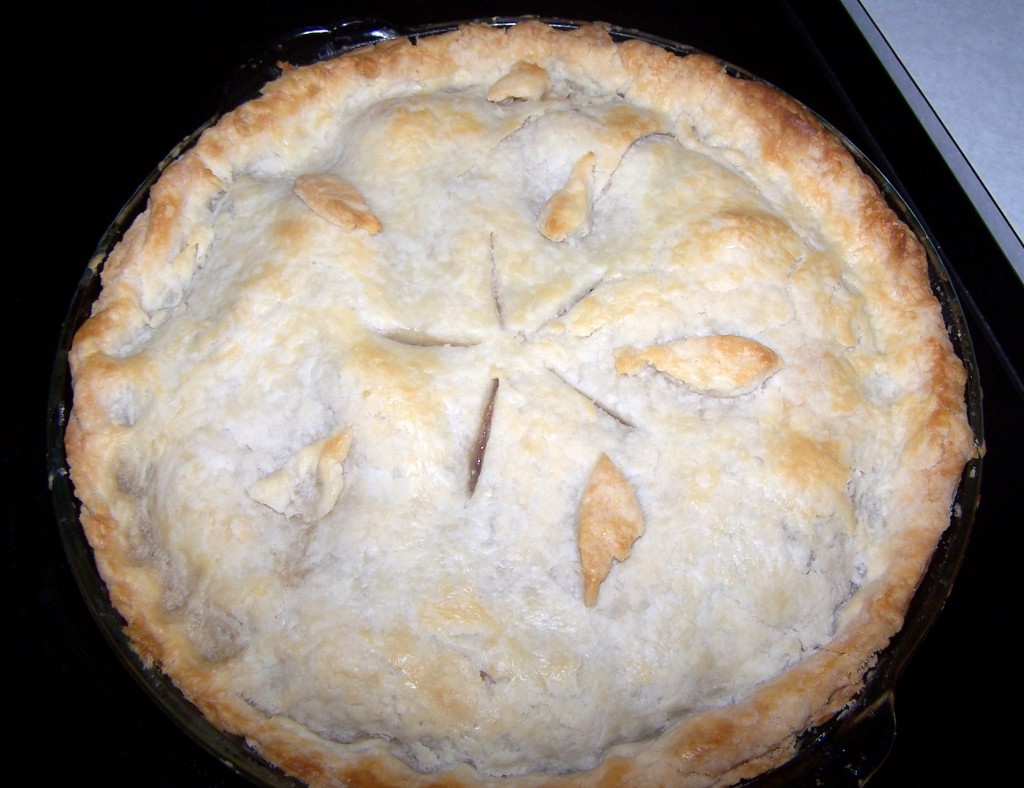 I didn't tell you, but awhile ago I made this: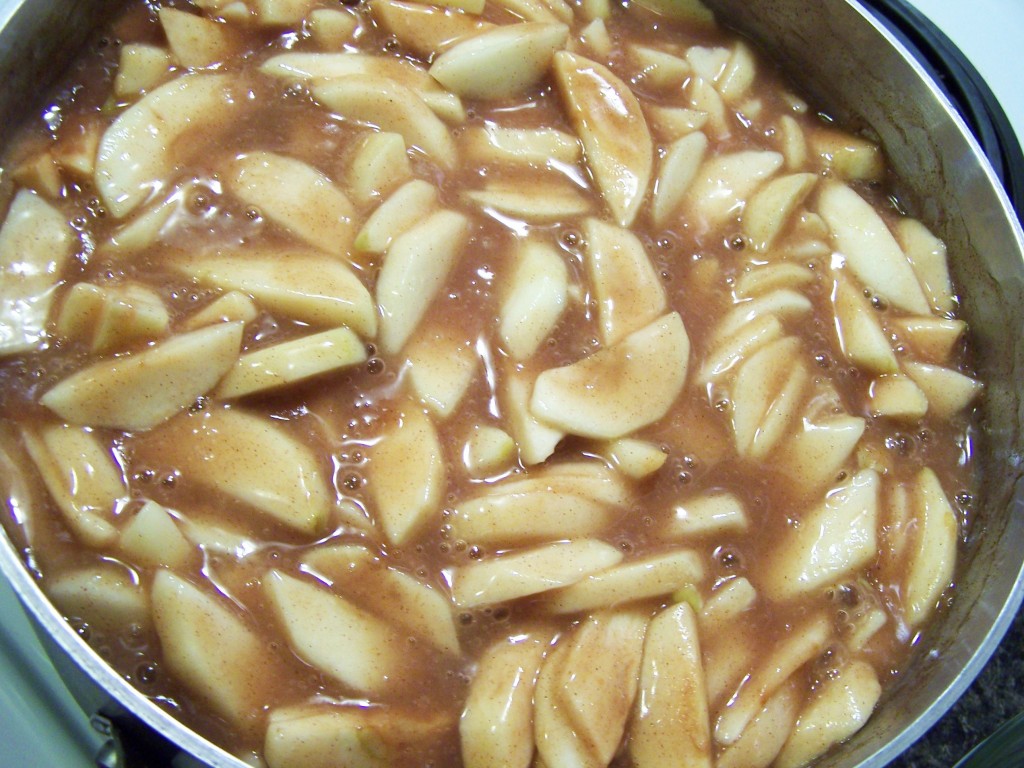 That, my friends, is a big vat of deliciousness. 
My mother-in-law has an overbearing apple tree (yes, I mean apple tree), and I was thrilled to take a few hundred off her hands!  Although peeling them was less than fun, my helpful hubby stepped up to the task and took pride in his perfectly rounded apples (yes, I mean apples) and continuous peels.  I chopped 'em up and threw 'em in the biggest pan I had, which, turns out, wasn't really big enough.  
This all simmers together and makes an amazing apple pie filling that you then pop into the freezer for the next time you want to whip together a pie!
I didn't want to tell you about it until I'd actually baked it in a pie to make sure it didn't get all soggy or something, and I can now assure you that is is SO GOOD, and holds together really well, and I will definitely be making more than one batch of this next year for the freezer (and one batch makes enough for five 9″ pies!)  
As a bonus, the simmering filling makes your house smell amazing.  If you're trying to sell your house, forget pie in the oven, just make this.
The filling is gluten free, and, heated up, it would make a delicious fall topping or base for ice cream, or bake it in a gluten free pie crust.
As for pie crust, I feel everybody kind of has their favourite tried-and-true recipe that they got from some family member or other, so I haven't bothered sharing mine.  HOWEVER, if you DON'T have a pie crust recipe you love in your back pocket, let me know and I'll be happy to share!  This was the first time I had made this particular crust recipe of my Mom's, and it was so easy to work with and resulted in such a perfect, flaky crust that I don't think I'll bother trying any others now.  Either way, this filling is a must-make with all the beautiful, affordable apples available at this time of year!

Freezer Apple Pie Filling
Make a big vat when apples are in season, and enjoy pulling it out of the freezer for quick pies, crumbles, and ice cream topping all year 'round!
Ingredients
18 cups peeled, thinly sliced apples
3 Tbsp lemon juice
2 cups granulated sugar
2 cups brown sugar
1 cup cornstarch
1 Tbsp vanilla extract
2 Tbsp cinnamon
1 tsp salt
¼ tsp ground nutmeg (optional - I leave this out, but some people like nutmeg, the crazies :))
8-9 cups water
Instructions
In large bowl, toss apples with lemon juice and set aside.
Pour water into largest pan/Dutch oven you have, and place over medium heat.
Combine sugars, cornstarch, cinnamon, salt and nutmeg. Add to water and whisk well. Bring to a boil and boil for 2 minutes, stirring constantly.
Add apples and return to boil. Reduce heat, cover and simmer until apples are tender and mixture is thickened, about 6-8 minutes. Cool for 30 minutes before dividing over 5 freezer containers, leaving ½" headspace in each container. Leave lids off and cool at room temperature for 1 - 1½ hours, then seal and freeze.
This can be frozen for up to a year. Thaw in fridge overnight before use, and bake as directed in your pie recipe - generally about 40-50 minutes at 400 degrees.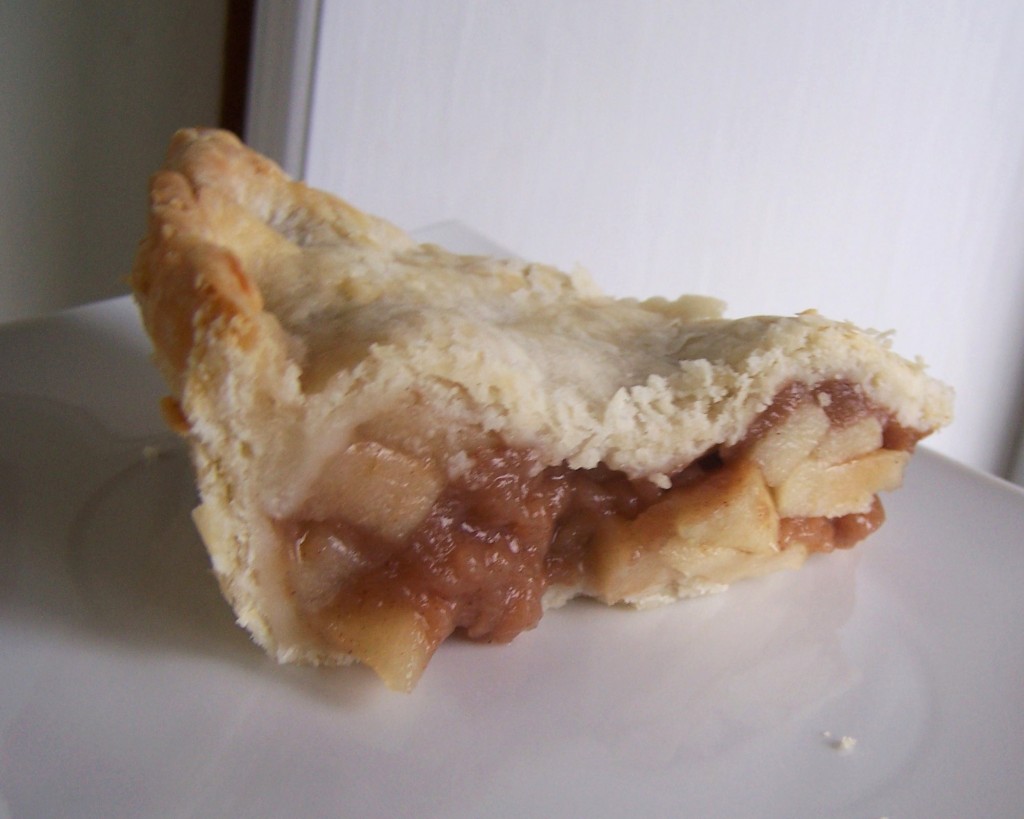 Recipe very liberally adapted from allrecipes.com.