Have you noticed how all our Friday posts have catchy titles with "Friday" in them, but absolutely NO consistency?  Fashion Friday, Freaky Friday, Furniture Friday…wait, are you seeing consistency yet?
You got it, we're throwing out f-words like nobody's business ;)
Anyway, I feel I've mentioned my new house in passing a few times without ever giving any real details.  Fact is, we're in a new house, and have been for just over a month.  In that time we've moved walls, built closets, redone flooring, painted top to bottom (minus one room left to do), acquired both heat and laundry (not sure which I was happier about) and made plans to redo the kitchen.
Having two kids, limited construction experience, and not-too-strong arms means there are many areas in which I have not helped.  Although, said not-too-strong arms did move a fireplace and armoire up the stairs, both of which weighed at least as much if not more than me.  I had visions of my heavily-muscled beloved losing his grip on the bulk of the weight and hearing an unpleasant splurch-crunch as the furniture item landed atop me on the tiled floor below. 
Clean-up, aisle one.  Can someone grab this guy another wife? This one's no good. Doesn't even know what apostrophes are.
But I can paint. I love to paint. I'm not kidding when I say that I find watching paint dry a truly enjoyable activity. In decorating school, I was really just biding my time through space planning, perspective drawing, and business plans.  I was all about the paint.  Colour is my life, my passion, my love.  I worked for various Benjamin Moore paint stores for 6 years, and loved every minute.  I was surrounded by colour. My home needs to be full of colour.
Since my mother-in-law was kind enough to tackle most of the ceilings and walls with my menagerie of colours, my evenings have been spent on furniture.  I have always loved the look of painted furniture, and my mismatched collection of bargain finds over the past 10 years is the perfect canvas.  There's just something about painted furniture that I find so welcoming, warm, and comfortable.  
One of my projects was a coffee table.  When we moved to Ottawa, I sold my glass-topped, sharp-edged coffee table out of deference to my new baby who I assumed would be unable to resist impaling an eye on it.  In Ottawa, we purchased a storage ottoman that served as a coffee table, despite its unstable, narrow top. 
When it was time to move this time around, I happened across a perfect free coffee table, with a matching end table! It was wide, basic, and sturdy, and damaged enough to be considered paintable.  Everyone was happy.  
Then I saw another coffee table I wanted, for only $30. I got that one too. My husband barely batted an eyelash at the 3 new tables stacked in our little rental house, waiting to be moved.
That second coffee table is the one I revamped, and I'm so happy with the "feel" it gives the room…although I now realize a large round coffee table would've been more suitable to the space.  I'm keeping my eyes peeled.
Here's a rundown of the process, starting with my inspiration pieces:          
And this is the table I ended up with (sorry for the lousy picture):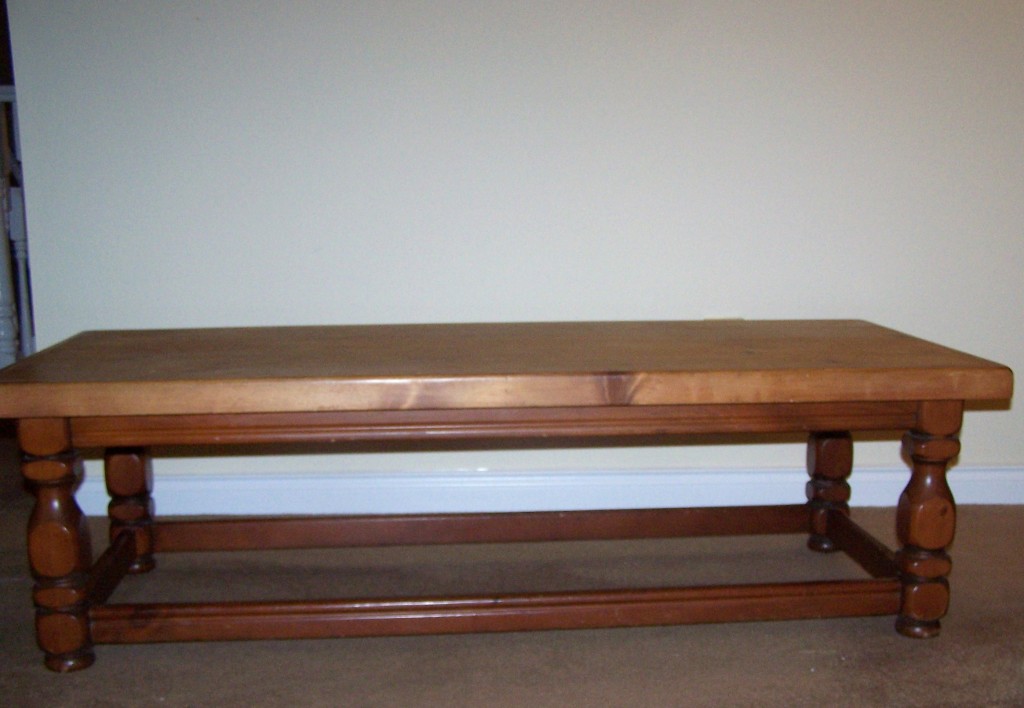 It caught my eye because it had the country-style legs and feet I was going for, as well as a grooved top.  The top was very dry and cracking in a couple spots, but I'm sure you can see where I'm going with this!
I primed the legs with an oil-based primer and painted them twice with Benjamin Moore's Advance paint, which I highly recommend for coverage and leveling qualities.  This 3-day process provided plenty of entertainment for the kids in the mornings…this is why I paint in the evenings.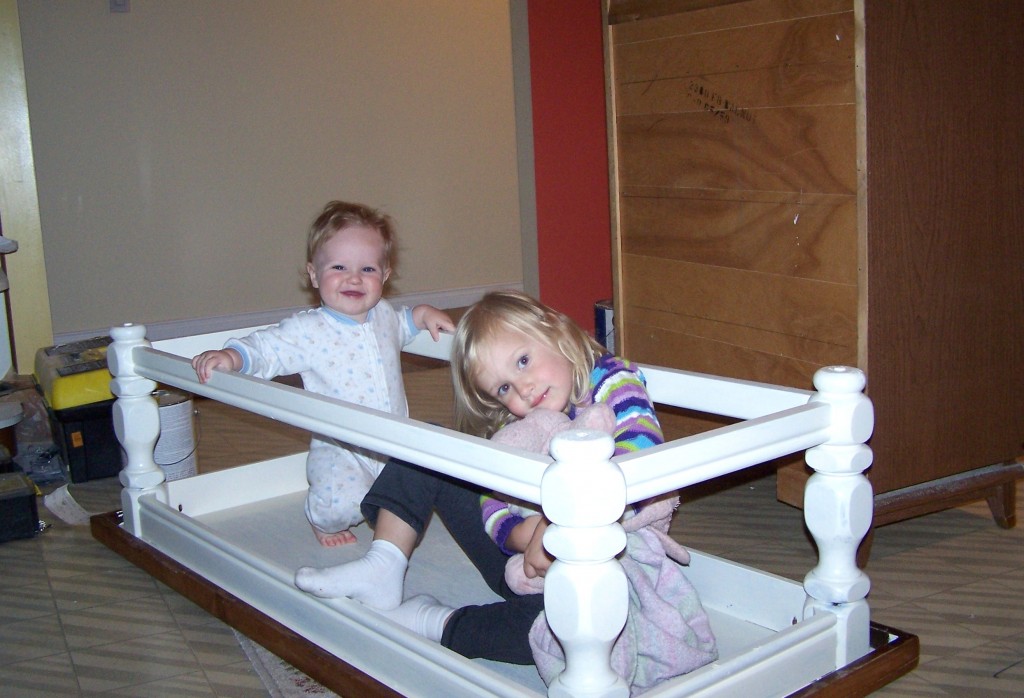 I wasn't too worried about their antics since then I took sandpaper to my perfect paint job: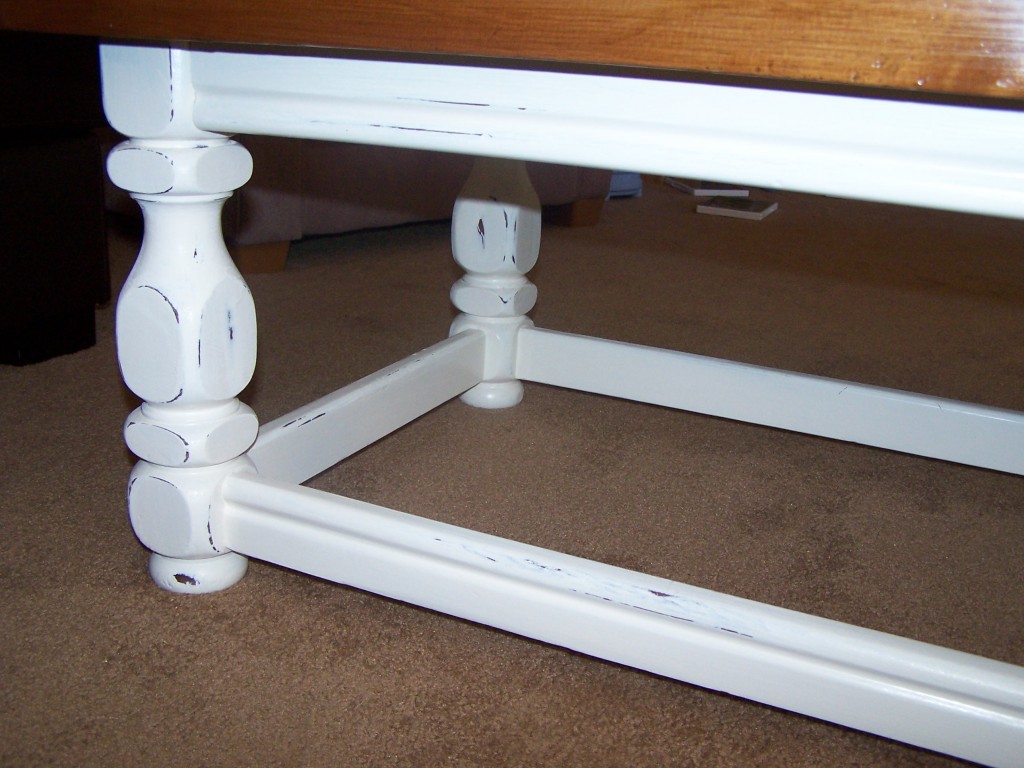 I love this look, and creating it is both fun and challenging, as the GOAL is imperfection and irregularity, and the tendency is to try to make it uniform.  I really try to rub down the edges that would naturally rub, with a few extra sanded parts here and there.  I'm still not sure if maybe it needs a little more distressing, what are your thoughts?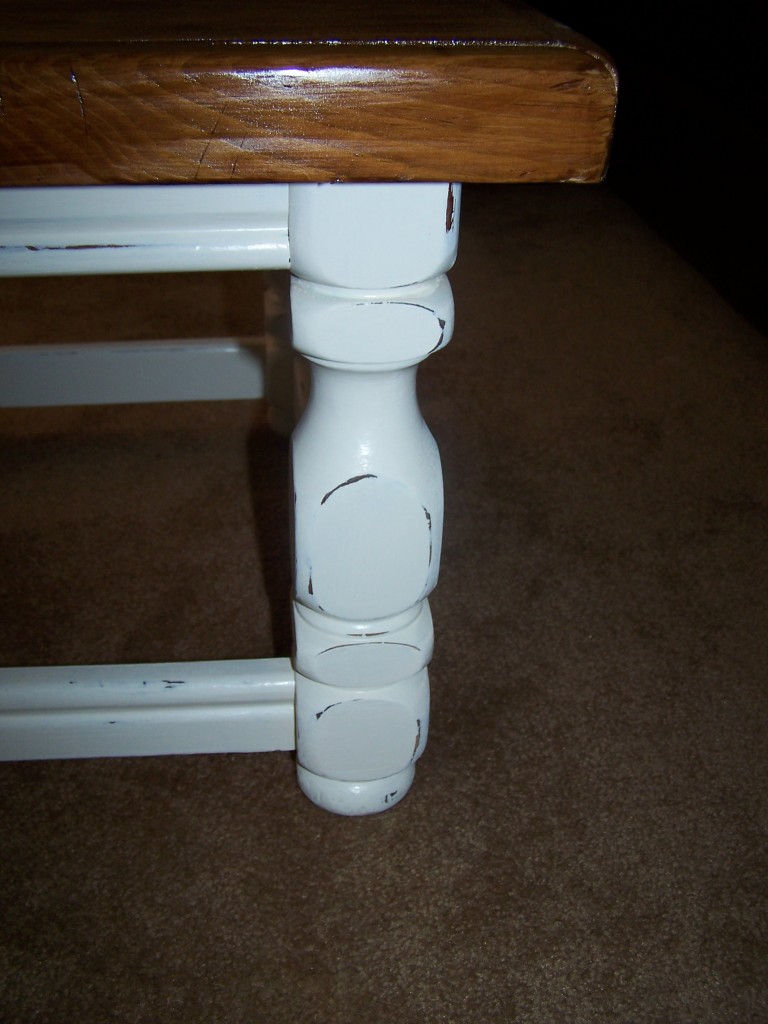 In the pictures it looks very white, but in actuality it is very cream, similar to my first inspiration picture, which is a much softer look with the wood top.
For the top, I applied two coats of a combination stain/sealer to give it some sheen and protection.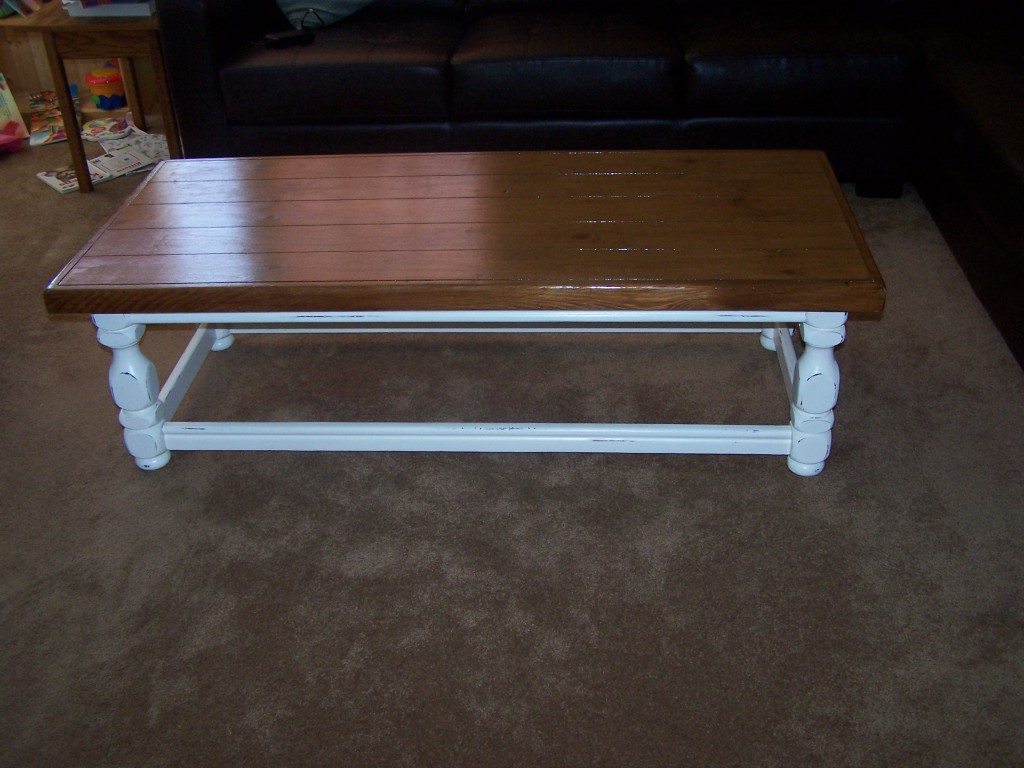 I'm really quite thrilled with how this turned out.  I did the same finish on a little oak end table I had, to give them coherence despite their totally different styles.  Here it is in its new home (not sure what was making me so crooked!):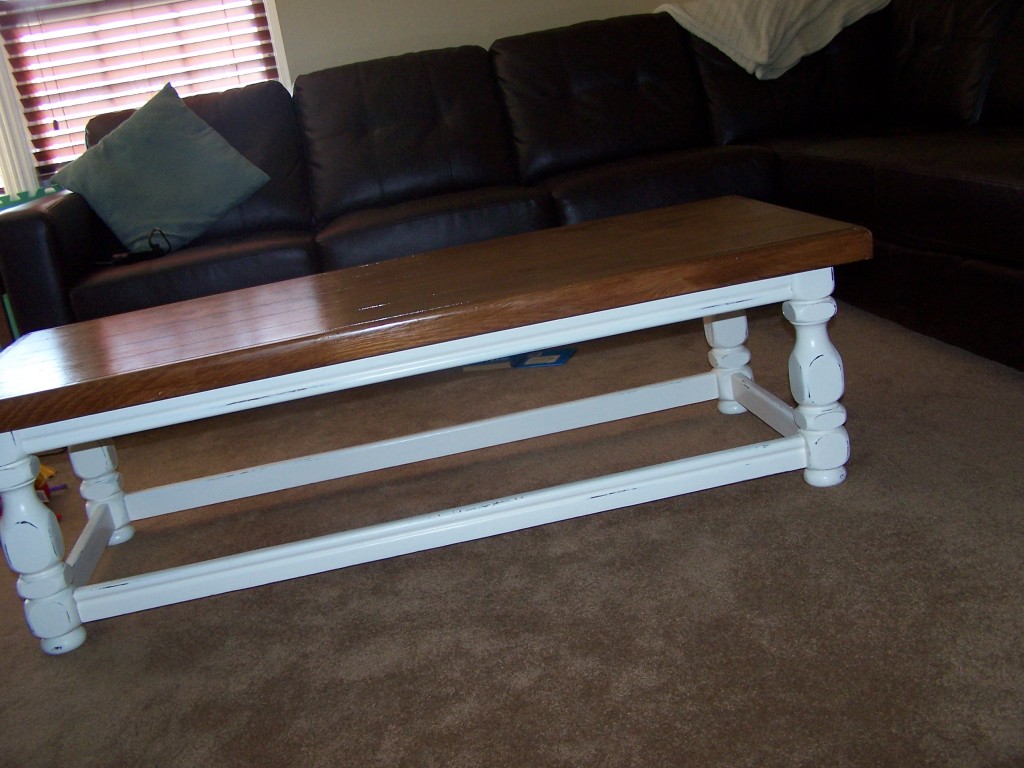 Now I need to recover a couple armloads of cushions to break up the brown-ness of the room, hang some things on the walls, and call it a day for the living room! 
PS. Decor suggestions and/or questions are always welcome too, especially colour related ones ;)