Happy new year everyone!!
I have been seriously slacking on my blogging duties for the last couple weeks, as I holidayed to the max with family and friends over Christmas and New Years, but now I am so excited to be back at it! Anna and I also had a great chance to catch up and talk blog (in person!) and you may notice something different about the blog.
Did you notice it?
1 meeeellion dollars for the person who did!
Ok, I'm just kidding, you couldn't possibly have noticed, because we are already slacking on our new-found resolve. We resolved to bring you more healthy food. More great meals for you and your families, big or small, that are healthy, balanced, and of course, absolutely delicious!
We prooomise!
But, with that said, I still have these brownies I neeeeeed to share with you (I am every personal trainer's worst nightmare). They are so delicious, make a perfect dessert or snack since they are basically cake, and you can easily make a half batch, which is half the calories! (obviously :))
So, I promise that this week I am meal planning like a pro, trying out some delicious, health-conscious meals to share with you all, and we will continue to do that (but don't think you're completely off the hook with us bringing you sweets)!
Until that time, enjoy these delicious brownies. Who is Mrs. Dykstra? Good question. I personally know quite a few. This recipe is old as the hills (or at least has been around since I was a wee one), and was in a Church cookbook, so thank you Mrs. Dykstra, whoever you are, for your most delicious brownies. (and ignore the Christmas ornaments, I was a little zealous in my seasonal photography ;)).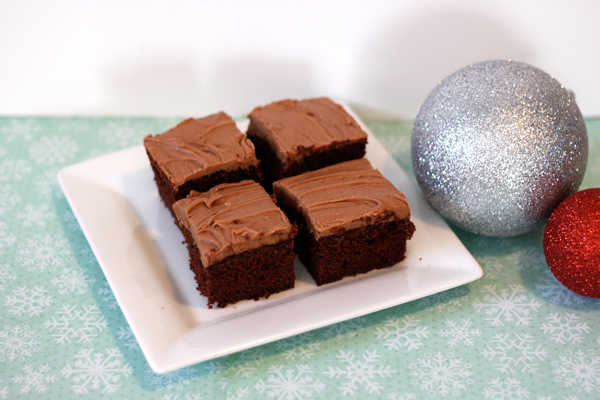 Mrs. Dykstra's Brownies with Frosting
Ingredients
2 cups flour
2 cups sugar
1/2 cup cocoa
1 cup water
1 cup butter or margarine
1/2 cup buttermilk or sour milk
2 eggs
1 tsp baking soda
1 tsp vanilla
Mix flour, sugar and cocoa in large mixing bowl. Combine water and butter in a pan. Heat until boiling. Stir hot mixture into flour mixture. Add buttermilk, eggs, soda and vanilla. Mix well. Spread batter in a greased 10″x15″ pan. Bake at 350F for 25 minutes or until done. Do not overcook. Frost while still slightly warm.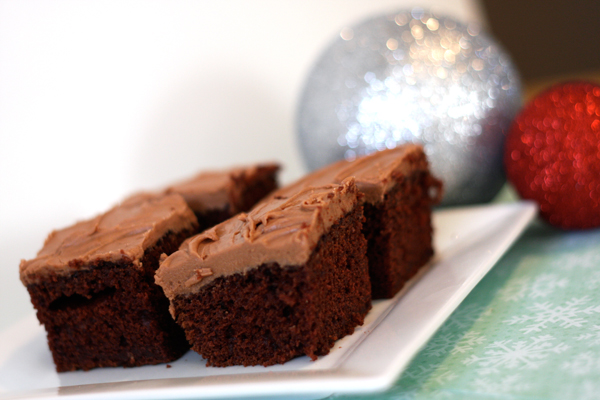 Frosting:
1/3 cup butter or margarine
1/4 cup cocoa
1 tsp vanilla
4 cups icing sugar
6 tbsp buttermilk
Melt butter in large microwaveable bowl. Stir in cocoa and vanilla. Alternately blend in icing sugar and buttermilk until smooth. Spread over brownies. Let cool completely before cutting.