I loooooooove brownies!
And I'm not talking 8 year old Girl Scouts, though they are very sweet too, I'm sure.
I'm talking sweet, dense, crackly-topped, stick to all the parts of your mouth, good cold or warm, with icing, ice cream, whipped cream, and/or chocolate sauce, want-one-right-now brownies.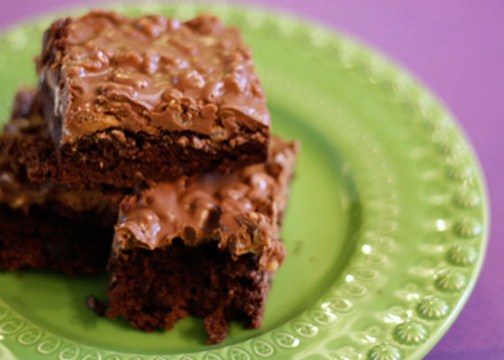 Really, you prefer those kind of brownies too?  Oh good, let's be friends :)
I have many favourite brownie recipes, and this is yet another recipe to add to that pile.
You may remember I had a bit of an issue with peanut butter awhile back, in that my peanut butter was apparently procreating in my cupboard. These brownies were one of the spawn of that cupboard action, and definitely a favourite child.  By the way, just when I thought I had taken care of all the peanut butter at last, what should I find in the back of my cupboard but another kilogram? Like rabbits, I tell ya.
More brownies for me, I suppose. What a shame.
I'd been meaning to try this recipe for quite some time and I'm glad it finally made it to the top of the pile and was included in one of our mass baking productions, and you'll  be glad too when I tell you a bit more about it.
These aren't just brownies. These are your favourite brownie recipe, topped with Reese's peanut butter cups, salted peanuts, and a healthy layer of peanut butter-chocolate icing filled with Rice Krispies.  Now, that may sound like too many things going on in one brownie, and I will warn you to go smaller on the portions than you would with just a straight up brownie, but the crunchy/gooey/salty/sweet combination is too delicious to pass up.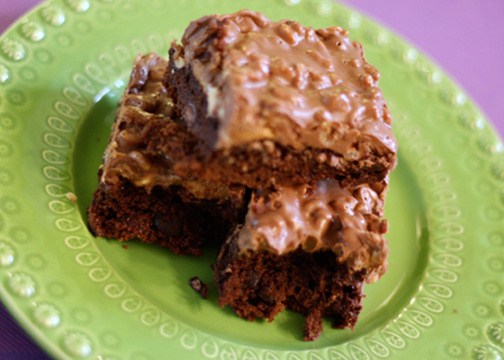 The one silly thing about the recipe is that is calls for "your favourite brownie recipe", which means you have to hunt down a second recipe just when you think you're all set to start.  I'll be honest and tell you I made these with the Ghirardelli box mix, which is so delicious, but they would be even more delicious, I think, with a thinner brownie like this Baker's One Bowl Brownie, which is my usual go-to fudgy brownie. I did cut the icing ingredients from the original recipe, just because I like the brownie to stand out too and find too much milk chocolate a bit too sweet for my dark chocolate-loving self, but if you prefer the icing THICK then check out the links below for the original recipe and try 'em that way too!
Last week I made what I think had to be my favourite brownies ever that I'll  be sharing with you as soon as I come out of my sugar coma, with over 2 lbs of dark chocolate, 4 eggs, and oven-roasted cherries, but with everything this brownie has going on on top I don't think you need to put that much money into the base, and a darker chocolate would not complement the milk chocolate top very well.  Really, this whole paragraph is totally useless information relating to the current brownie, but more of a glimpse of what's to come.  Sorry, I'll stop teasing you and get on with it!
I've also made this recipe minus the Reese's peanut butter cups, since I'm not sure how much flavour they actually add between the peanuts and peanut butter chocolate icing, and there was no noticeable difference in my opinion.  These work well as individual brownie bites made in a mini cupcake tin too!
Peanut Butter Crunch Brownies
Author:
Anna @ Hidden Ponies
Recipe type:
Dessert; Snack
Ingredients
1 batch of your favourite brownie recipe for a 9×13 pan
½ cup salted peanuts
6 Reese's peanut butter cups, chopped
1½ cups milk chocolate chips
1 cup creamy peanut butter
1 cup Rice Krispies cereal
Instructions
Prepare brownies according to your directions for whatever recipe/box mix you're using, baking for 5-7 minutes LESS than the recipe states. Remove from the oven and sprinkle with peanuts and peanut butter cups. Return to oven to finish baking.
While they are finishing up, melt the chocolate chips and peanut butter in a medium saucepan over medium-low heat. Stir in Rice Krispies to coat. Pour chocolate mixture over top of the warm brownies, spreading to cover evenly.
Let set before cutting into bars.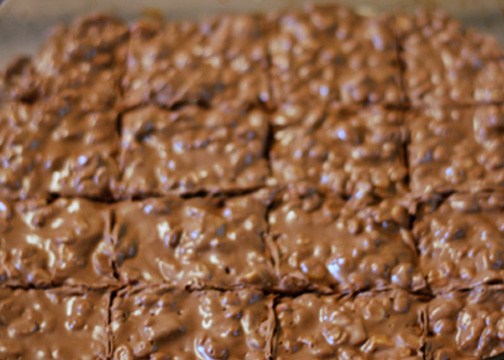 Refrigerate for 2 hours before cutting and serving.  Store in an airtight container in the fridge.
Recipe adapted from Brown Eyed Baker, who found it on How Sweet It Is.  These two ladies always have amazing, inspiring recipes!