This morning, looking down at my pants that were on backwards, I realized I had started quite a tally since having a baby.
You know those people who do great with little to no sleep? I am not one of them.
My track record looks something like this:
Number of times wearing my shirt inside-out : 5 (including the time I was in a store change room and came out with it like that. Thank goodness for many mirrors in stores, I didn't make it too far).
Number of times I have turned the wrong burner on, toasting a stack of plates or cardboard box (yes, I need to clean my kitchen) and wondering why my water was refusing to boil : 2
Number of times my hubby has had chicken and roast potatoes for dinner : Hmmm how many days since little b was born? ;)
Number of times I have worn my pants backwards : 2 (on the positive side, they were yoga pants. I have yet to do my zipper up on the wrong side).
Number of times I have gone to the grocery store without my wallet : 1
Little b finally sleeping through the night, but making me worried that she's not waking up, and laying awake between checking her every hour? Priceless ;)
So to make up for my lack of recipes and my ever prominent bleary eyes, I now present you with two recipes!
I am celebrating fall (especially since I don't have any trees that I need to rake up after), and these recipes are a great way to do it :). I got a huge bag of prune plums from my cousin and, along with that, two delicious recipes to make sure they were used to the fullest of their flavour. (Thank you M!). I just love having frozen fruit that I can grab from the freezer and throw together into a delicious and quick dessert!
One version is for all you regular people out there, who can happily eat anything without any undesirable side effects. The second is also delicious, and for the gluten free (and in this case, sugar free) crowd. (You didn't think we'd leave you out did you?).
So here they are. I'm sure you could make them with any fruit, but if you use something like apples, I would recommend adding some sugar to the mix of the apples (or honey in the case of the gluten and sugar free), since they have much less natural sugar than prune plums :).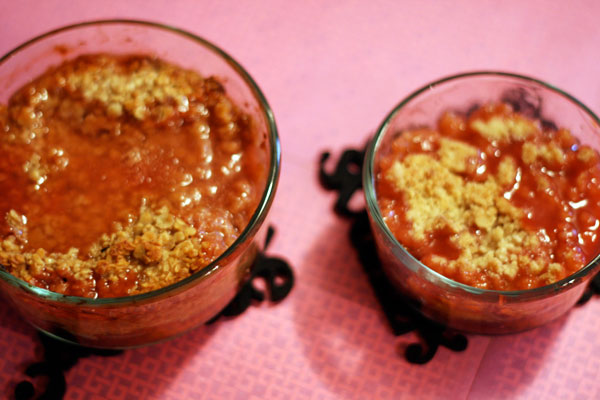 Plum Cobbler
Ingredients
1 1/2 cups all purpose flour
1/3 cup ground walnuts (optional)
1/2 cup sugar
1/4 cup firmly packed brown sugar
1/4 tsp cinnamon
1/8 tsp cardamom (I used nutmeg)
1/2 cup butter or margarine, melted and cooled to room temperature
2 1/4 pound Italian prune plums, pitted and quartered (6 cups)
Directions
Preheat oven to 375 degrees F. In a large bowl, whisk together the flour, walnuts, 1/4 cup sugar, brown sugar, cinnamon and cardamom. Slowly drizzle in the butter and combine with a fork until the mixture is crumbly. Do not allow the mixture to come together in a ball (pastry cutter helps). Break up any large crumbs with your fingers. The crumbs should be smaller than 1 inch in size.
In another large bowl, combine the plums and the remaining 1/4 cup of sugar and toss well. Spoon the fruit into a buttered 2-quart gratin or shallow casserole dish, mounding the fruit in the center. Evenly sprinkle the crumbs on top of the fruit.
Bake the crisp until the fruit is bubbling and the topping browned, 50-55 minutes. Serve hot or warm.
(I doubled the topping and filled three 9″ pie plates instead.)
I'm still trying to perfect it from the freezer, but I've learned so far that if baking from frozen you need to bake it at a higher temperature and let it sit before serving. So I tried 425 F and let it rest for a 1/2 hr to absorb the juices.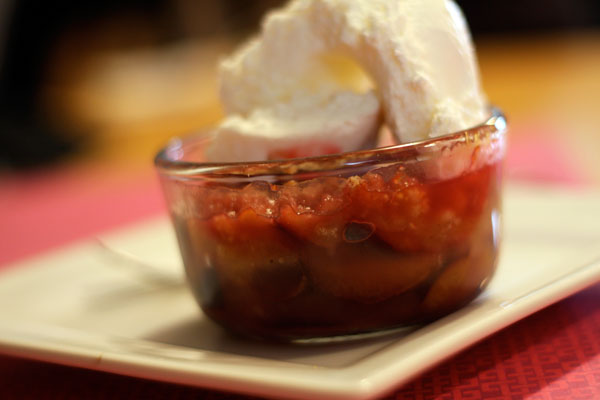 Plum Crisp – Gluten Free, Sugar Free
Ingredients
1/3 cup flour (I used Bob/Red mills GF all purpose flour)
1 cup oats
1/3 cup honey
½ tsp salt
1 tsp cinnamon
¼ cup margarine, melted
2 1/4 pound Italian prune plums pitted and quartered (6 cups)
Directions
Place plums into your baking dish. Mix together all the rest of the ingredients, and cover the plums. Bake for about 20-25 minutes, or until crisp is browned and plums are bubbling.