You know that thing that you buy every time you go to the grocery store? That one food that you are sure you will eat this week, even though it went bad before you got to it last week, and the week before?
I have that with yogurt.
I don't know why, but I always convince myself, when staring at the shelves, that I really will eat the yogurt this time. How tasty it will be with fruit, and maybe even some granola. I drool over it every time I see someone else eating it. But, for some reason, the yogurt remains unopened in my fridge, to the point where I throw it out, never checking if it's ok by some food miracle, since I'm too afraid of the fuzzy greens that might welcome me with a lift of the lid.
The other food that I am guilty of buying all the time is bananas. I don't even like bananas on their own. The idea of just eating one on its own makes me feel a little green, but I go through phases of loving a great peanut butter and banana sandwich for breakfast. Needless to say, I have a lot of bananas hanging around on my counter, aging not so gracefully, so I'm forced to come up with recipes to put them in. The good news is, that I do like banana in some things. Those things, for the most part, being muffins (please don't hide them in my smoothie if I come over because that is the saddest thing you can do to one of the tastiest foods :)).
This recipe is no exception to the rule. It is so delicious, and my equally banana averse husband loved them too, since the banana isn't strong at all! They make a delicious breakfast or snack, or anything really, and can be made gluten free, (like the ones pictured), or with regular flour!
Oh, and feel free to add chocolate chips with reckless abandon. I'm on a chocolate fast right now, due to my very picky daughter, but chocolate makes them even more exciting and tasty :). (Surprised that I say this? ;))
Happy eating!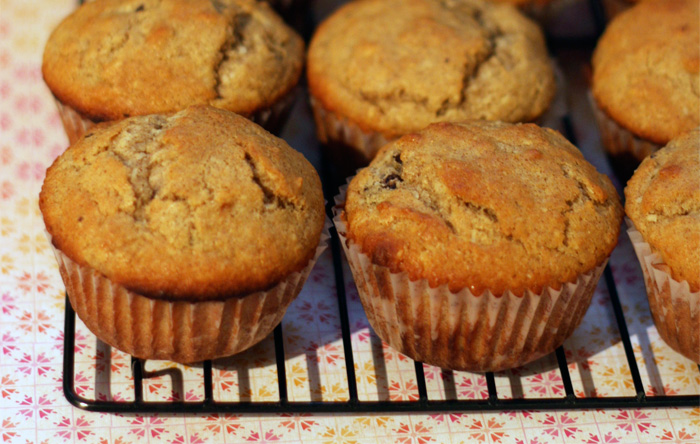 Chunky Monkey Banana Muffins
Ingredients:
1 cup white sugar
2 whole eggs
1 tbsp vanilla
3 whole bananas, mashed
3/4 cup buttermilk
1 cup margarine, melted
3 cups flour (or for gluten free version, 3 cups Bob Mills Gluten Free Flour, plus 3/4tsp xantham gum)
2 tsp baking powder
1 tsp baking soda
3/4 tsp salt
1 tbsp cinnamon
3/4 cup coconut, sweetened and shredded
1/2 cup chocolate chips
Directions:
Cream together sugar and wet ingredients
Mix together dry ingredients, then mix them into the wet ingredients
Fold in coconut and chocolate chips
Spoon batter into 20-24 lined muffin tins (depending how large you like your muffins)
Bake at 350F for approx 20 minutes, for regular flour, and 15 minutes for Gluten Free.