Today is a big day. I have been dreading this day for weeks. I've been having nightmares, which for my poor husband means crazy sleep walking. What could be so bad, you ask?
It's driving test day.
I have been putting off doing this for a long time. Not that I'm a bad driver (although my driving record from my earlier days may beg to differ), but I am quite terrified of being tested, and I also hate the idea of paying all that money, and not passing. Not to mention, who is this stranger that I am letting into my vehicle? Will I come back alive? (I'm sure this also goes through the minds of those who give the driving tests as well, but at this point, I'm more worried about my own safety). Thankfully, this test is just to get rid of my N, so if I do fail, I still get to drive away, and continue driving, apparently being a menace to society (muahahaha).
It's at times like this that I wish I was as adorable and charming as  Anna. This is how her driving test went:
Instructor: Please parallel park here.
Anna: Oh, I never really do that in my normal driving, so I don't think that's necessary (insert eyelash batting).
Instructor: Ok, that sounds reasonable. How about a back-in parking job?
Anna: Oh, I just pull in usually. Is that ok? (insert winning smile)
Instructor: No problem. Pulling in sounds fabulous.  I don't know why I even brought up backing in.
….
Instructor: Anna, you aren't driving the speed limit, I'm concerned.
Anna: Oh don't worry, I never drive the speed limit in my regular driving. (I think this one took eyelash batting paired with the winning smile.)
Instructor: Ok, as long as that's true, I would love to pass you.
So, you see? Instead of practicing my driving skills, I should've been working on the power of persuasion – apparently a much more important skill when it comes to passing driving tests ;).
Anyways, as with any big day, starting with a great breakfast is crucial, and these muffins are definitely a great breakfast. They are tasty, healthy, and will keep you full until lunch time. Maybe I should also use them to bribe my tester :). They are also a great way to use up some of the scads of zucchini you may have, if you are one of those who planted zucchini in your garden this year, and got WAY more than you bargained for.
Zucchini, Banana and Flaxseed Muffins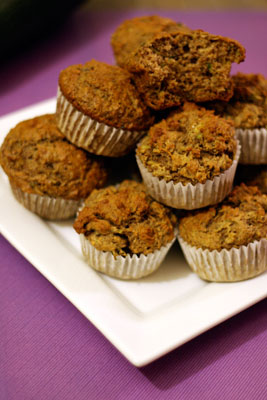 • 1 cup all-purpose flour
• ¾ cup whole wheat pastry flour
• ½ cup ground flaxseed
• 1 cup packed brown sugar
• 2 tsp baking soda
• 1 tsp baking powder
• 1 ½ tsp ground cinnamon
• 1 ½ cups coarsely grated zucchini
• 1 mashed ripe banana (approx 1/3 cup)
• ¾ cup buttermilk
• 1 large egg, lightly beaten
• 2 tsp pure vanilla extract
• nonstick cooking spray
1. Preheat oven to 350F. Lightly coat 12 standard muffin cups with cooking spray. Set aside.
2. In a large bowl, whisk together flours, flaxseed, brown sugar, baking soda, baking powder and cinnamon
3. In a small bowl, stir zucchini and mashed bananas together. Add to flour mixgture and stir to combine
4. In medium bowl, whisk together milk, egg and vanilla. Add milk mixture to flour mixture and stir gently until combined (do not overmix).
5. Divide batter evenly among muffin cups. Bake until a toothpick inserted in center comes out clean, 20-25 minutes. Let cool for 5 minutes in pan and then transfer to wire rack to cool completely.
6. Gluten free: substitute Bob Mill's Gluten free flour and 1 ½ tsp xantham gum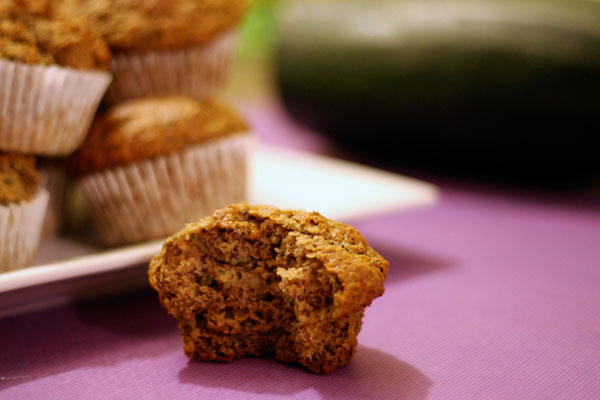 Recipe from alidaskitchen.blogspot.com