This week we decided to give you a break from chocolate (who needs a break, really, but we do encourage diversity :)) and introduce you to the world of grapefruit squares!
Grapefruit is, in my opinion, one of the most delicious fruits out there. If you are ever sleepy in the morning, simply open yourself up a red grapefruit and ZING! you are awake. The colour is nothing short of amazing, and the juice you can squeeze out at the end is like an encore for the fruity goodness you just ate. Yum.
These squares are luscious and fresh, and with a soft crust, a crunchy top and a fruity, gooey center that is to die for, they will have you thinking that it may be possible that summer won't end.
Enjoy!
Grapefruit Squares

Ingredients
FOR THE CRUST:
½ cup Butter, At Room Temperature
¼ cup Powdered Sugar
1 cup Flour
⅛ teaspoon Salt
FOR THE GRAPEFRUIT FILLING:
1 whole lemon, zested
1 cup Sugar
3 Tablespoons Freshly Squeezed Grapefruit Juice
3 Tablespoons Flour
½ teaspoon Baking Powder
2 whole Eggs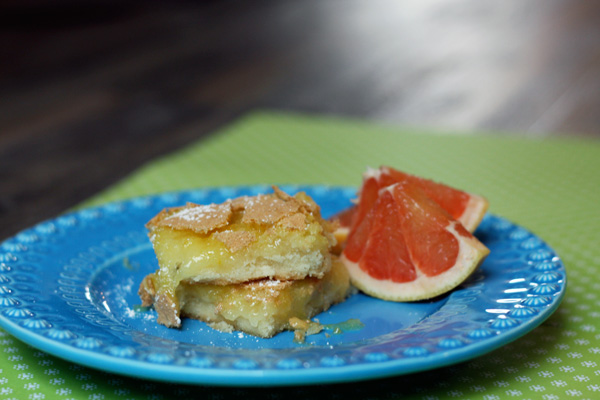 Preparation Instructions
Preheat oven to 350ºF. Grease an 8×8″ pan thoroughly.
In the bowl of an electric mixer, beat together butter and powdered sugar on medium speed until light and fluffy.
In another bowl, whisk together flour and salt.
Turn the mixer down to low and slowly add the flour and salt to the butter mixture. Mix until well combined.
Press the dough into the prepared pan and bake for 10 minutes.
While the dough is baking, prepare the filling by simply mixing all of the ingredients together until well-combined.
Bake for 20 minutes, or until the edges of the filling are slightly golden brown.