Last week Carl was gone, my sisters were gone, my in-laws were gone, and both my babysitters were gone. It was also hot as you-know-where every single day. I thought I was doing better with heat, but that was before a heat warning came into effect and there were not enough inappropriate clothes in my closet and my legs started sticking to the kitchen chairs and my kids still wanted to snuggle pretty much every moment of every day. Did I mention the baby was sick and made me sick too? I really am looking forward to fall.
Let's not talk about last week anymore, let's talk about before that, when summer was lovely and everything was worth pointing at.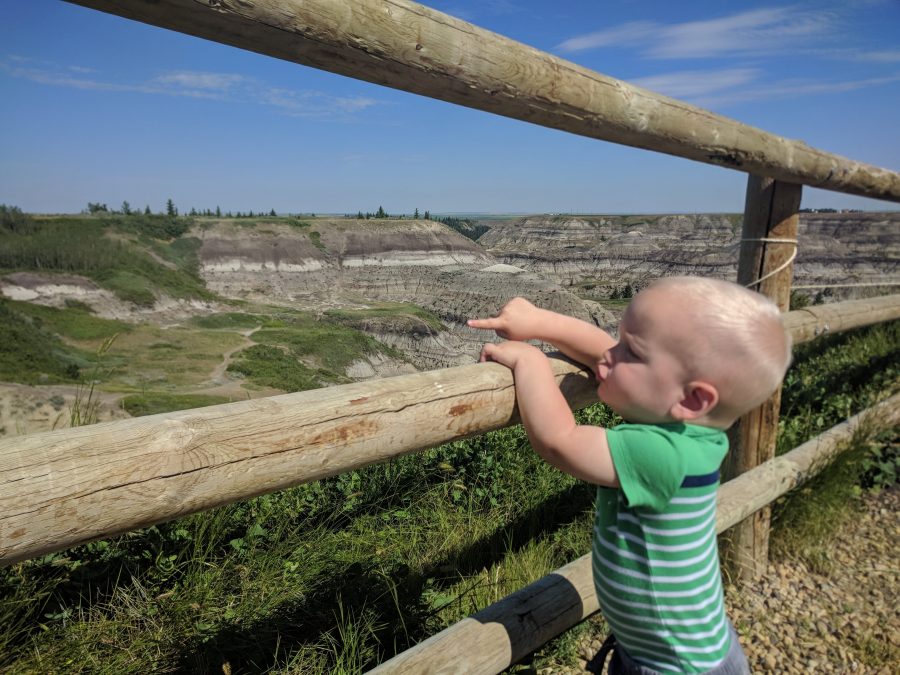 That's what you'd rather hear about, right? This week will be better, and no one comes to the internet to get annoyed.
First stop: Drumheller, Alberta! I've always been a bit of a sceptic when it came to dinosaurs, and I've wanted to go here for awhile now.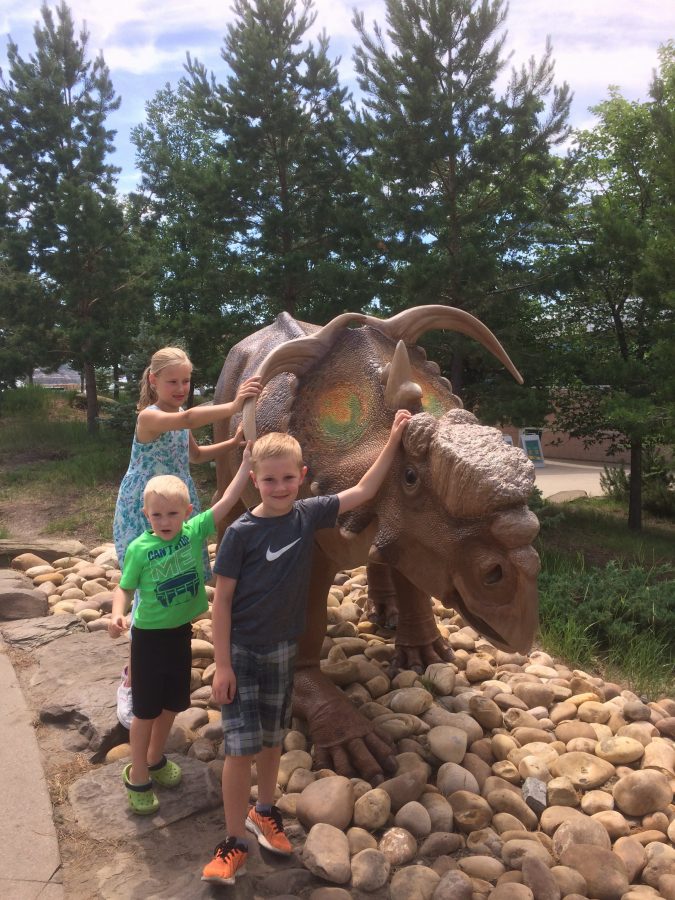 It's a landscape that feels totally dinosaur-friendly, and also like you could possibly go extinct if you lived there – stunning rock formations, but very little vegetation that looks like food, and no shade.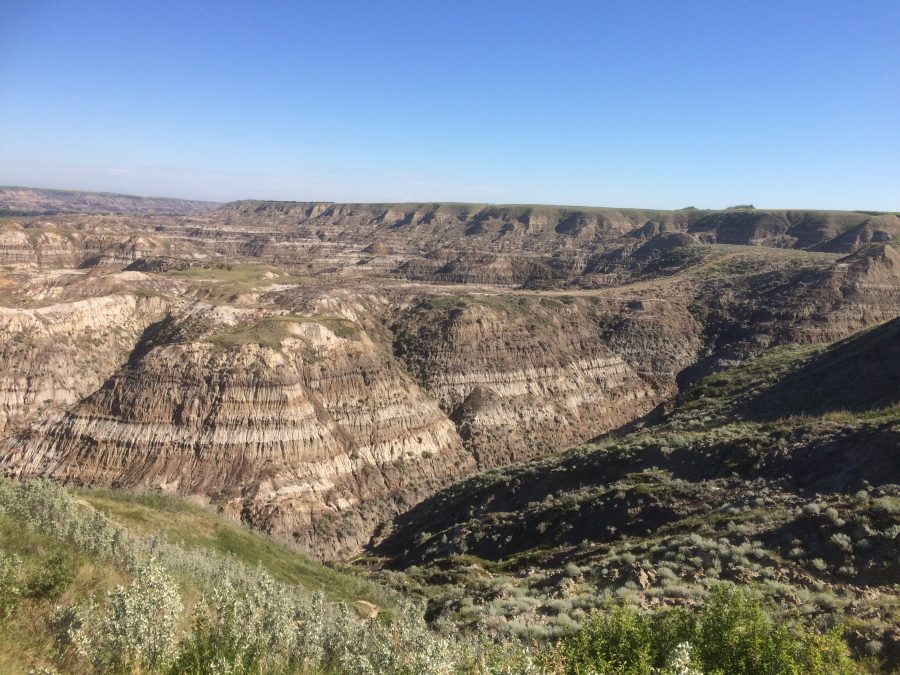 The kids loved everything from the hotel pool to the world's largest dinosaur to hiking canyons to climbing hoodoos.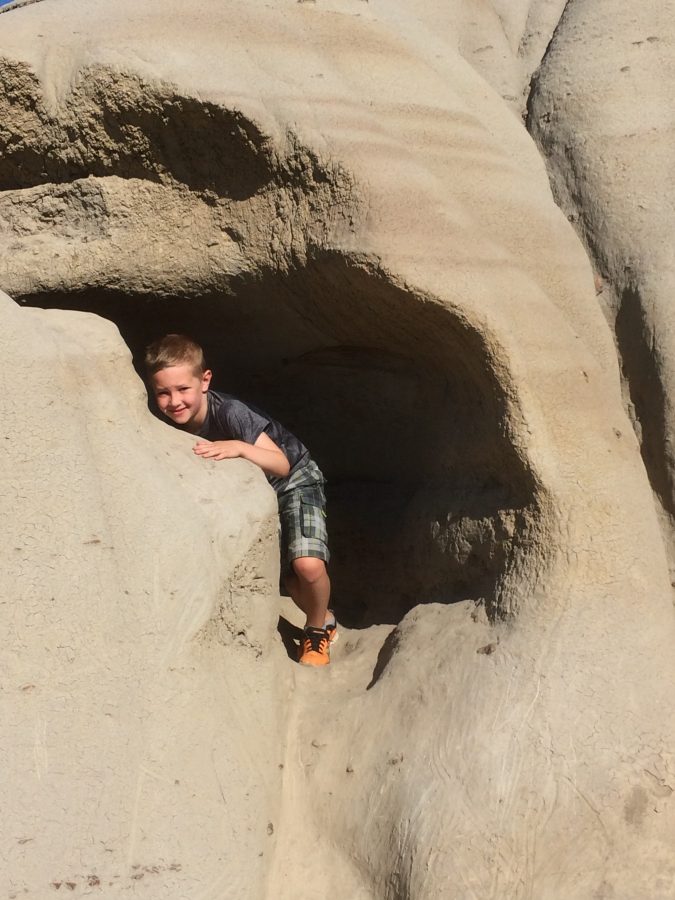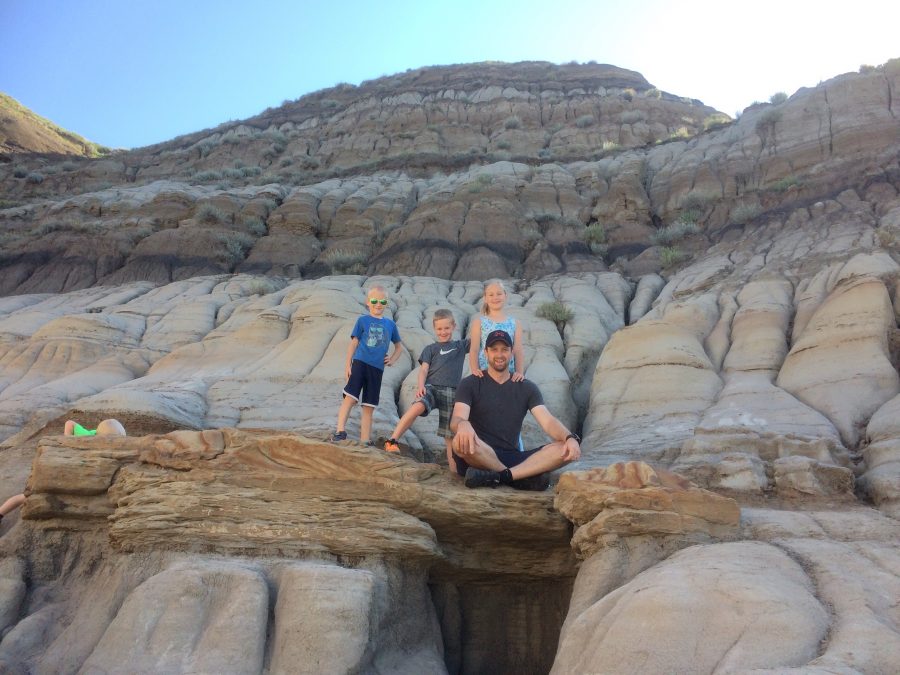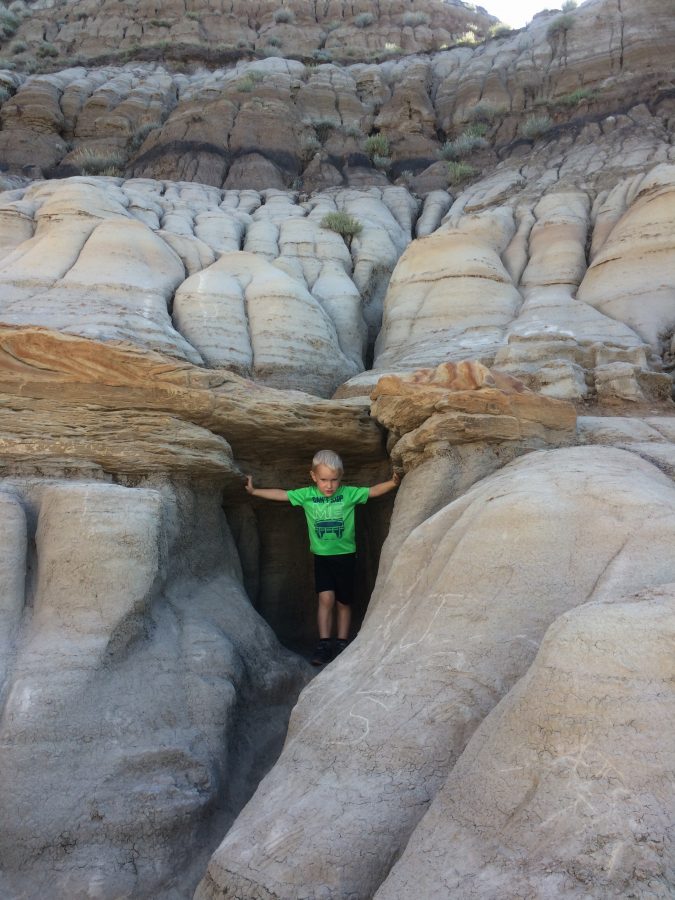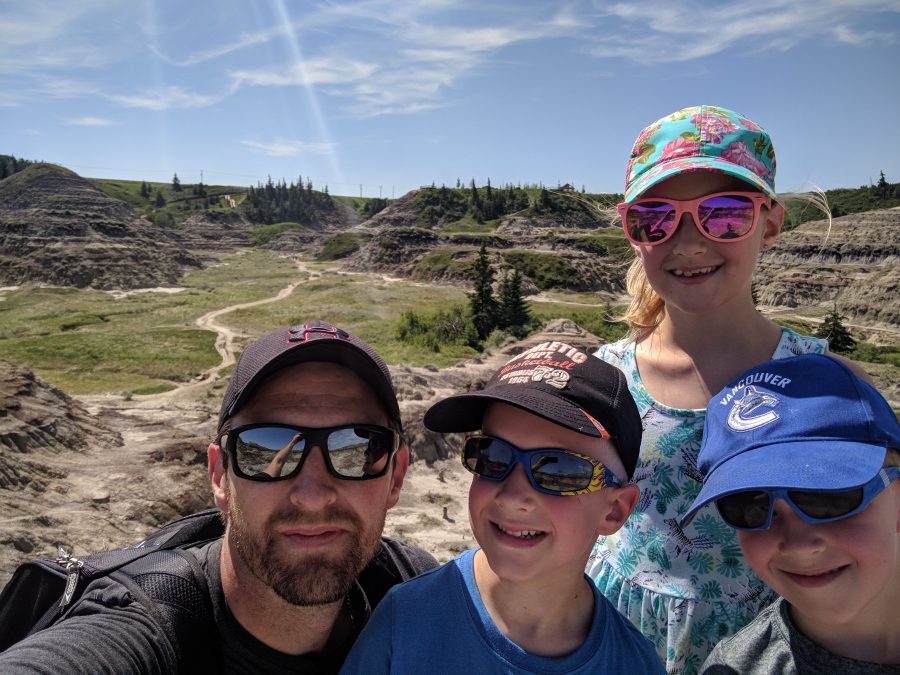 I'm not sure why the World's Largest Dinosaur has a strategically placed palm tree though. For scale?
Anyways, only 106 steps to get into his toothy mouth.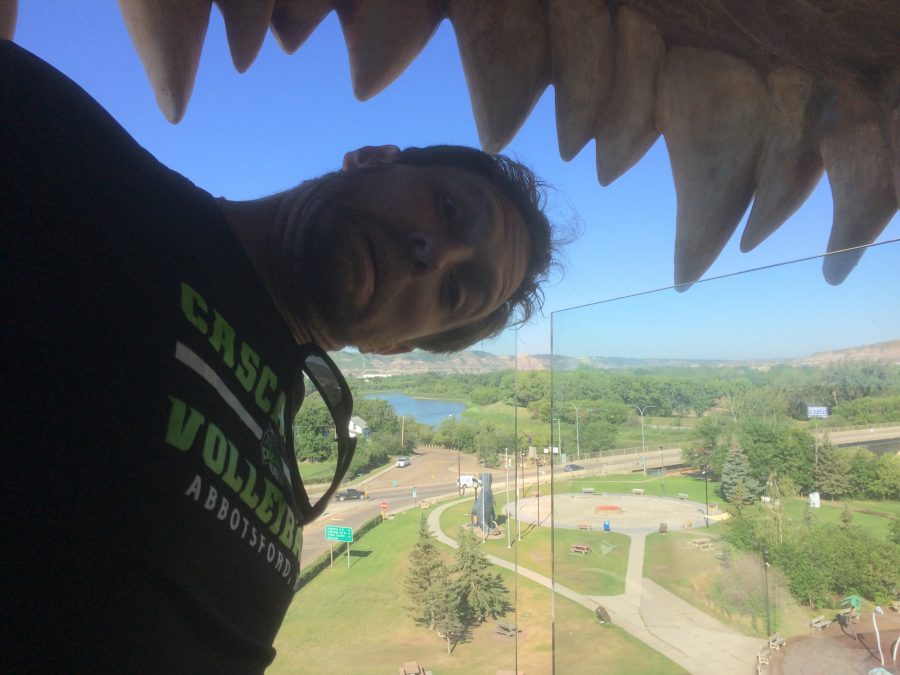 It was nice of them to put that glass there, because 4.5x real T-Rex size is Very High. It is also bright so close to the sun.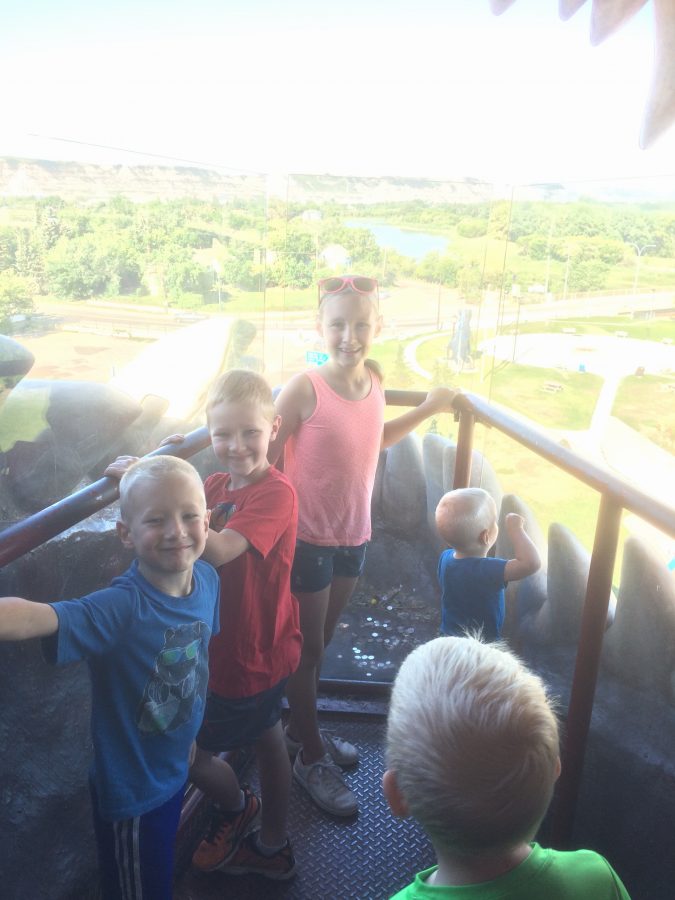 Carl really wanted to stand on a far-off rock at one canyon with a lookout – this fenceless void made my mama-heart nervous, so I told him he could go if he ran. Run he did.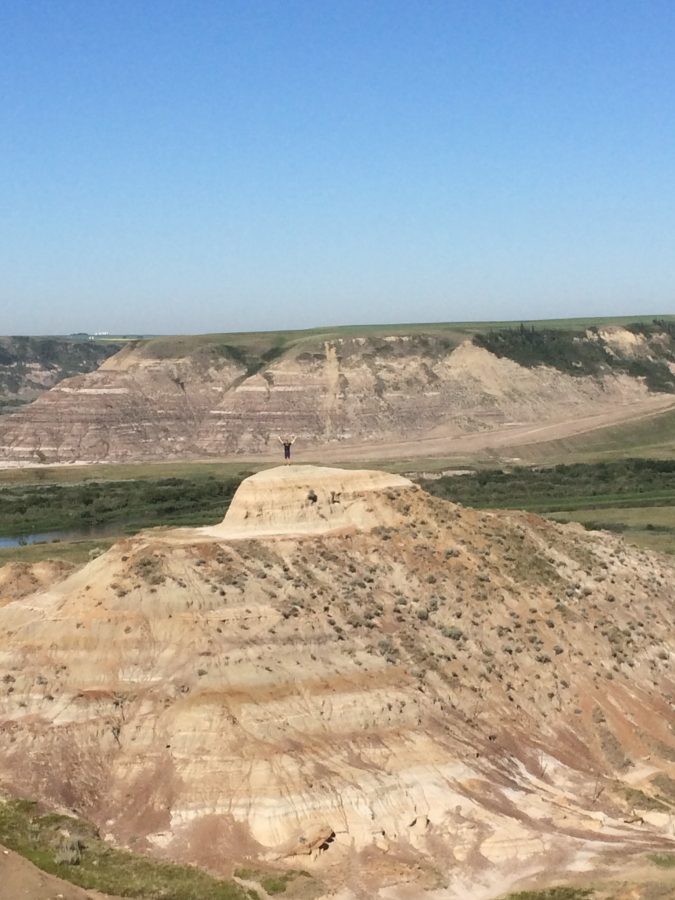 We are very impressed from afar.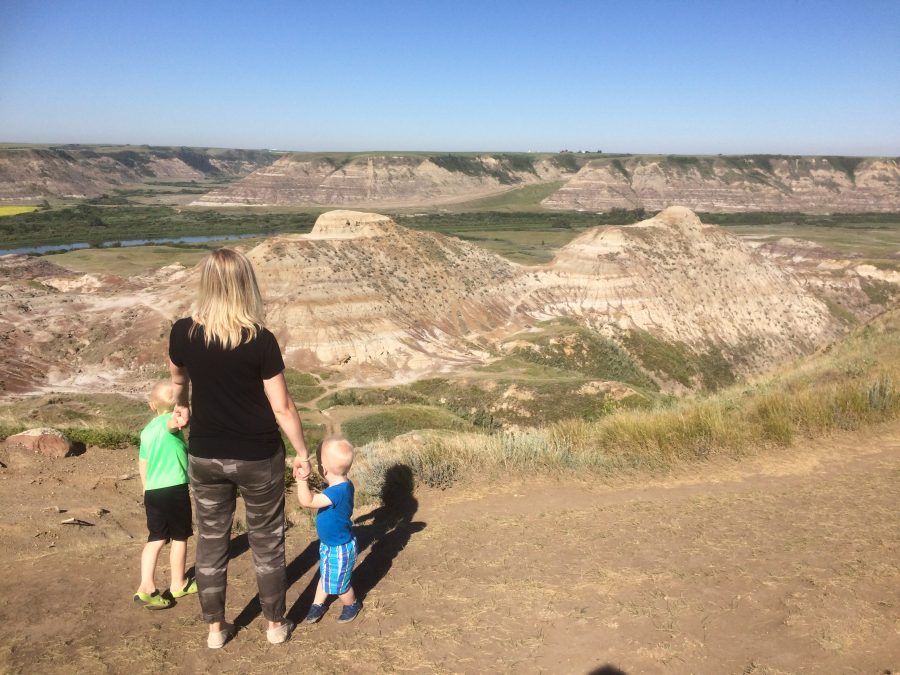 Like father, like sons.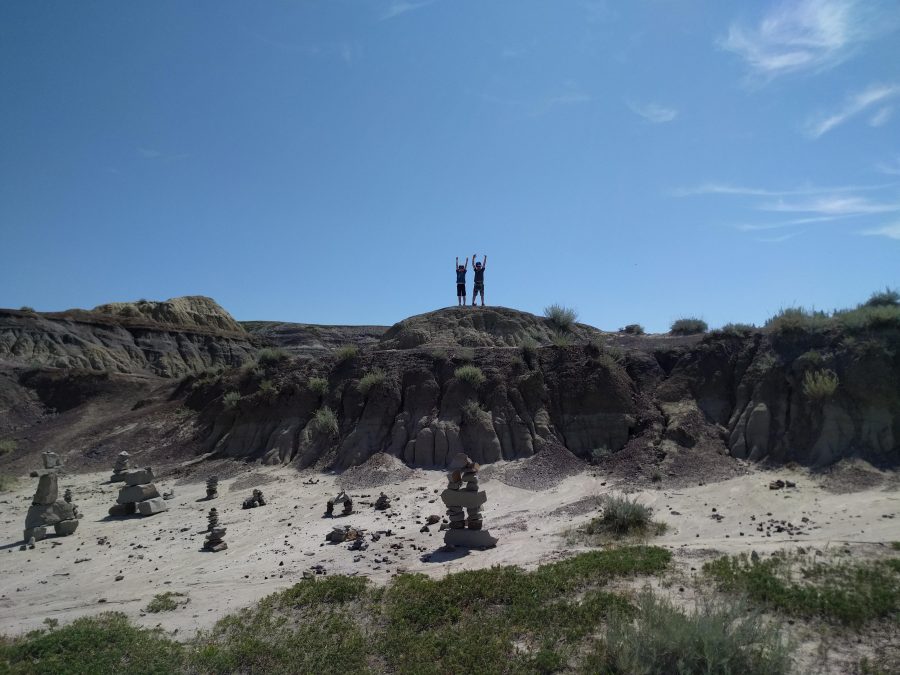 The museum was pretty spectacular – did you know Alberta has the greatest diversity of dinosaur skeletons in the world? Also, palaeontologists must have the greatest patience of anyone ever. There was one skeleton that a guy worked on almost exclusively for five years! At least they honoured this mind-numbing persistence by naming the dinosaur after him. All that work and they never really arrive at any answers.
It's actually all pretty magical, like this T-Rex.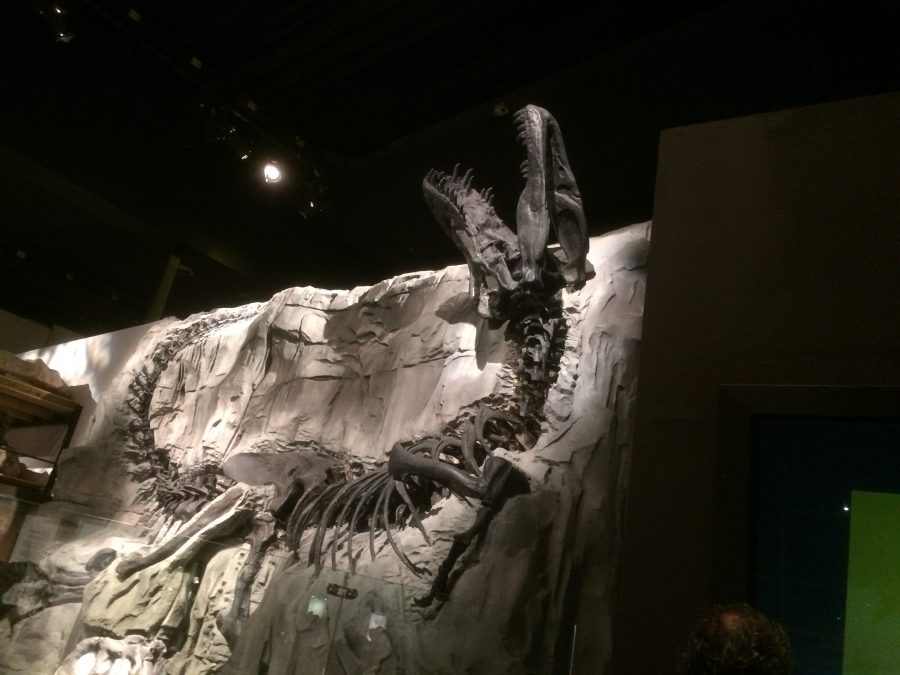 They only thing that left them underwhelmed, but totally fed my love of history and stories, was the last coal mine to close down in Canada. I had to tell you about it though because this is good parenting guys: when you are a million sweaty degrees and your child needs a piggyback and you say yes. This was a (rare) win for unselfishness that required documentation. Also, Carl thinks my romper looks like pyjamas and I need your thoughts. I tend to agree but not really care because pyjama days are something I can get behind.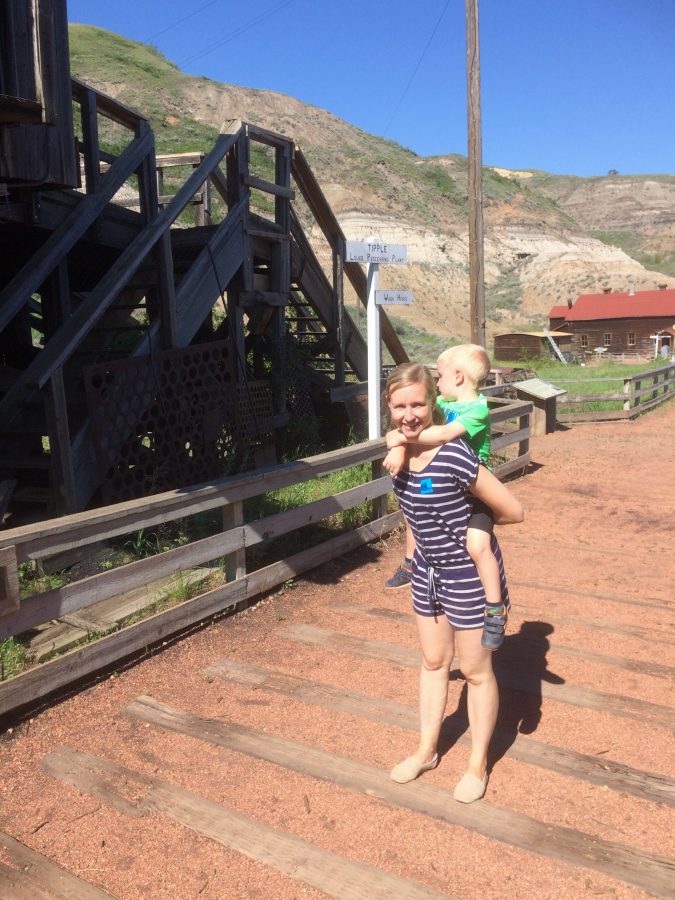 After two nights we left this shadeless land for another!
This one had fabulous people awaiting us, and actually a few trees here and there :)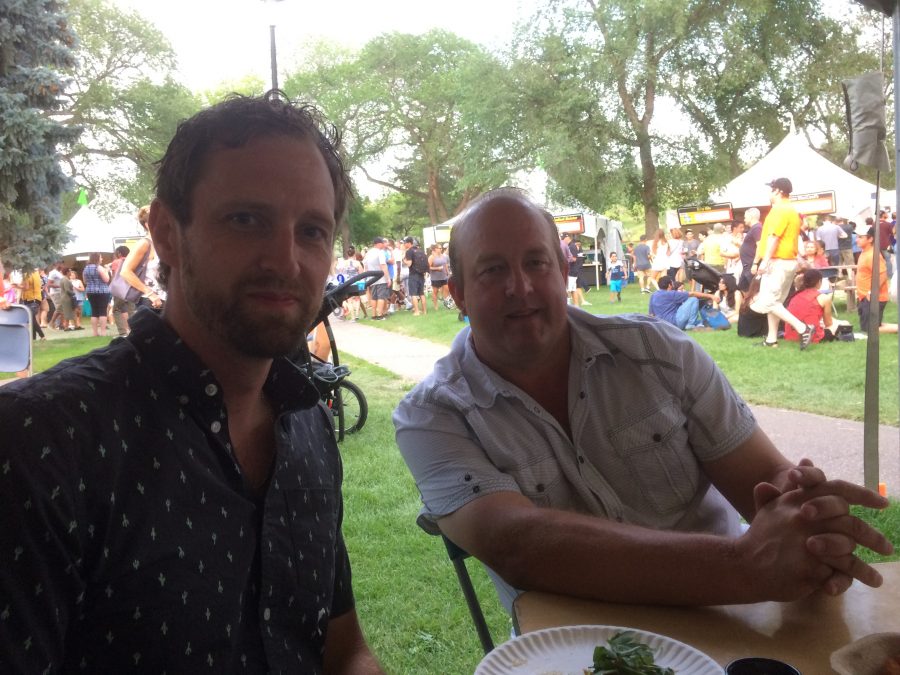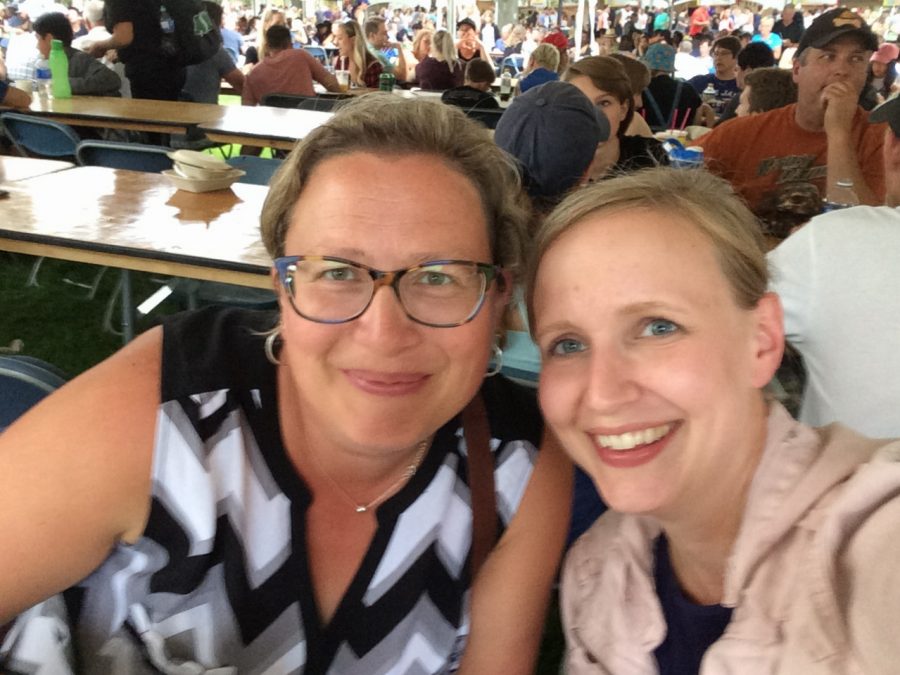 Carl's big brother was married and moved away well before I came onto the dating scene, so it was super fun to get to know this part of the family better and remember that it's pretty great to be part of two big families. They were incredibly gracious and inspiring hosts, and now I wish they lived closer!
Gemma loved having girls her age, and these kids were so good with my kids, there were able babysitters everywhere we went! Check out that cheese platter with the talented makers and taste testers :)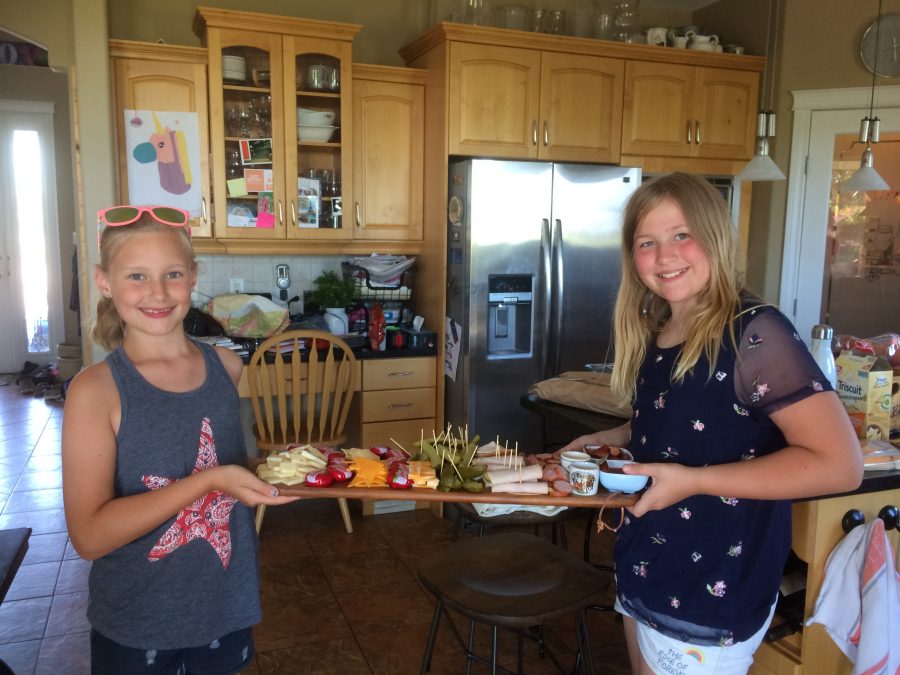 We checked out the Railway Museum – acres and acres of old trains to climb on and explore!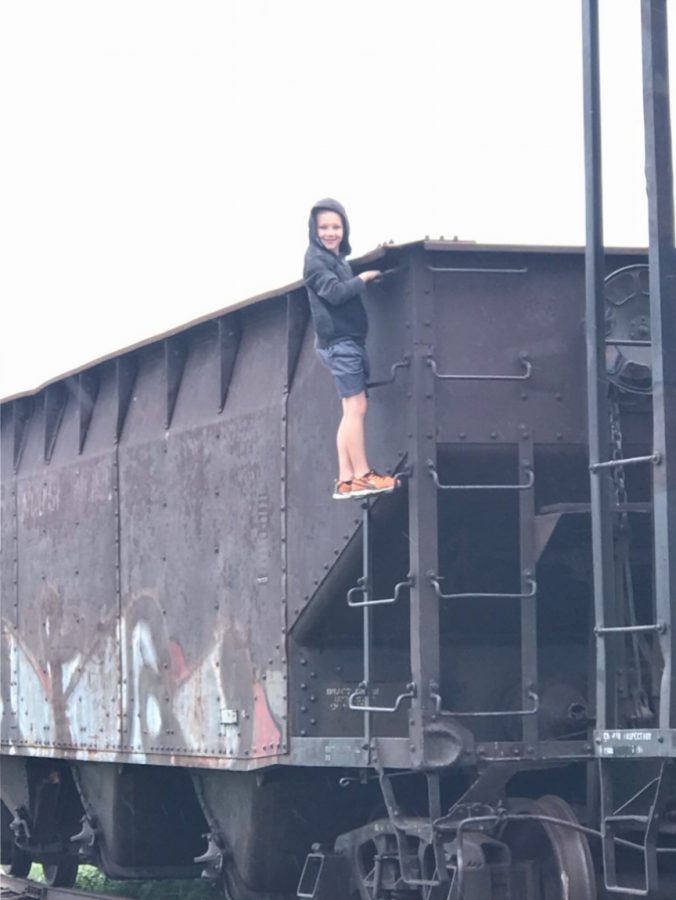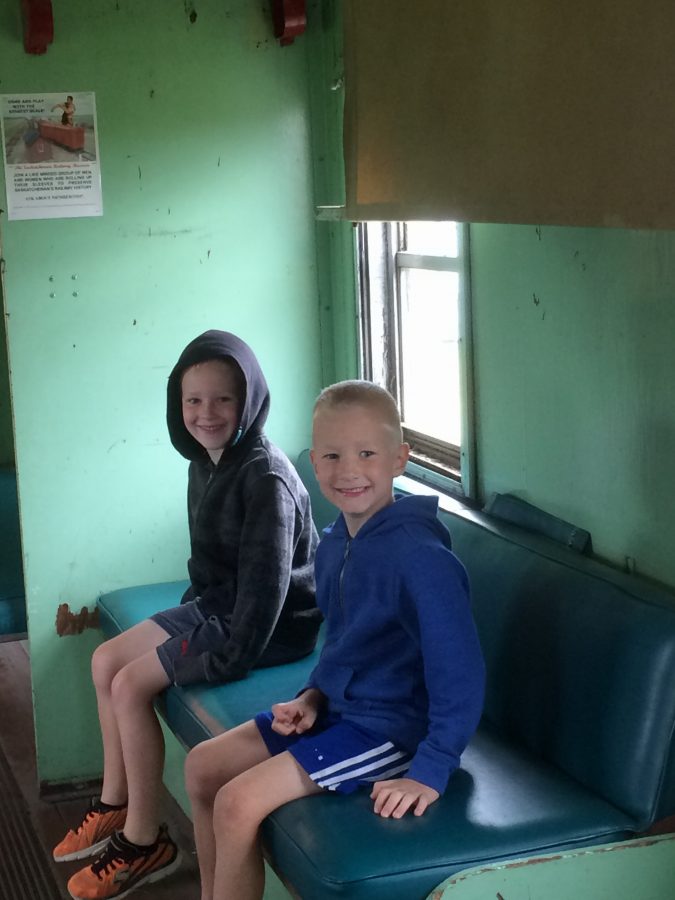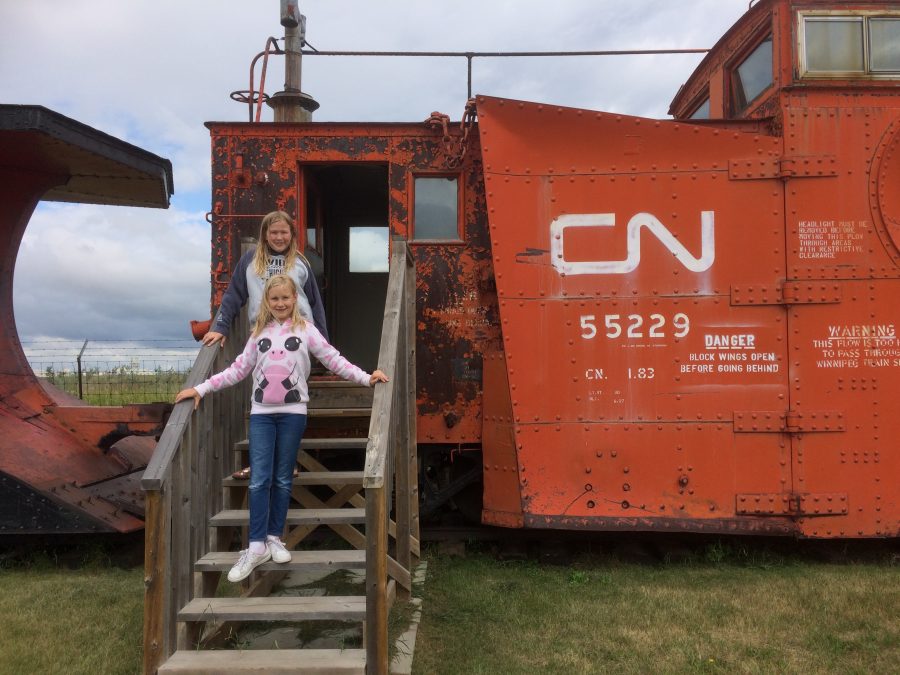 The local public swimming pool was an outdoor wonder with tons of shallow areas and great slides, perfect for our baby water rat, so we went there twice and I got to go on waterslides for the first time in YEARS. It is scarier than I remember, guys.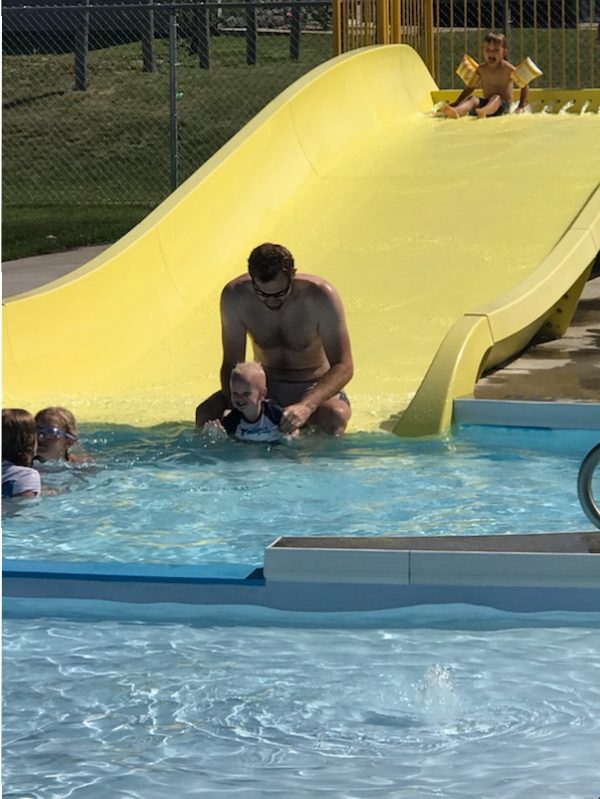 The Western Development Museum and the zoo got checked off, along with a wander through a truly massive agricultural show, so I now have a reusable shopping bag declaring my love for the #AgLife :) The family dairy farm was also a popular destination with our nephew and niece making impressive guides…we got to see calves fed, robots cleaned, and Carl even got to do chores a couple times.
The Taste of Saskatchewan festival was a big part of the reason we timed our trip when we did, so the last night we ate ourselves silly on tostadas, crepes, hand-cut nachos, pulled pork in a bag, chocolate peanut butter mousse bombs, Saskatoon berry pie, and cheesecake on a stick, among other things.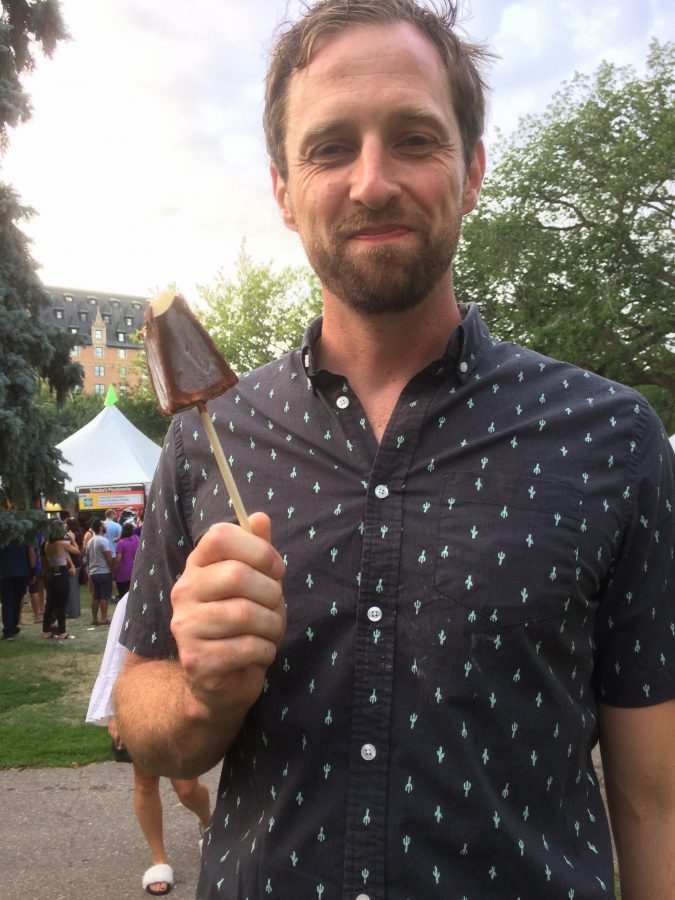 And then it was homeward bound. About 5 hours from home I finally relented on Carl's desire for an ice cream stop. Still, my weak stomach was inherited by a couple of our kids and I didn't want to be cleaning up anything gross mid-drive, so we stopped and ate our ice cream slowly at the ice cream shop like reasonable people do at 9:00 in the morning :)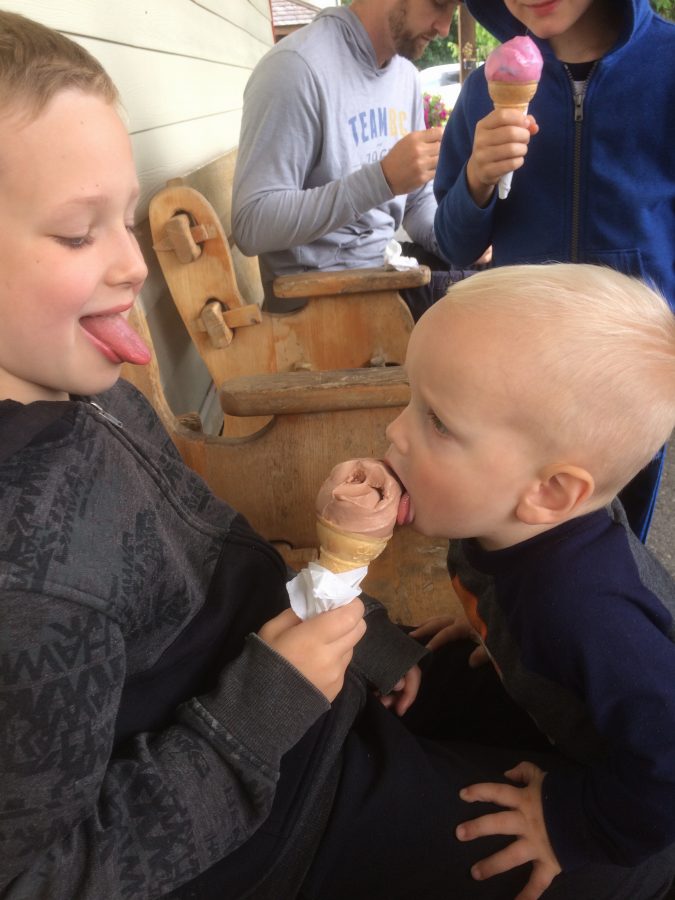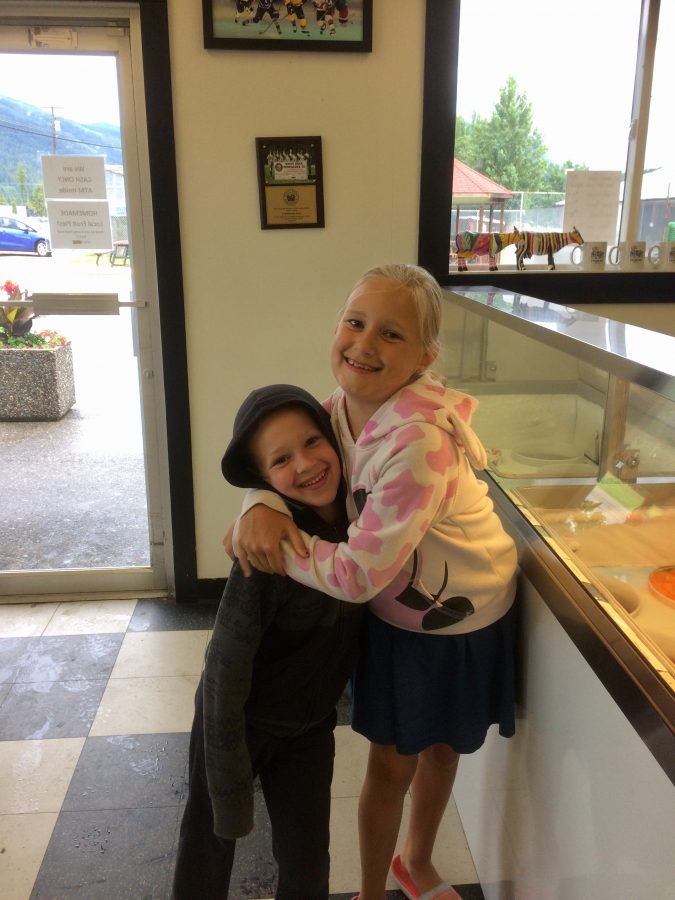 Other stops included two smoothies per four people because a) aforementioned weak stomachs and b) budget friendly!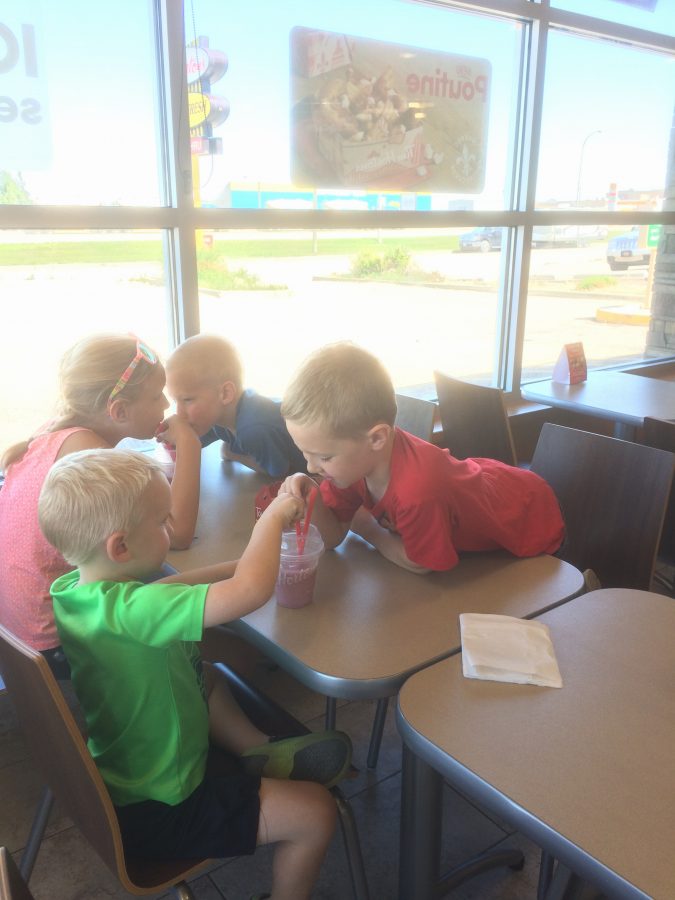 I have to admit I wasn't looking forward to this trip with loads of enthusiasm – 32 hours of driving with 5 kids and staying with people I don't know well goes against a lot of my introverted dreams. But it goes to show that stepping out of your comfort zone can be a really good thing (actually, it probably usually is). The kids did amazing, the people I barely knew are now people I know and love, and memories were made that could never have been made at home.
If I have to get out of my comfort zone, these are the people I want to do it for, and with.