Three and a half years ago I was getting ready to fly across the country solo with 3 kids aged 5 and under to move in with my parents. Carl was heading to Ottawa for a semester, and I didn't want to be all alone at home with said 3 children for the next 3 months, and my parents were kind enough to take us all in.
Things were a little stressful, and I was tired and not feeling great, but didn't think much of it. Two days before we were supposed to leave, I jokingly threw out a "Maybe I'm pregnant, that's how tired I feel." Our youngest had turned 1 about a month before, so Carl laughed it off without much thought. But once you've uttered those words as a woman, you cannot stop thinking them until you KNOW, so the next day I called Carl at work and asked him to grab a pregnancy test on the way home.
It was positive. Without time for a doctor appointment, the next day Carl waved us all goodbye at the airport and I went to my parent's house and proceeded to be a completely useless, nauseous, sleepy house guest for the next 3 months, guessing I was due late September/early October. We moved back home in April, I learned that my due date guesstimate had been totally off, and by August we had welcomed Gavin into our lives! In the meantime I finished my second last semester of university, heavily pregnant, writing my last exam about a week before he was born.
It was a weird, but wonderful, year.
This little surprise was the world's best sleeper, and a happy, easy baby all around.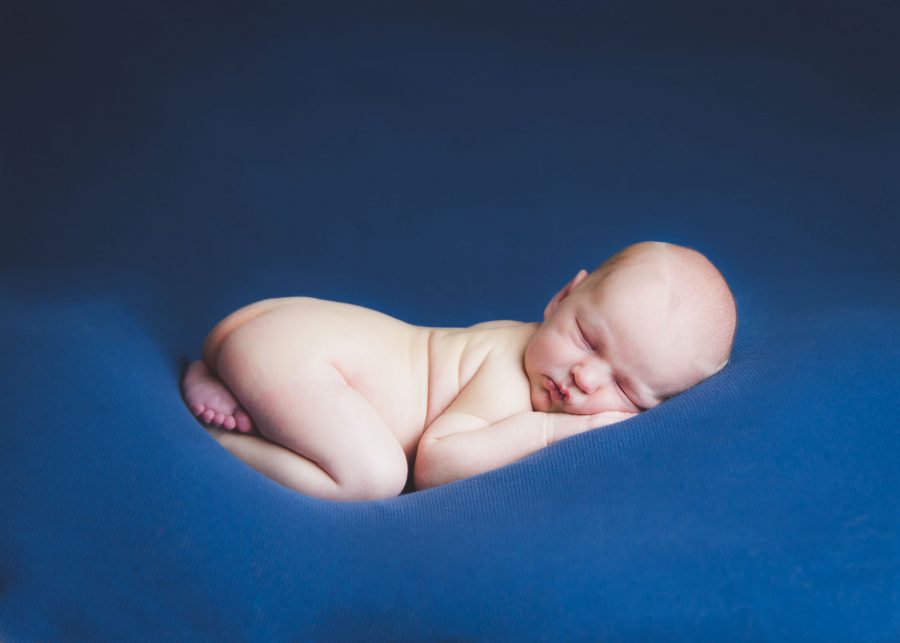 I can't pinpoint exactly when that changed, but now he gets up almost every night at least once, loves running away in public places, and is generally a whirling dervish of energy, noise and chaos. He is crazy smart, fearless, and strong of opinion. He also loves books, and they are one of the only reasons in his world to sit still.
We were all excited to celebrate his third birthday – the kids have been talking it up to him for weeks. Three is the first birthday where I feel like they really get what's going on, and they just spend the whole day smiling and telling everyone they see that it's their birthday and they are three, and they are thrilled with literally anything in wrapping paper.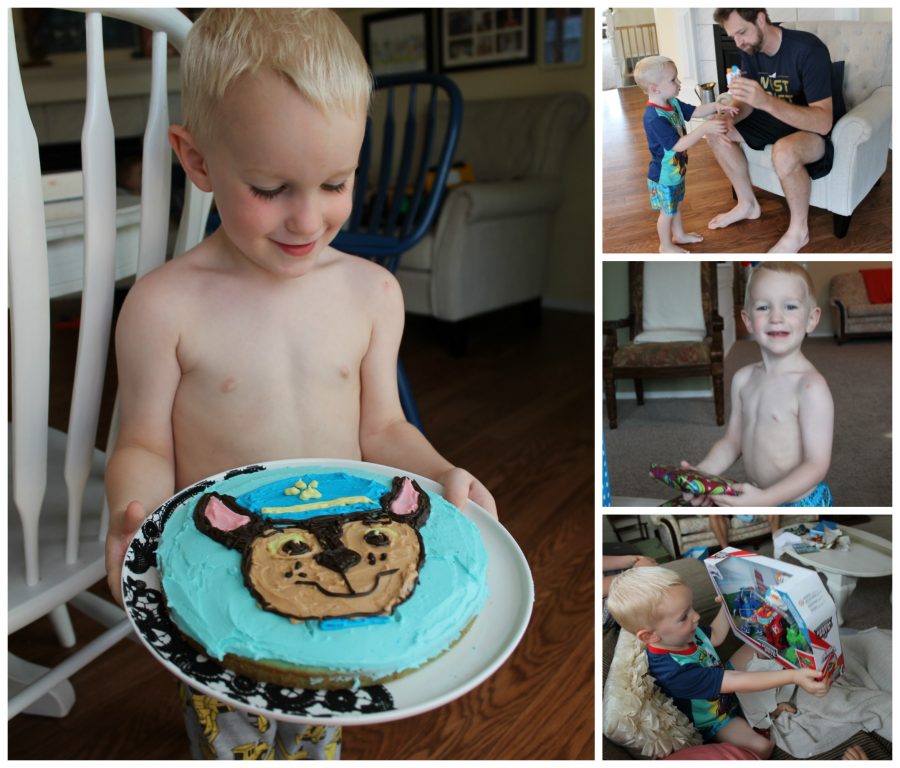 This time we also had the extra fun of a party pack I got to try out through Toys "R" Us! If you like party supplies, it's a great easy way to get everything in one place. The kits cost $50-$100, and mine included both disposable cups and sturdy plastic cups, plates, napkins, tablecloth, goody bags, stickers, bracelets, balloons, and a full size stuffed Chase! So much loot…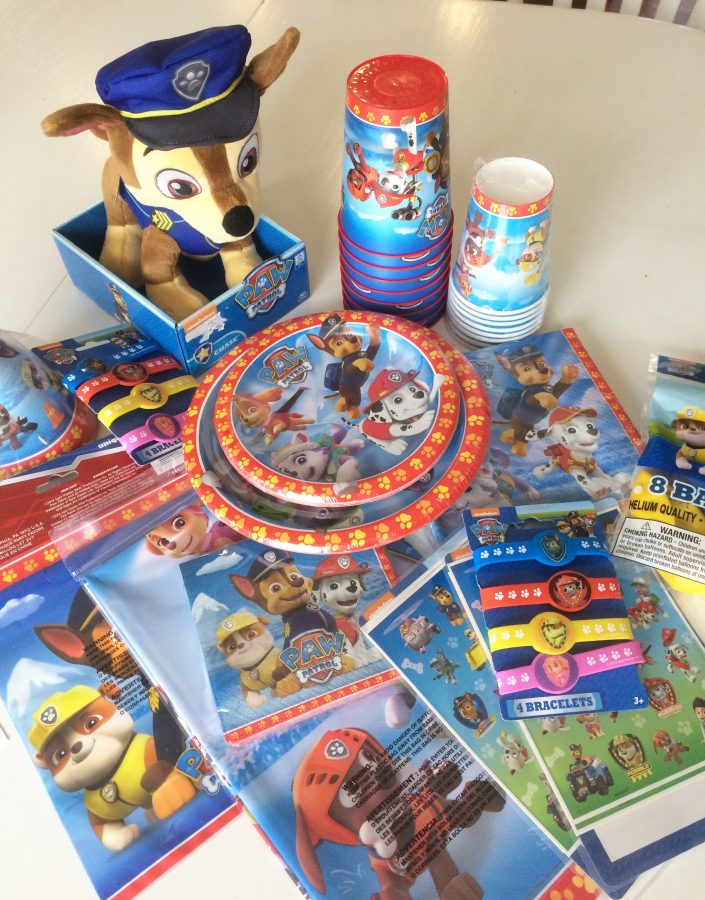 All of this also comes with a code to make a cool online invitation with PercyVites to make an online invite that matches the party theme and includes your child's picture.
The only thing I would've liked to see included in the party pack is cupcake toppers, because cake decorating is not my thing and a quick pup picture on a toothpick would've meant making cupcakes from my favourite mix and calling it a day.
As it was, Gavin requested an all-blue cake with Chase the police pup. While I cringed at the thought, Gemma cheerfully baked the cake and insisted we mix up all the colours, and then she carved an outline in the icing for me to fill in, and honestly, I am never making a cake another way. At 9 she has already far surpassed my drawing abilities, and she loves to be in the kitchen, so it's a perfect partnership.
Recognizable, right?!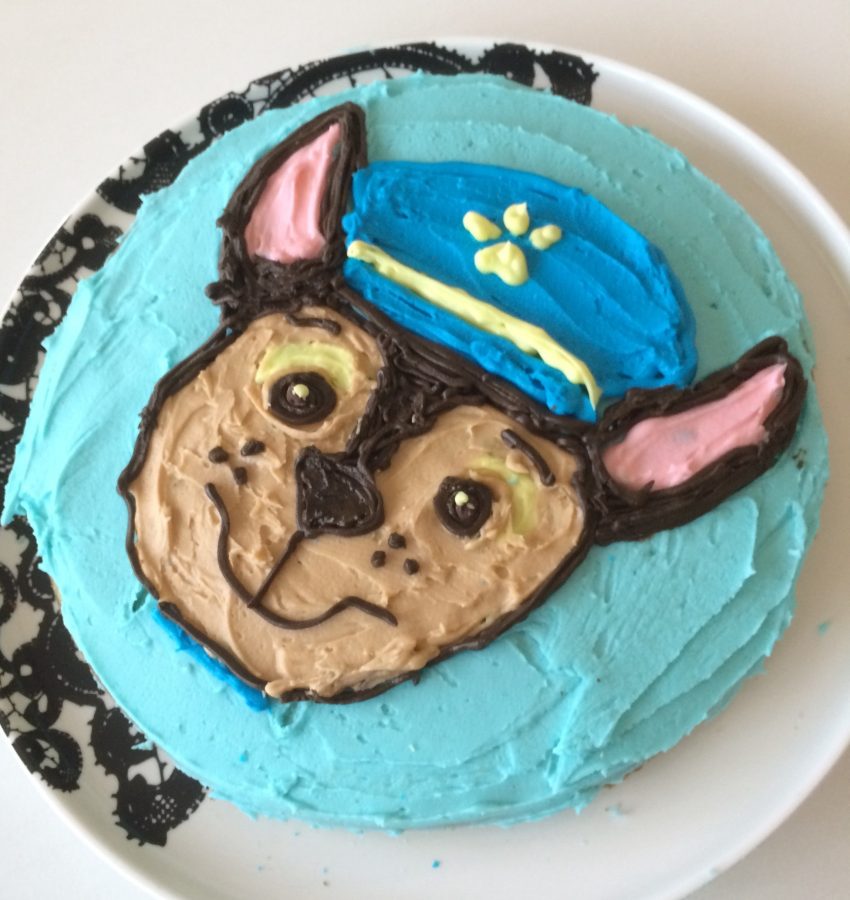 This munchkin had the time of his life being the birthday boy…swimming with dad, dinner with family, and more family over a couple days later. Now the other kids are eagerly awaiting their upcoming birthdays…we may have set the bar too high ;)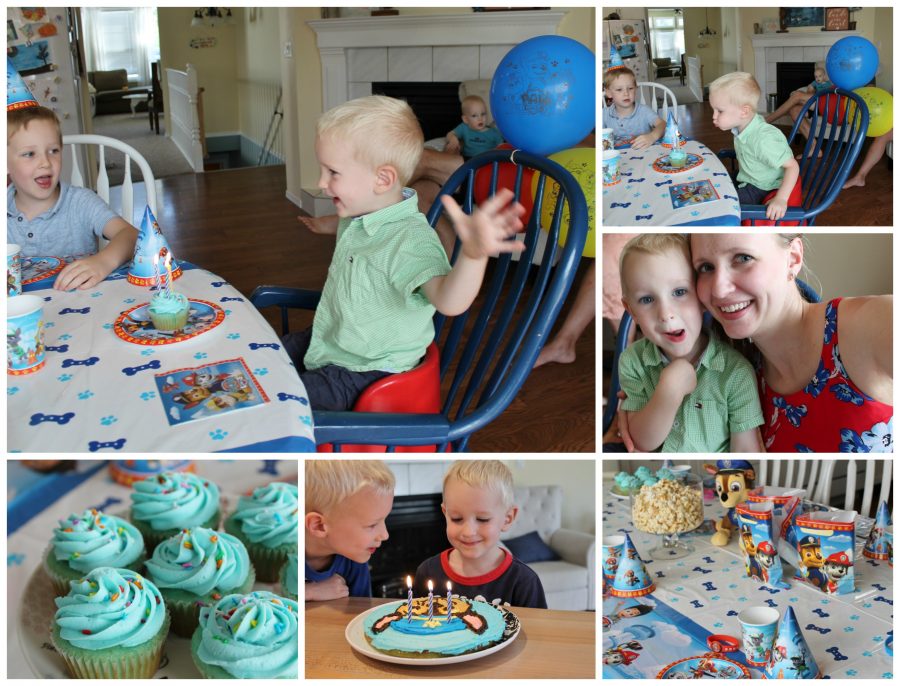 *Disclosure: I received a Paw Patrol party pack from PercyVites. I was not otherwise compensated for this post, and all opinions are, as always, my own.