Basically all my nesting this pregnancy has consisted of totally unnecessary house projects like painting my coffee table, making a sign for Gemma's room, rearranging the basement, and otherwise changing things up around the house. Last week's project was a work space for the ever-growing kids. Our kitchen corner has always held a little table with perfect seats for small people, but lately it has been getting used less as an art and food table and more as a storage place for art supplies that get used at the big table. As a result, it got a new home downstairs where it can be used to play restaurant and trains and such, and we set about creating a "kid office", as Theo ecstatically declared it.
I've been keeping my eye out for a nice small desk with a bit of character that still had plenty of storage, but was determined not to take on a "project" at 37 weeks pregnant. But then I found this for $10.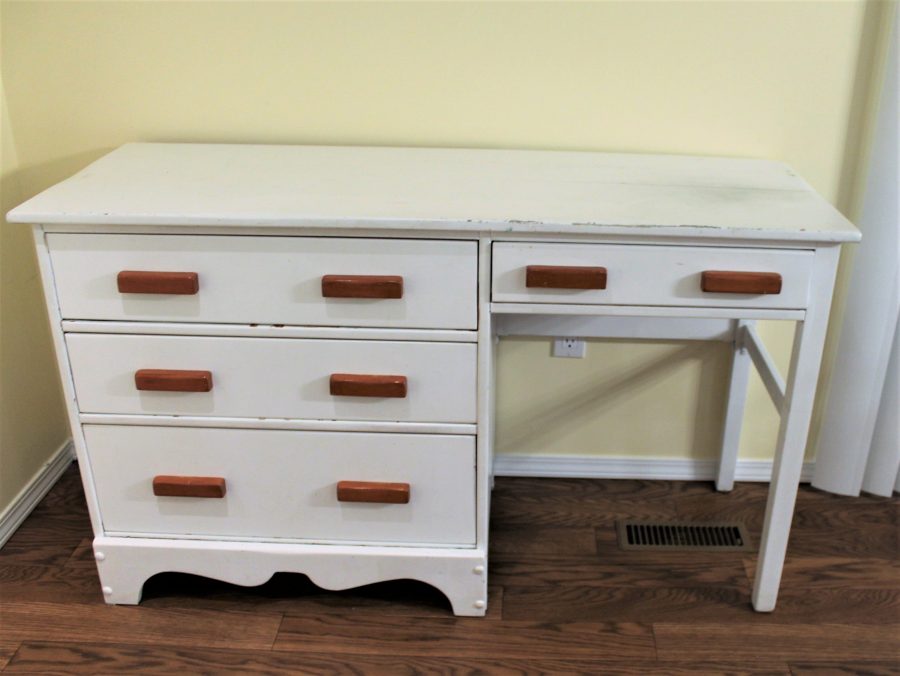 Irresistible, right?!
First came the inevitable take-over-the-kitchen stage when the kids ask endlessly if they can touch things or not. Usually not. Wide berth, please.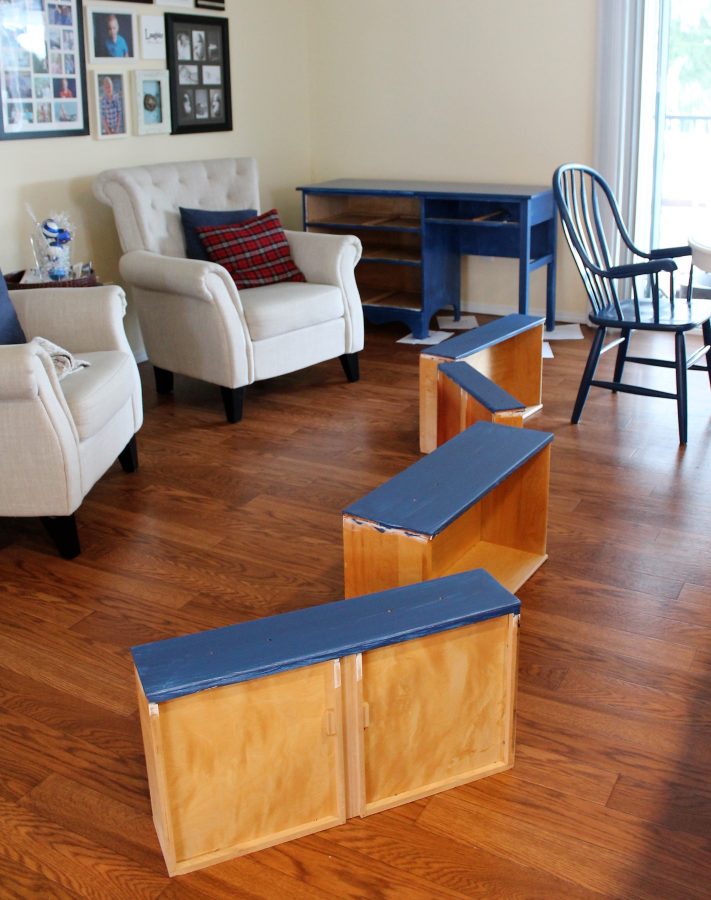 This was actually a super easy project – so many flat surfaces made for a very quick paint job and I can see this getting repainted many, many times over during its life here :)
I had originally intended to keep it white, but I recently painted our table white and it was looking like a lot of white, especially up against the creamy walls.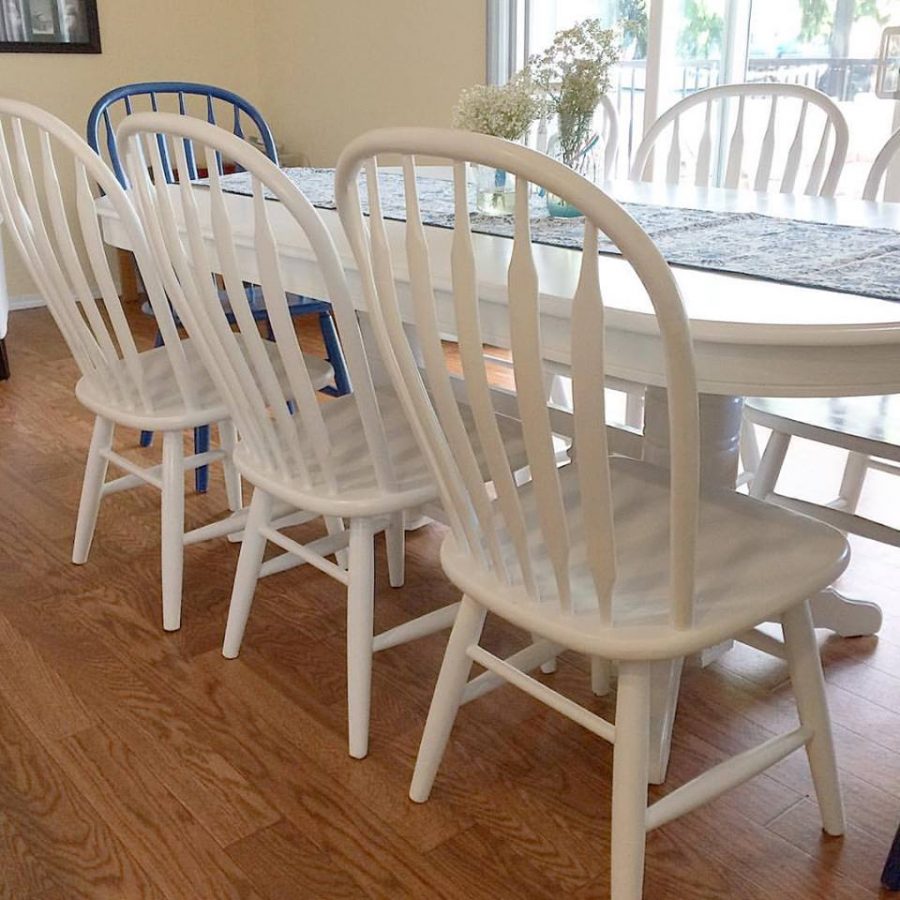 So we went with the blue of the accent chairs at the kitchen table instead. I never get tired of navy blue, and from my living room I can see it sitting against the cream wall and it makes me smile…as does that sparkly mama polar bear and her snuggly cub that I picked up on the weekend :)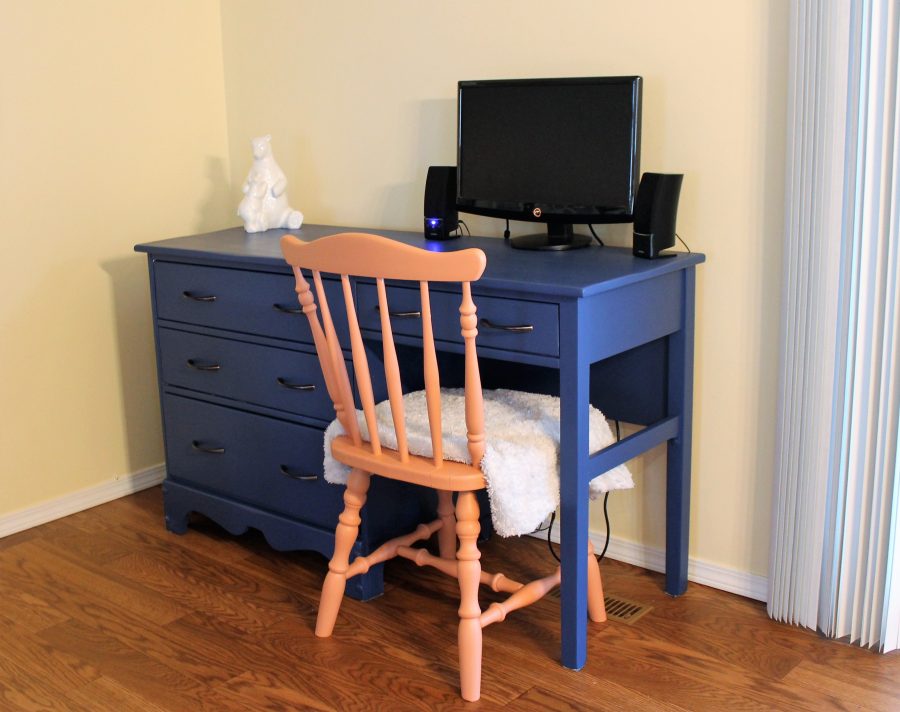 I had an old chair sitting around that I'd picked up on the side of the road for free awhile ago, so that got a good sanding and a couple coats of a peachy coral colour I had sitting around from another project. I just love little old chairs in fun colours, and was that annoying person who grabbed just one when there was a set of 4 chairs on the side of the road…here's hoping someone else just needed 3 chairs that day ;)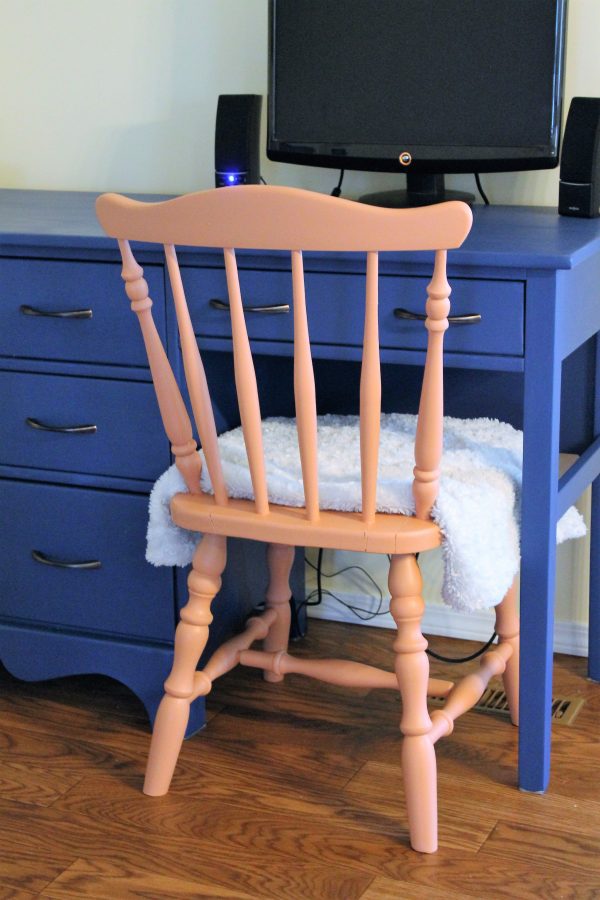 Since I already had all the paint supplies I needed, the only other cost for the project was the $20 for handles, and so for $30 total we now have a central "office" space the kids are loving, with drawers that let me and my clear-surface-loving heart put almost everything away when it's not in use!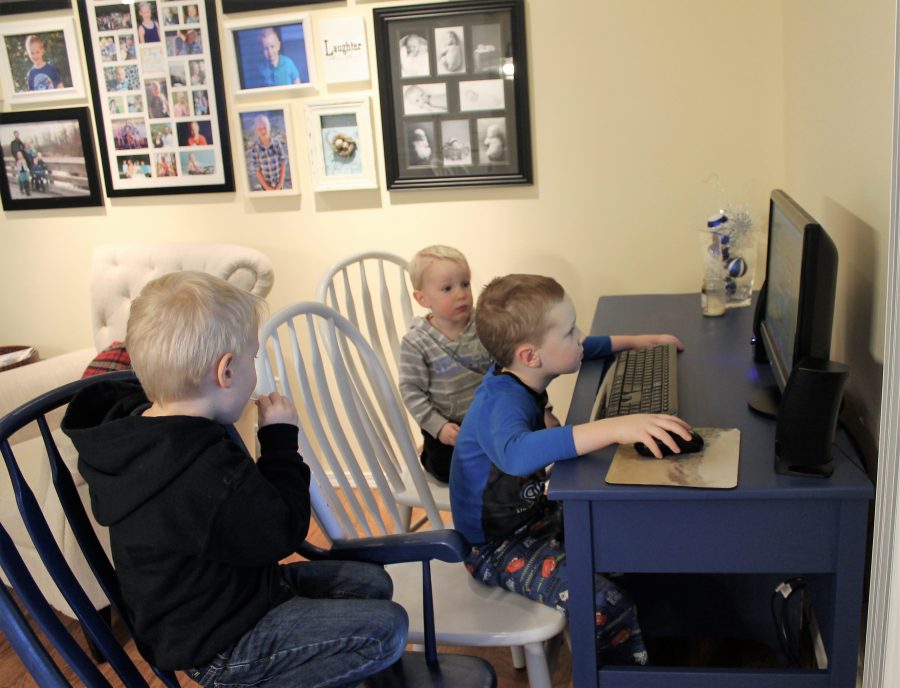 This kind of nesting is so much more fun than stocking the freezer and washing baby laundry, don't you think? :)
Steps for those interested:
The desk was already painted, so I removed the handles and painted two coats right over top with an eggshell finish wall paint in Benjamin Moore's Downpour Blue (2063-20). I clear coated with Saman Dead Flat water base varnish – perfect when you don't want to add any sheen to your paint but want it to be super strong.
The chair had lots of old peeling varnish, so I sanded it with 60 grit sandpaper to get back to fairly bare wood, primed it with an all-purpose latex primer (Benjamin Moore's Fresh Start), sanded again with 100 grit sandpaper, then painted with two coats of Benjamin Moore's Peach Cobbler (2169-40) in an eggshell finish and clear coated with the same dead flat finish.
A tester size paint can was more than enough for both projects, so if you don't have paint lying around like I do, you're looking at about $8 per colour for these kinds of projects :)