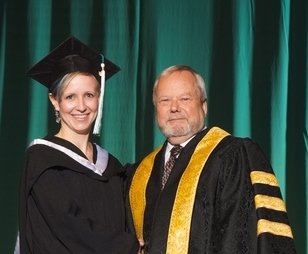 I'm not sure I'm going to be able to find the words for this post.
It's hard to believe this day actually came, a day 13 years after I left high school with a scholarship for Simon Fraser University, a day 9 years later than I initially anticipated. In between, there was a college graduation, travel to Europe and Asia, a wedding, a baby, a move to Ottawa, a move back to B.C., a transfer to the University of the Fraser Valley, 3 more babies, and so. much. life.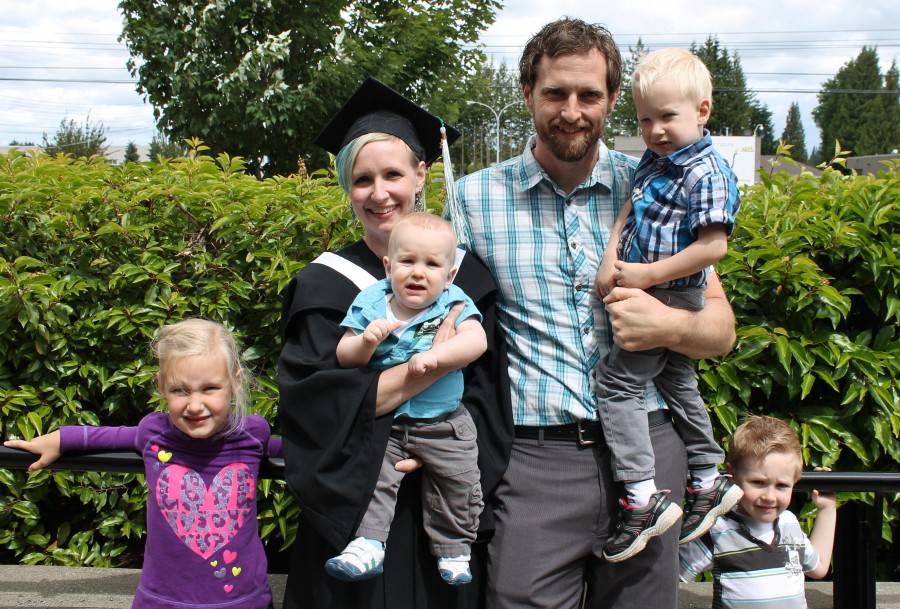 School has been part of my life literally for as long as I can remember.
I am incredibly blessed by a husband who supported me through all these years, who encouraged me to keep going, who listened to my stories, who arranged his schedule as much as possible so he could be the one who held our babies at the window, watching for me to come home. When work and research opportunities arose, he encouraged me to take them and promised we would make it work, together.  When I was in labour with our third child, he distracted the doctor with small talk so I could study for my exam the next week. He never complained about pancakes for dinner, an unemptied dishwasher, or an undusted house. He had complete confidence in my ability to balance school, work, and home, even when I did not.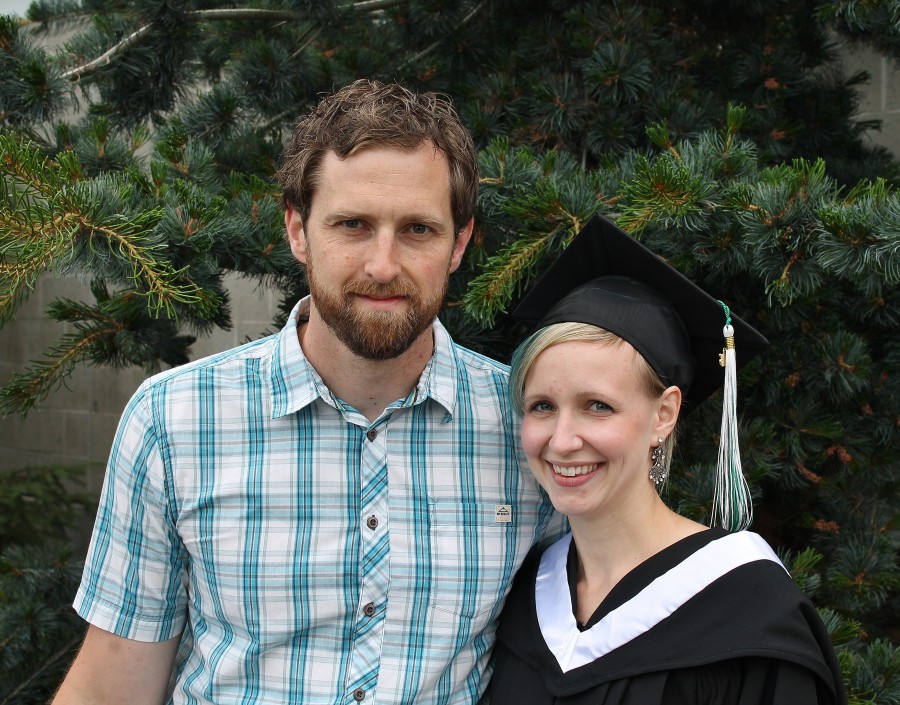 I am forever grateful to my mother-in-law, who arranged her schedule around my classes time and time again, who also held my babies and waited for me to come home. She listened to my stories, encouraged me to continue, and asked about my progress. Without her, I could never have made it to this day.
I am thankful to my babies, for being easy-going, sweet, beautiful little people who slept through the night young, who went to bed early so I could tuck them in before leaving for an evening class, who put up with only one bedtime song instead of three so I could get to my homework, who asked me in the morning how my class was, who clung to me when I came home and reminded me continually of what really matters.
I am thankful for family and friends who encouraged and supported me, and even for those who told me I was crazy and so, inadvertently, increased my determination and commitment to the value of education.
Above all, I praise God for giving me the ability, the drive, the support system and the timing to make this happen. Without Him, nothing else matters, and without His blessing, His small providences that pushed me to keep going every time I doubted, I never would have finished. One year into university, I had lost my enthusiasm, and dropped out for a foray into interior decorating, never intending to go back.  When I was done that and working full-time, a boyfriend casually asked me about life goals, and my first response? Finish the degree I started by the time I'm 30.
I don't think I even knew I wanted it until I spoke it out loud, and, though it wasn't as easy as I probably thought it would be at the time, that spoken goal has never left the back of my  mind, along with the conviction I felt when I said it. Later, I married a man who loved my mind, who encouraged me to use it, who continually supported my vague talk of going back to school, knowing, as a student himself, the financial and time commitment he was setting us up for. When we moved to Ottawa, I decided I would not bother switching universities for a second time, I would leave it alone, my husband's education was what mattered. But then we moved back, and I could carry on. A year or so later, I decided it was too much, it was time to focus on my family, to give up on this dream for now, to let what little money we had go to groceries or other worthy causes. I got no less than three emails that week encouraging me to keep going, offering paid research opportunities, and just checking in. Last year, we had to move to Ontario for 4 months and the timing meant my degree would be delayed by another year. I decided it must be a sign to quit, that my continued hanging on to this was, at best, silly, and, at worst, selfish. The next day, an opportunity arose to do a directed studies course from Ontario that would count toward my degree.
God has been faithful and powerful, and I truly believe He called me repeatedly back to the path to follow through on this dream, and I pray I can do that justice by using my education in some way to His glory.
Putting on that gown and walking across the stage felt right, and it felt complete. I just wanted to close my eyes and take in the moment, forgetting all the late nights, the terrible group assignments, the cramming for exams while breastfeeding, the deep tiredness of writing a paper knowing how little it really mattered in the grand scheme of things, the missed conversations with Carl because I had class, or homework, or just needed to sleep. In that moment, sitting in the midst of a graduating class with a tassel on the left side of my hat, it felt right.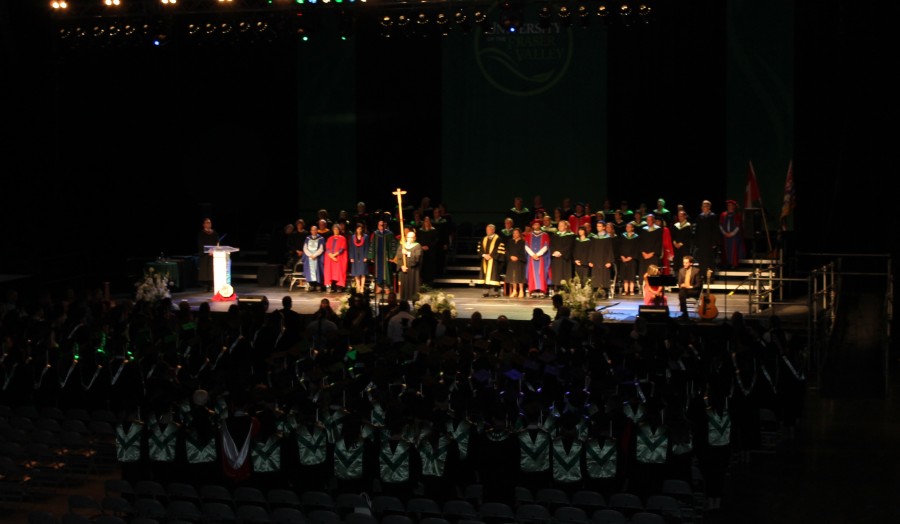 I have learned so much, and loved almost every minute, but the most important thing is not all the knowledge filed away for who-knows-when in the back of my mind.  The most important skill I have gained from all these years is the ability for compassionate critical thinking. Sure, I may also know all the theories of why we have crime and the newest psychological therapy techniques, but if I can't realize there are real people involved, real people with messy lives and deep hurts and different worldviews and, above all, a story, I haven't learned anything. I have learned that every story does not have two sides – it has dozens. What is said is often not what is meant, and the easy solution is almost never the right one.
I am overwhelmingly thankful for the opportunities I have had, the job it has, in a roundabout way, led to, and the deep knowledge and confidence it has solidified that the faithful guidance of a great God is always behind me, before me, and around me, no matter what path He leads me to next.
Thank you all so much too, for letting me write, for reading my words, for allowing this creative outlet to be the community it is, a place I could always come for a break and a chat, and a place to keep me motivated to stretch myself beyond those pancakes for dinner. I've told you about unpleasant papers on polygamy and prostitution, shared my deep dread of group work, yes, but I hope I've also gone on about the joy of learning, and the irresistible lure of new notebooks each fall. I think each September will come with a strong pull, a desire to buy a new sweater, a notebook and a pack of pens, to crack open a heavy textbook, to listen to a good debate. One day, maybe one day, I'll be writing about that again.
For now, I am overwhelmingly content, and indescribably thankful.