Seriously, do cookbooks get any more beautiful than this?!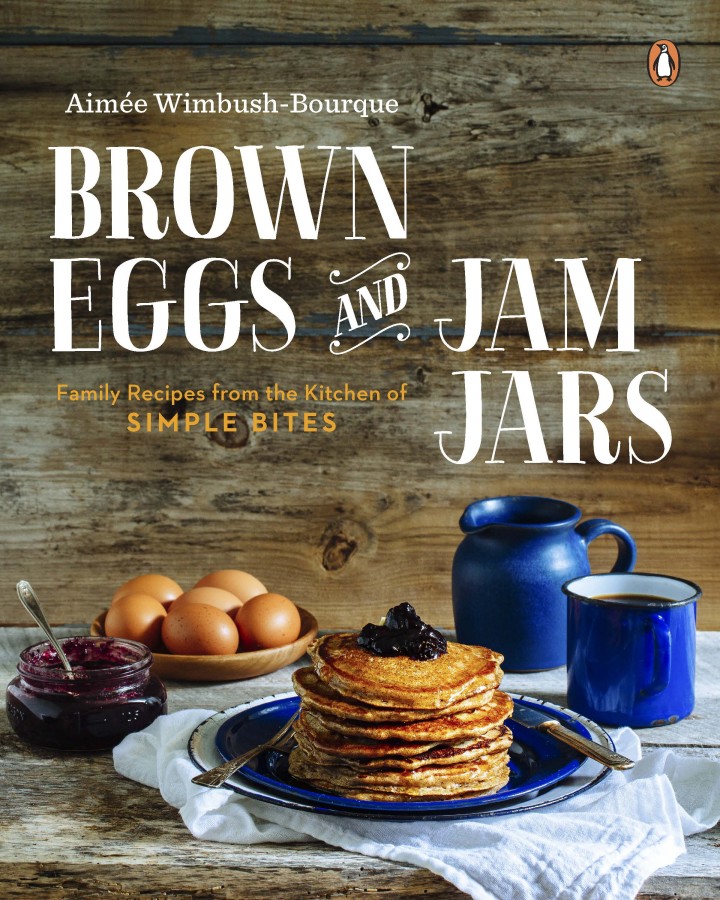 Brown Eggs and Jam Jars is the gorgeous new cookbook from Canadian food writer Aimee Wimbush-Bourque, editor of the Simple Bites website and urban homesteader extraordinaire. I was so excited to receive two copies of this book fresh off the press – one you won't be able to pry out of my sticky maple syruped hands, but the other one has been kept in a high, clean place just for one of you, so make sure you enter the giveaway below!
I have a list of 12 recipes to try from this cookbook, and that's only from my first skim through. Everything from roasted asparagus with eggs and bacon to cinnamon shortbread bars with dark chocolate ganache, this book is bursting with delicious inspiration. Aimee has a fabulous way of making homemade, whole food simple and family-friendly. Her writing is my favourite kind – comfortably informative and knowledgable, not preachy – with sections on everything from how to talk to your kids about the fact that you eat those chickens in the yard to how to get maple syrup out of the tree.
The first recipe I had to try was her Honey Whole Wheat Pizza Dough.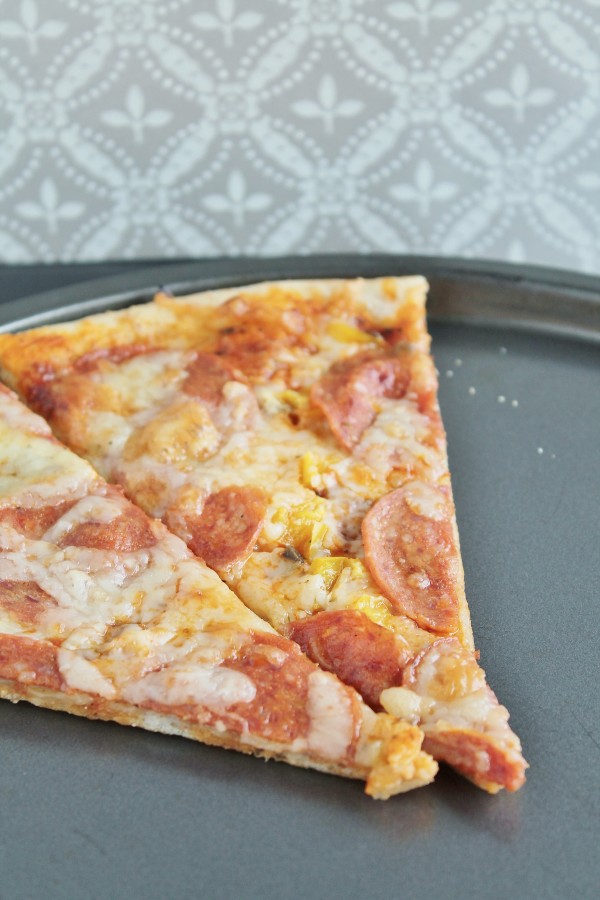 We have pizza night almost every week, and I have a dough recipe I use every time, but several people have told me they have less-than-consistent results with it. That means I need a better recipe, not just one that works for me, and this recipe absolutely delivered.
We change up the toppings every time, and this time was classic pepperoni alongside chicken, mushroom and leek. My kids love helping top our pizzas, and will eat almost anything in pizza form, making it one of my favourite ways to introduce them to veggies that often get hidden in other dishes. I rarely post pizza recipes because I tend to use whatever I have on hand, but that mushroom leek combo might need to be figured out and written down because it was gooood. (So was the pepperoni, but I'm guessing you can figure that one out ;)).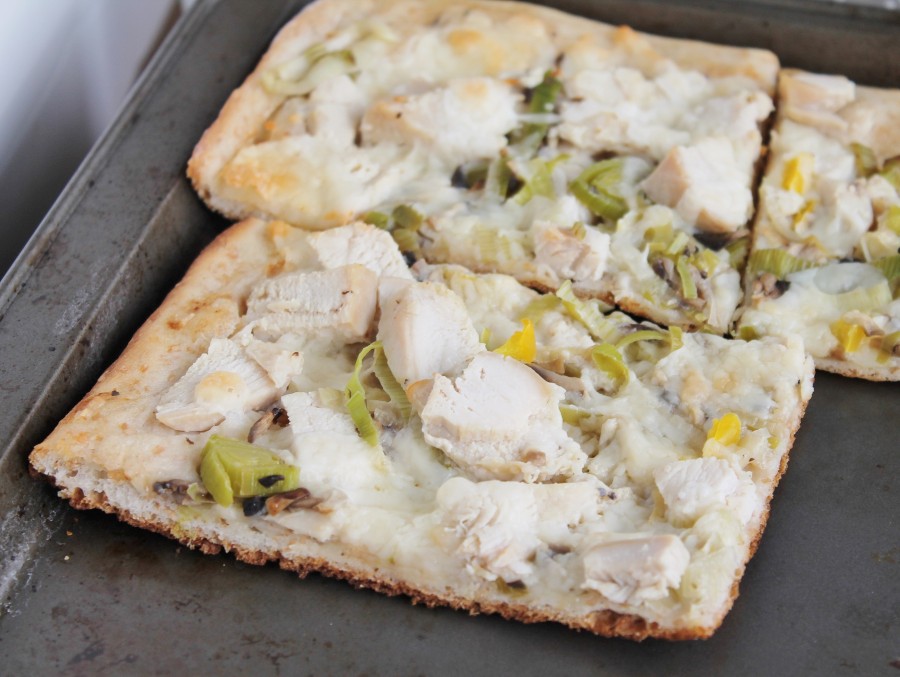 And the dough?
Perfect.
We always have whole wheat pizza dough, as I find the nutty, stronger flavour stands up better to toppings, and this recipe had a perfect mixture of crunchy outside and chewy inside. The dough was stretchy and soft, and easily strong enough to be picked up and transferred to the cookie sheet. My only complaint is that the recipe does not include any cooking instructions as to time or temperature. I just went with the 425 degrees my old recipe called for, and cooked for about 15 minutes, and it worked well.
But the best part that totally made up for my complaint? It makes enough for 4 large pizzas with the same amount of flour my previous recipe used to make 2 pizzas! The recipe includes instructions for freezing, which means bags like this for my freezer: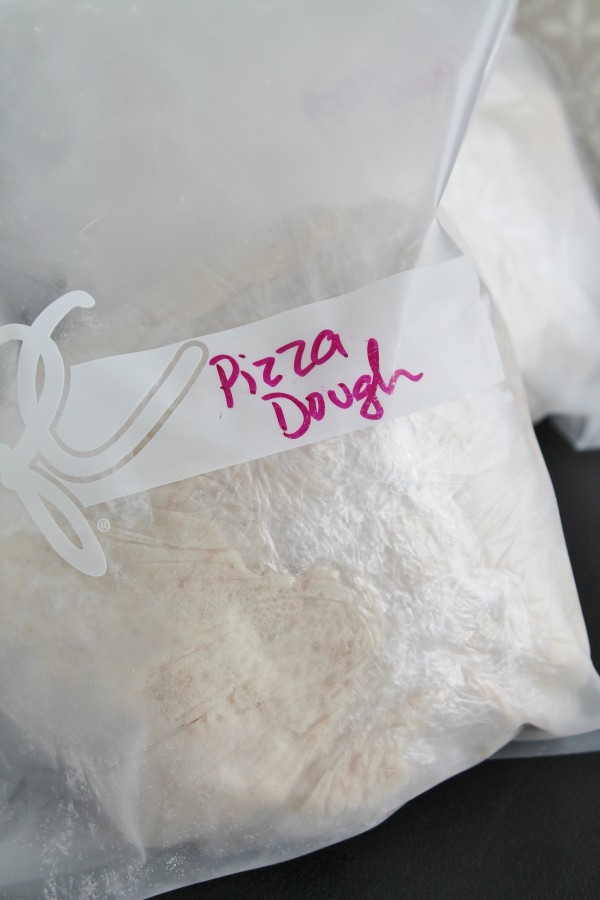 Pizza night will be back again soon, and happiness will abound.
The recipe is in the cookbook you all want to get your hands on, so let's get on to the fun part!  To enter the giveaway, all you have to do is leave a comment telling me the food you would most like to grow in a garden for your family to eat. If you could plant ONE type of seed, what would it be? (Can you tell I'm planning a garden for our new house? I want to pick your brains :)).
In case you don't win here, be sure to check out my fellow bloggers' posts all this week as part of this book's Food Bloggers of Canada blog tour – EVERYONE is giving away one of these beautiful books! I'll be updating the links through the week as their posts go live.
Karlynn from The Kitchen Magpie made Coconut Cream Baked Oatmeal
Renee from Sweet Sugar Bean made Roasted Carrot, Parsnip and Thyme Soup (I can't wait to try this one!)
Ashley from The Recipe Rebel made Maple Walnut Granola
Jenny from The Brunette Baker made Sour Cream Pear Pie with Cornmeal Pecan Streusel
Christina from Strawberries for Supper made Everyday Sandwich Bread
Janice from Kitchen Heals Soul made Iced Cider Caramel popcorn
Jessie from Purple House Cafe made Nova Scotia Seafood Chowder
Bridget from Bridget's Green Kitchen made Chocolate Beet Cake
If you still don't win, you can always order your own copy here :) http://www.amazon.ca/Brown-Eggs-Jam-Jars-Recipes/dp/0143193392
Contest is open to Canadian & American mailing addresses only, to those who have reached the age of majority in the province, state or territory in which they reside. Giveaway closes February 23, 2015.
Penguin Random House Canada provided me two copies of this book. I was not otherwise compensated to write this post and all opinions are, as always, my own.
Thanks so much to all who entered!! The winner , thanks to Random.org,  is #108 – Annet!