Fresh rhubarb doesn't last nearly long enough, so let's make the best of it while it's here!  While my rhubarb plant is busy recovering from being a re-located weed, and I can sense rhubarb blitzes in my future, it's a couple weeks away for me.  Thankfully, Mom is here with another fabulous rhubarb recipe for a beautiful tart where the rhubarb is on full display!  Thanks for sharing, Mom :)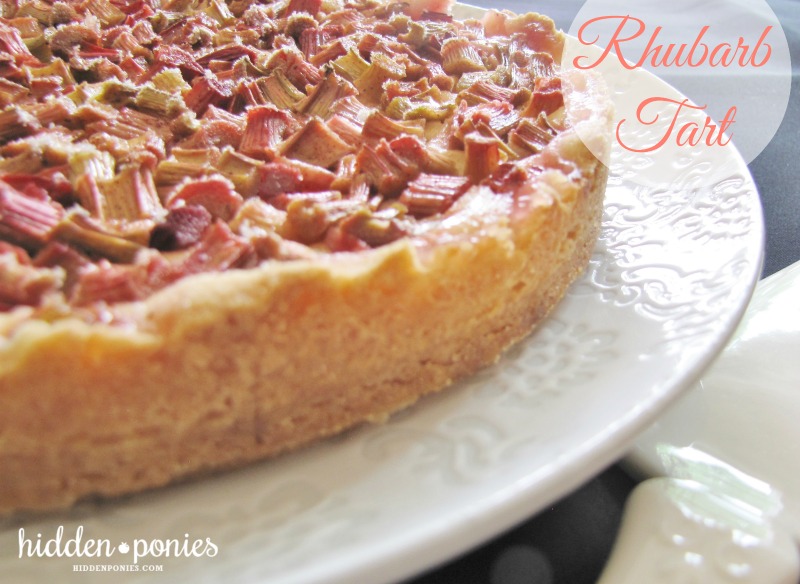 Is there such a thing as too much rhubarb?  I have actually had people tell me that they have too much rhubarb in their garden, and I envision massive gardens, covering acres and acres of land, full of nothing but rhubarb.  Even then I struggle with the concept of 'too much' when applied to rhubarb.  Maybe that is because, in summers past, my patch has been known to 'poop out' after the first few pickings.  
Last year, my husband decided to put more 'poop in' to the garden and I am a happy rhubarb eater this year.  Admittedly, I still don't get enough to keep me satisfied (yes, that is a hint to those who say they have too much).  Ideally, I would have a rich enough supply to have a constant source of stewed rhubarb in my fridge to put with my Greek yogurt every morning, especially when it is made with orange juice like in my Rhubarb Squares, but by the time I have made Anna's irresistible Perfect Rhubarb Muffins and even more irresistible Lemon Rhubarb Scones, I, sadly, don't usually have enough left to stew.  Too much rhubarb?  I'm nowhere near that point yet.
So today, even though I had those muffins, scones and a Lemon Rhubarb Coffee Cake cooling on my counter, I couldn't resist trying one more new recipe that I had stuck in my binder.  Sorry stew…not today.  I really wanted to try this recipe for Rhubarb Tart and it did not disappoint.  How could it, with a shortbread crust, cream cheese filling and, of course, lots of rhubarb on top?  Perfect for the ladies I am expecting for tea on Sunday! 

Rhubarb Tart
A shortbread crust, cream cheese layer, and fresh tart rhubarb - perfect with whipped cream and tea!
Ingredients
½ cup butter or margarine, softened
1 cup white sugar, divided in thirds
1 cup flour
1 package (250g/8oz) cream cheese, softened
1 egg
½ tsp vanilla
¼ tsp ground cinnamon
¼ tsp ground nutmeg
2 cups chopped fresh rhubarb, in ½" pieces
Instructions
Heat oven to 425 degrees Fahrenheit. Spray a 9" springform pan lightly with cooking spray and line bottom with foil to prevent possible leaks.
In large mixing bowl, beat butter with ⅓ cup of the sugar until light and fluffy. Add flour and mix well. Spread onto bottom and 1" up side of prepared springform pan.
In clean bowl, beat cream cheese with another ⅓ cup of the sugar until blended. Add egg and vanilla; mix well. Spread over crust. Combine remaining ⅓ cup sugar with cinnamon and nutmeg and toss with rhubarb to coat. Spoon over cream cheese layer.
Bake 10 minutes at 425 degrees. Reduce heat to 375 degrees and bake tart 40 minutes more, or until centre is almost set. Place tart on rack to cool completely. Run knife around rim of pan to loosen tart; remove rim. If desired, sift some icing sugar over tart before serving, or serve with a dollop of whipped cream or ice cream.
Adapted from
Kraft
 Canada.