You're supposed to be seeing beautiful, creamy, stretchy, meltable mozzarella right now.  Instead, you're getting this. The beginnings of something good. Possibility.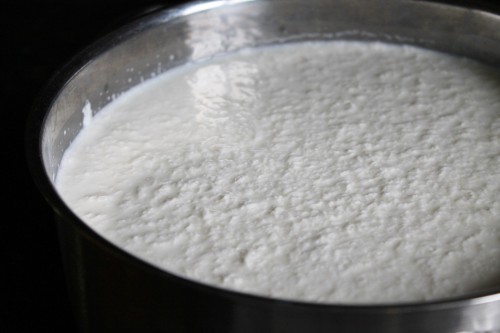 This month's First on the First challenge really was a challenge – making my own cheese?!  I eat cheese like it's my job (I wish it was my job), but I had never even considered making my own!  I considered tying on an apron for this daunting task and looking serious.  Maybe that would've helped.
I tried.  I called in highly qualified reinforcements.  Our lovely and talented pastor's wife HAS made her own cheese, and not only did she share her recipe with me, she even provided me with the crucial odd ingredients when my procrastination met a sold out situation and I was in a real bind.  Then when I called her in the middle of the process she answered my frantic questions.
Then I STILL screwed the whole works up.
Epic failure, folks, that's what we're talking about today.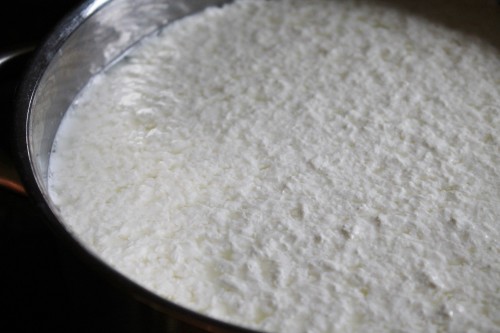 Oh cheese, I love you so much, why couldn't you love me back?
We're talking about the need for a "clean break".  As with bones, a clean break is absolutely essential when it comes to curds and whey.  And I've eaten enough cheese curds in my life to know mine weren't looking good, but I was impatient and my impatience made me my own worst enemy.
I still have all the ingredients, and I'm determined to try again, and if it works I'm gonna be telling you about it, because homemade mozzarella on this perfect looking pizza crust?  I was so looking forward to that happening.
Annet, thank you so much for your help, and watch out, because next time I might actually just have to invite myself over while the cheese making happens so you can distract me when I keep poking at a mixture that is supposed to sit UNDISTURBED.  I Just. Want. To. Disturb. It.
Maybe I'll just stick to cheese sauce.  I'm really good at cheese sauce.
And Chelsea's White Cheese and Chicken Lasagna…that's always a really good use of cheese.
Oh well, next month is candy canes – I'll rock those stripy fashionistas if it's the last thing I do (which I really, really hope it's not, because to go out while making candy canes just seems…wrong).
I wasn't the only one who struggled this month, so there isn't much cheese to be seen, but if you're interested in seeing what did work, check out the links from the other brave participants!
Want to try your hand at candy canes for December 1st?  Join us!