Settle in, boys and girls, the pictures are going to come fast and furious today, just like they do in my home.
We signed Gemma up for a one-week art camp this summer to foster her beautiful abundance of creativity, and she loved every minute.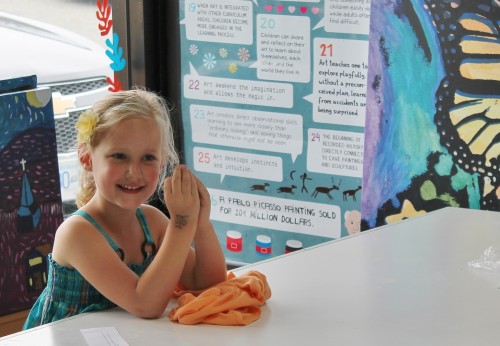 Rather than exhausting her appetite for art, it simply focused her in completely on the creative process, and within the 4 days she was in art camp she produced all the art you're about to see, and then some, and all this AFTER art camp was over for the day and she was back at home with her familiar markers.
She informed me after class one day, "Aliya told me her mom calls her Queen of Artists when she does art and shows her mom because she's really good at it."
Me (knowing exactly where this is going): "Hmmm, that's neat, hey?".
Gemma (shyly): "Maybe you could call me that sometimes?  Because…I'm pretty good at art…"
I couldn't resist obliging, much to her quiet, embarassed delight later that day :)  Here are just a few samples, along with her descriptions to me!
And this doesn't even show the half of it, from our family in outer space, people playing every sport we could think of, zoos, Barbie princesses, ice cream trucks, and so much more.
All this activity has sparked a dramatic rise in artistic interest in Kristopher, who loves to be near his sister and, as a result, has spent much of his time lately at our little table where she can be found.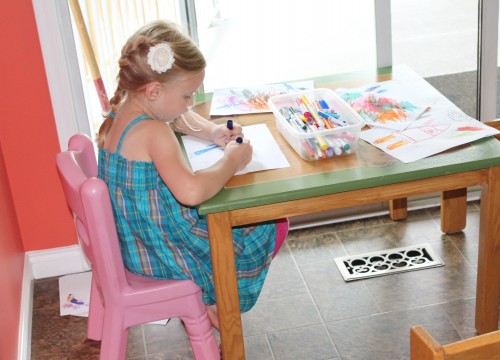 His art takes on a much more abstract flair, but the narrations are no less entertaining.  The trouble comes when he asks me to GUESS what he's drawn, and gets more and more frustrated with my inability to choose the right wild answer.  Although, when I get it right, it is worth every guess: "YES, Mom, you're RIGHT, it IS a snapping turtle!! See?!"
Seriously, I couldn't make these things up if I tried.
My fridge and my heart are full.