Before we talk about how good homemade pizza is… (spoiler alert: it's gooood):
1) Carl's gone for the week so I'm thinking of getting central air conditioning installed.  Do you think he'll notice?
2) Gemma can't sleep because she "can't stop thinking about sad and scary things".  This makes me sad. But also glad that she's aware of and able to care about more than just herself.  I'm torn, especially in the middle of the night when I am unpleasantly awake.
3) I want to paint the slide on our playground – has anyone done this? Will it work?
4) Having a swim-crawling baby makes me realize how infrequently I wash my floor.  It's ok to tape a cleaning pad to his onesie right?
5) America's Got Talent needs to change its name. America may have talent, but this is not the place to find it.
6) Yesterday my cat jumped over my head when I killed a spider.  This startled me more than the spider.
7) Homemade pizza is one of my favourite things.
8) Taco pizza is one of my favourite favourite things, so this is a friendly, free-form recipe reminder that it should be on every meal plan.  If you want to make my pizza dough, I'd be flattered.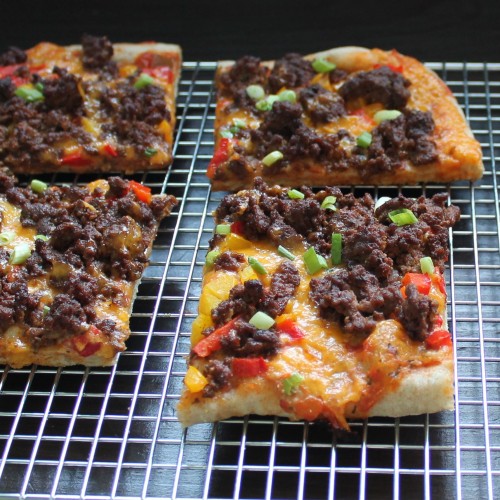 That is all.

Taco Pizza
Homemade pizza makes everyone smile, and this simple taco version can be made with ground beef, chicken, or pork.
Recipe type:
Dinner, Entree
Ingredients
Pizza dough, storebought or homemade
Salsa
Ranch dressing
Cheddar and/or Monterey Jack cheese
1 lb ground beef, cooked
2 tbsp taco seasoning
1 bell pepper, chopped
1-2 jalapeno peppers, seeded and chopped (optional)
2 roma tomatoes, chopped
3 green onions, chopped
Instructions
Preheat oven to 450 degrees and grease pizza pan(s). Spread salsa and ranch dressing evenly over crust and top with a generous amount of grated cheese. Dump on cooked beef and sprinkle evenly with taco seasoning (or cook beef with the seasoning). Add peppers and tomatoes and top with a bit more cheese.
Bake as directed for your pizza dough (mine takes 15 minutes) and top with chopped green onions right before serving.
Notes
I love to top my pizza with shredded lettuce and sour cream for a full taco experience, but it makes for much messier eating, just like a real taco :)