I have a problem with leftover cereal languishing in my cupboards, and when I get a hankering (looove that word!) for cookies, any ingredients are looking like a good option, and with these cookies, the results are so good I now actually look forward to having a cupboard full of almost-empty cereal boxes.
Who has two thumbs and snacks on leftovers? *This girl*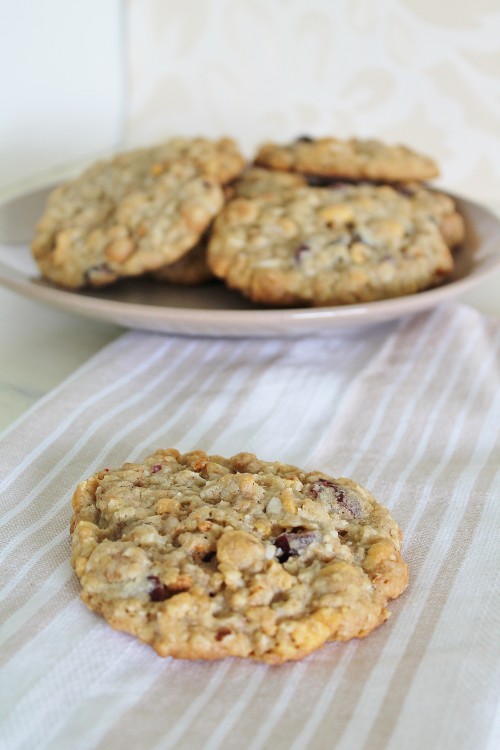 Carl loves cereal, but he can't abide that dusty bit in the bottom of the box, so the last cup or so always goes untouched for fear some of the crumbs will end up in his bowl.  Since he's really the only one around here who eats cereal, I store the cereal in an obscenely high cupboard only he can reach and never think about it.  But eventually I notice there's no room for the new box of cereal I bought and so I clamber up and investigate the state of the old boxes.   A cup of cereal in each.
I used to throw this cereal away, but when you do that with more than one box at a time it feels like you are throwing away a LOT of perfectly good food, and that makes me squirmy.  It varies every time (I've been making these cookies for about 3 years now, sorry, they're my best kept secret), and this time the selection was these: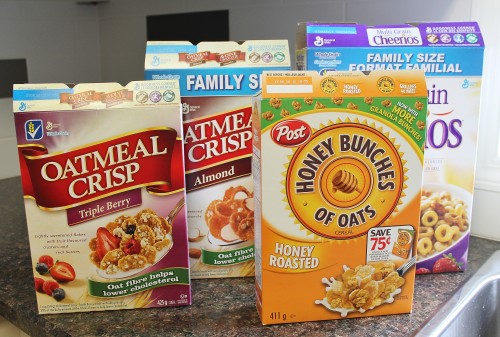 So if you have leftover cereal problems like I do, you are going to love me today – these are actually some of our favourite cookies, and I try to have a box of multigrain or honey nut Cheerios on hand to round out the 4 cups of cereal if I run short on leftovers.  These can also be made solely with one kind of cereal, but everything from rice krispies to bran buds to froot loops works in these catch-all cookies!  If you're using a lot of sugary cereals I would recommend cutting back the sugar in the recipe, unless you have a real sweet tooth.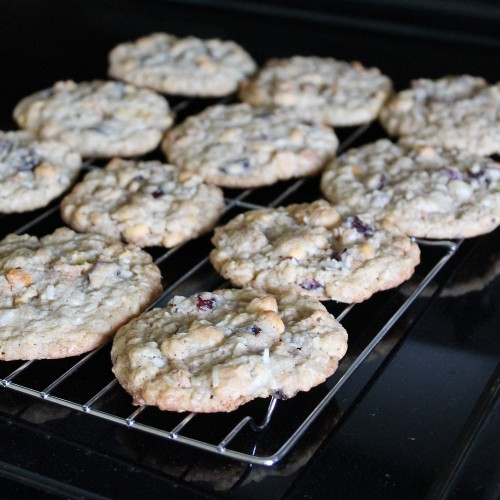 These are totally one-bowl-simple to make, and they are huge, with crispy edges, chewy middles, crunchy cereal, and classic brown-sugar-and-butter cookie goodness.  They freeze well, or they stay fresh in an airtight plastic container for 5 whole days.
And with all that cereal involved?  These are totally a breakfast food.  Jumbo cookies for breakfast make me happy.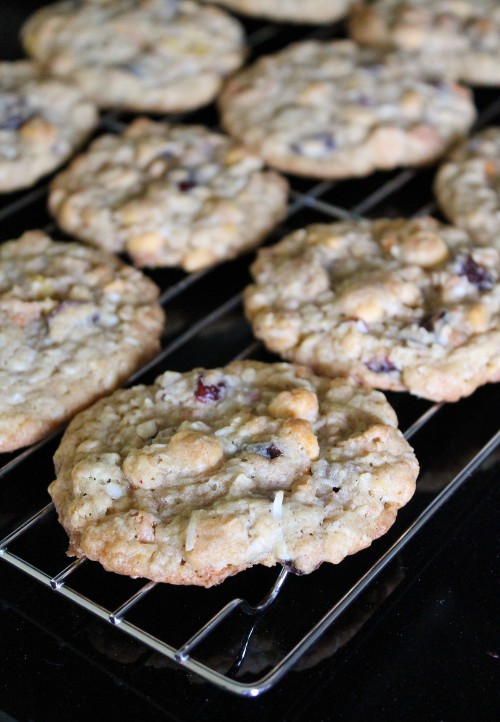 "Leftover Cereal" Cookies
Clean out your cereal cupboard and bake something delicious at the same time!
Ingredients
¾ cup sugar
1 cup packed brown sugar
1 cup butter or margarine, softened
2 eggs
1 tsp vanilla
2 cups flour (all purpose OR whole wheat)
1 tsp baking soda
½ tsp baking powder
½ tsp salt
4 cups mixed cereal
1 cup quick cooking oats
½ cup flaked coconut
1 cup chocolate chips (optional)
½ cup chopped walnuts and/or dried cranberries (optional)
Instructions
Heat oven to 350º. Mix sugars, butter, eggs and vanilla in large bowl. Stir in all remaining ingredients. Drop by ¼ cupfuls about 2" apart onto ungreased cookie sheet. Flatten each ball to approx. 2" in diameter. Bake 6 minutes, rotate cookie sheet and bake until golden brown, 3-5 minutes longer. Cool 1 minute before removing from cookie sheet.