On Sunday afternoon, Carl suddenly decided we should go shopping on Monday afternoon.  He arranged for his Mom to watch the kids, and I quickly abandoned plans to grocery shop and paint my front door.  When Carl decides we need to go shopping, believe me, I go shopping.   I didn't find much, especially not much of what I actually needed, but it was fun just to go out with Carl on this random jaunt, and I did manage to refresh my wardrobe with a few bright, colourful pieces that make me look forward (just a little) to warm summer days.
Before it gets too hot to turn on the oven though, I figured I better share this pulled pork lasagna I told you about when we were talking about BBQ Pulled Pork Pasta not too long ago.  This is a perfect meal to make ahead and freeze to reheat on a busy day, and if you've made pulled pork in the slow cooker it comes together relatively quickly.  
I love lasagna of all kinds, and this version is no exception.  Add as many veggies as you like, and if you like things really cheesy and creamy, double the sauce.  I liked it with the meat and noodles being the star, but sometimes I just want cheesy comfort food and then double cheese sauce is what life is all about.
Cheese sauce is very important around here – we hadn't been eating broccoli and cauliflower while I was breastfeeding Theo since it bothered him, and becaue it's my favourite and I didn't want to make it and watch others eat it (I'm selfish like that), so yesterday we had it for the first time in 7 months.  The excitement was palpable and dinner disappeared from my kids' plates in record time, and at bedtime Gemma's first prayer request? Thank you God that we can have my favourite food again, broccoli and cheese sauce.
Life is good indeed.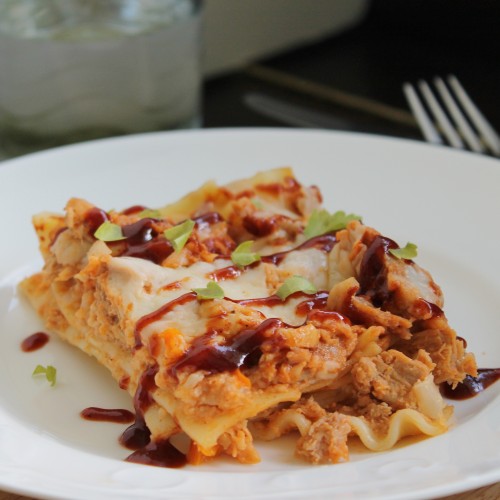 Pulled Pork Lasagna
A twist on a classic - perfect to make ahead for feeding a crowd. Add as many veggies as you like to make it your own!
Ingredients
2 Tbsp olive oil
1 clove garlic, minced
½ an onion, chopped
2 Tbsp flour
½ red bell pepper, chopped
1 cup milk
¾ cup chicken stock or water
4 cups cooked pulled pork
¾ cup barbecue sauce
3 cups grated mozzarella or Monterey Jack cheese, divided
8 lasagna noodles (not oven ready - see note)
¼ cup barbecue sauce (for drizzling on top)
1 Tbsp parsley or chives (optional - garnish)
Instructions
Cook noodles according to package directions.
Meanwhile, heat oil in large non-stick skillet. Add onion and flour, tossing to coat onion in flour. Saute for 1 minute, then add garlic and bell pepper.
Add milk and chicken stock and heat to a low simmer. Cook for 5-10 minutes, until just slightly thickened. Remove from heat and stir in 1 cup grated cheese.
Cover the bottom of a greased 9x13" baking dish with a thin layer of the sauce. Add pulled pork and barbecue sauce to remaining white sauce.
Layer 3-4 noodles on top of sauce, then half the pulled pork mixture, 4 more noodles, and the remaining pulled pork mixture. Top evenly with remaining 2 cups grated cheese.
Bake at 350 degrees for 25-30 minutes, until heated through and cheese is melted and bubbling. Let stand 5 minutes before slicing and serving. Drizzle with additional barbecue sauce to serve and garnish with parsley or chives, if desired.
Notes
If you want to use oven-ready lasagna noodles, you may want to increase the sauce amount and decrease the number of noodles on each layer. Oven-ready noodles need extra liquid to cook evenly and should not be overlapping in the dish.