The weather reports have been wackily useless of late, so last weekend we headed out for our annual May trip to the zoo, with promises of sun with possibly sprinkles for a few minutes around noon.  Soggy shoes turned out to be the least of our concerns that day.
This is the first time Kristopher actually remembers going to the zoo, which made for a pretty funny conversation that morning.
Me: Guys, should we go to the ZOO today?!
Gemma: YAAAHHH!!!
Kristopher: YAAAAAH!!
Kristopher (with his intermittent manners on display): Um, excuse me Mom?
Me: Yes?
Kristopher: What's the zoo?
Seriously, I build zoos out of blocks and fill them with fake animals, and not infrequently – has he just been humoring me all this time, thinking I'm a few bricks short of a full load?
I explained the zoo, but not very well it seems, for this was followed with a wailed, "I don't want to go to the zoo! I want to stay home with youuuuuu!"
Me: What?! Why?! We get to see all kinds of animals! You love animals!
Kristopher: But they will get me! Will they rawr at me?
Oops, forgot to mention the cages involved :)  (The nervous smile never quite left though so I think he had his doubts about the quality of construction).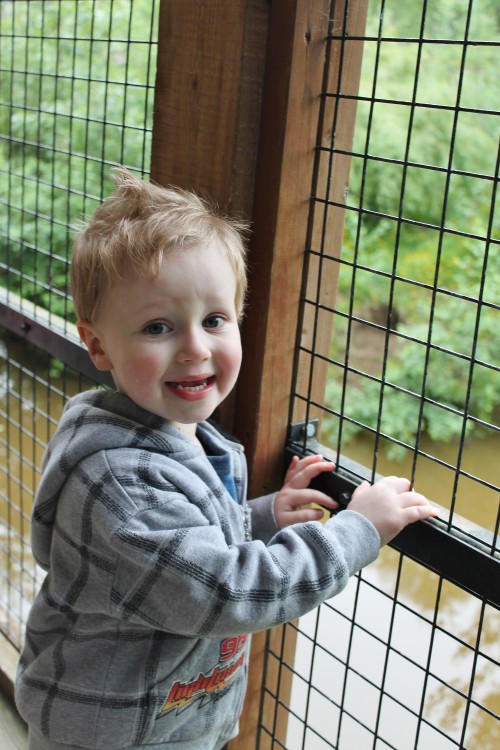 After I eventually convinced him the zoo would be a good idea, we arrived just in time for the bird show.
Now I don't know if you've been to one of these "Raptor Shows", but they have those birds flying within inches of your heads, talons extended, beaks turning, huge eyes staring.  I have a very strong instinct for self-preservation, and, I'm ashamed to say, when the great horned owl headed for us, I ducked and covered, lifting the 2-year-old child on my lap over my head and face for protection.  My maternal instincts are nothing next to my survival instincts.  Remarkably (and thankfully), Kristopher found it rather amusing when the owl's huge wing brushed his forehead as the crowd gasped.
I have no doubt this story reminds my mom of the time when a wasp engaged in threatening maneuvers in front of me while we were on a walk and I thrust my stroller, full of baby, into its path and headed the other way (thankfully we weren't at the top of a hill).  Or it may remind others of the time when a peek to check on my napping 4-month-old baby found her surrounded in a crib by more giant unidentified beetles than I could count on my fingers and I calmly pulled the door closed so they wouldn't escape and let her sleep while I waited for Carl to arrive home (thankfully prior to her waking up and me actually having to choose between extracting her from the crib and leaving her in there to roll around on the things.)
I shudder to think about it, to be honest, and shudder at the knowledge that those mother bear instincts so often lauded and honoured seem to be sorely lacking in me when the going looks risky.  I am incredibly thankful that my kids have been blessed with some hard-working angels helping me out!  I'm also thankful that they're still kids, and they love me unconditionally in a way I don't think anyone can understand past the age of about 11.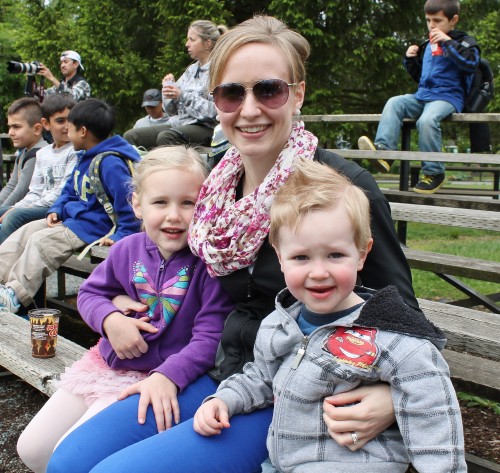 After the bird show and terror at the sight of the first animal, a rhinoceros, the zoo turned out to be a very enjoyable, if slightly soggy adventure, and we even have plans to go back, if only in hopes that exposure therapy will help lessen my terrible fear of birds in flight :)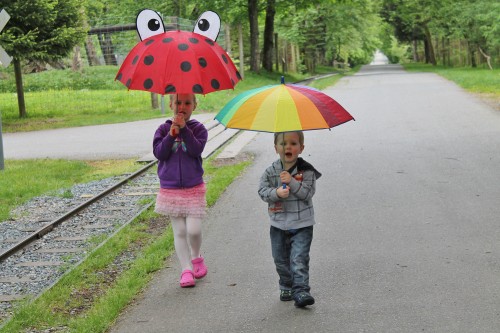 And yes, for those of you wondering if it could get any worse: when it really starting raining I pulled Kristopher's hood up and took hold of his umbrella for myself.  Like taking candy from a baby, my friends.
And what a cute, sleepy baby he was after a day of such traumatic excitement.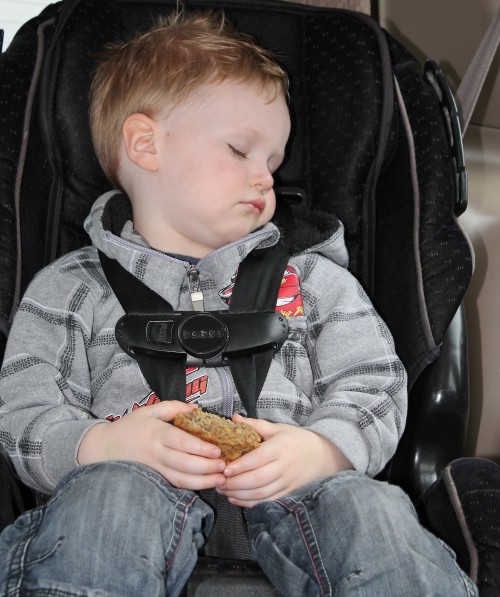 So tell me – is it just me, or is the mother bear instinct really only working in actual bears?