Are they tarts or are they mini pies?  I had a hard time deciding, but since the lemon curd filling made me think of lemon pie,  we're going with mini pies.  Whatever you want to call these little bites, they're easy, they're springy, they're cute, and they're gluten and dairy free!
I made these last week for a BBQ with friends and for my father-in-law's birthday since there were some food sensitivities to consider at both occasions, and they disappeared in no time.  I love chewy coconut macaroons, and Carl loves lemon, so I figured these were a "best of both worlds" kind of compromise.  These were inspired by a recipe in 175 Best Mini Pie Recipes, where something similar is made in full size muffin tins, but I like the bite-size version of, well, pretty much anything!  I'll be doing a full review of the book soon with another mini pie – a savoury dinner one I'm sure you'll love!  In the meantime, sweet pies are where it's at :)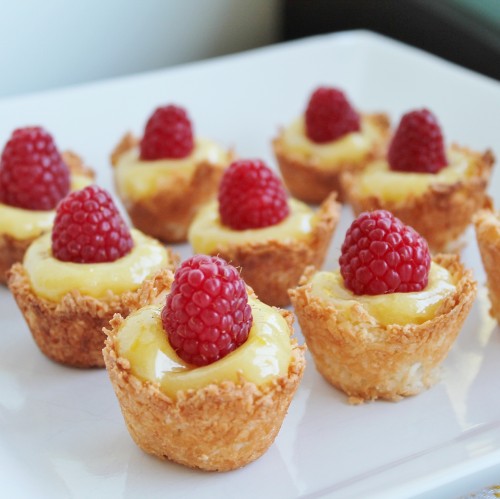 It was only a few weeks ago I was telling you how bored I was by making lemon curd and how next time I would just buy it…well yeah, $9 for a small jar containing that many chemicals?!  I can stand by the stove for 10 minutes with my 3 ingredients, thank you.  I also made a different lemon curd this time since it had to be dairy free, and I wanted to use my egg yolks from the crust making, and it was perfect!  I promise you'll never miss the butter typically found in lemon curd.  This lemon curd is bright and zingy and a perfect smooth, creamy texture.  Making lemon curd is actually kinda fun and rewarding, I apologize if I misled you.
These little coconut crusts brown quickly, so you do want to be careful not to overcook them if you still want them to have a chewy macaroon-like centre.  The sweet toasted coconut pairs perfectly with the tangy lemon, and since we were going dairy-free I opted to top them with a raspberry, but a dollop of whipped cream would not be amiss either!
I just can't get enough of the fresh lemon-raspberry combo, and the addition of coconut takes these over the top.  Going to a spring party or BBQ?  Make sure you eat one before you go since you won't be bringing any leftovers home :)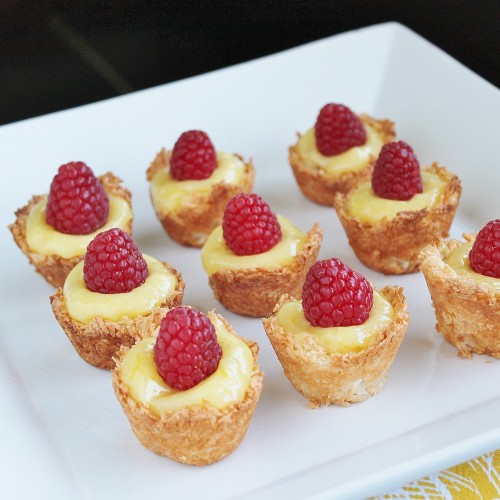 Lemon Coconut Mini Pies
Bright, tangy, and fresh, these cute little pies are perfect for spring!
Ingredients
COCONUT "CRUST":
3 cups sweetened shredded coconut
3 large egg whites
¾ cup granulated sugar
½ cup minus 2 Tbsp almond flour (or very finely ground almonds)
½ tsp vanilla extract
LEMON CURD:
Juice of 2 lemons, strained through a fine sieve
¾ cup granulated sugar
2 large egg yolks
1 whole large egg
Zest of 2 lemons
GARNISH:
24 fresh raspberries
Instructions
Spray 24-cup mini muffin tin thoroughly with baking spray. Preheat oven to 350 degrees F.
In large bowl, stir together coconut, egg whites, sugar, almond flour, and vanilla (it should stick together when pressed/squeezed).
Divide mixture evenly over 24 mini muffins, pressing mixture into bottom and up sides of muffins cups to form the crust. If the mixture is too sticky, moisten your fingers slightly with water to make forming them easier.
Bake for 10-13 minutes, until top edges are deep golden brown and bottoms are just starting to brown. (If the crusts lose their shape too much while baking, use the back of a small spoon to quickly press the middles down slightly while they are hot to make a little dip to put the lemon curd in).
Cool crusts completely in pan on wire rack before unmolding gently by running a knife around the edges and popping them out.
While they are cooling, make the LEMON CURD:
Zest lemons and set zest aside.
Place strained lemon juice and sugar in a small saucepan. Heat on low, stirring constantly until sugar has dissolved. Remove from heat.
Lightly whisk egg yolks and whole egg in a medium bowl.
Remove lemon syrup from heat and pour slowly into beaten eggs while constantly whisking the mixture. Continue to whisk by hand for one minute.
Return mixture to saucepan; add lemon zest, and heat on medium-low until it thickens, (whisking frequently to avoid making scrambled eggs!) -- about 15-20 minutes.
Remove from heat. Transfer to a container and cover with plastic wrap, making sure the plastic wrap sits right against the surface of the curd to prevent a skin from forming. Refrigerate until coconut crusts are completely cooled, then divide lemon curd over tarts, approximately 1 tsp per tart. Top with fresh raspberry right before serving.
Store tarts in the refrigerator.
Notes
To make ahead: Coconut Crusts can be made ahead and frozen until needed in an airtight container. The lemon curd can be made up to 2 days in advance and stored in the fridge. Assemble them the day you plan to serve them.
Source: Coconut Crusts adapted from "175 Best Mini Pie Recipes" by Julie Anne Hession (2013). Robert Rose Inc.
                 Lemon Curd: Original recipe