So you know how Chelsea used to post pretty often on this here blog?  (She's a busy lady these days, but I'm convinced we'll see her back one day :)).  And then my sister Sarah shared her amazing photography skills for a few delicious posts, and even her bun recipe for one post.  And then my sister Erin joined on to bring us fashion once a month.  And now I've got my Mom writing about her amazing food on a regular basis, giving me a backlog of recipes I can't wait to share with you all!
Well, juuuuust when you might think I've run out of talented family members willing to help me out, you'd be wrong!  Today, I am beyond thrilled to introduce Emily, the beautiful baby of the family!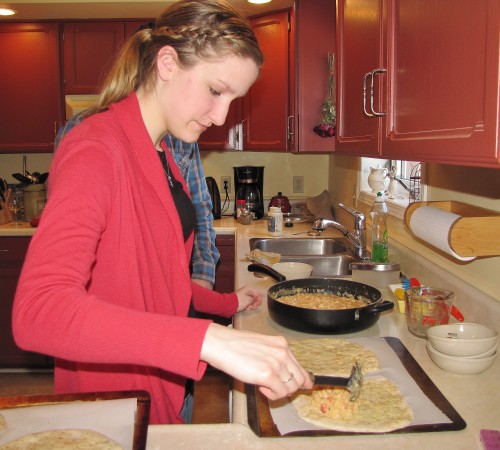 I know, I'm incredibly blessed to be part of such a top-notch gene pool – it is all I can do to keep my head above water.  Little does my dad know I'll be snapping pictures of him barbecuing when I'm there this summer to complete the family contributions ;)  And I haven't even started in on my in-laws yet!
Seriously though, I can't believe Emily took the time out of her busy school, work, and wedding planning schedule to put together this post for me just because I really wanted the recipe.  Emily is one of the hardest working people I know, not to mention one of the smartest and one of the bravest.  At 19 years old, she is practically finished her university degree – a degree that involves lab coats and protective glasses.  She has an amazing passion for animals and will no doubt one day achieve her goal of a massive hobby farm and animal shelter where she can house any animal in need of a home.
I'm so excited to be heading to Ontario to witness her wedding this summer to an amazing young man – I can't introduce you to Emily without also introducing you to her sweet Nick (a different Nick than the one Erin speaks so intimately of, fear not ;)).  Not only is he also smart and hardworking, he's handsome, and strong, and he knows his way around the kitchen.  She knows how to pick 'em!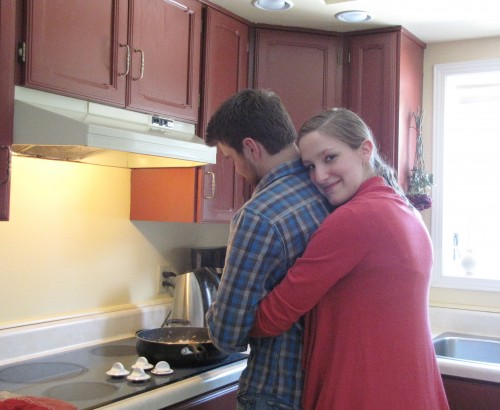 I love both these people so much, and only wish they lived close enough that they could cook for me!  (I would say we could all cook together…but it doesn't look like they want any company ;)).
Please give Emily the warmest of Internet welcomes, friends!
*************************************************************************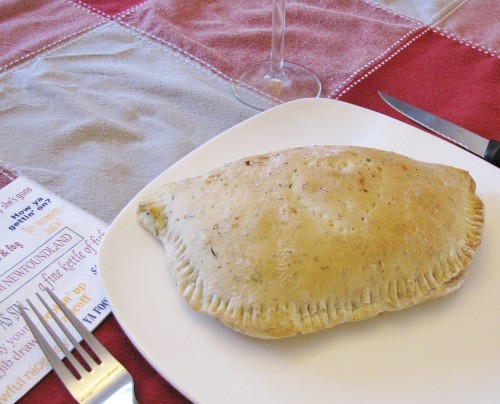 My sister Anna is a fantastic blogger, and her recipes are more often than not foolproof, quick, and easy. Being a busy student, I have often used her recipes as quick solutions for meals and snacks. The recipe that follows is not a quick solution to anything.
I first had Nick's Seafood Stromboli on our 1 year anniversary, and it was the first fancy meal he  ever made for me. It was the perfect food for a perfect date, and it has held a special place in the recipe section of my heart ever since.  ("Recipe section of my heart"?  I love it. Wish I had come up with that one! -Anna)
This may take a couple hours to prepare, but it is well worth it, and the preparation is best enjoyed with good company and a glass of your favourite white wine in hand. Always be sure to savour the process :)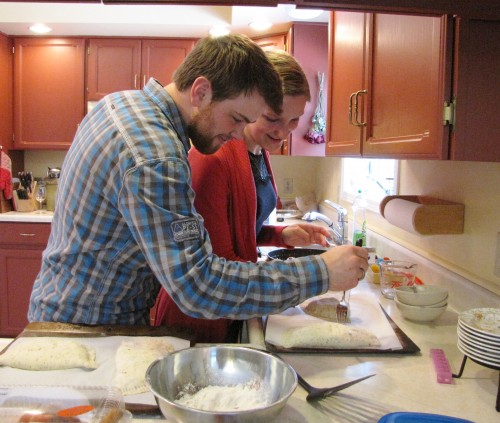 In my mind nothing beats the smell of thyme, and combined with sautéing seafood, onions, and peppers, your entire home will smell of West Coast goodness (something sorely lacking in landlocked Ontario). This recipe is incredibly versatile – use your favourite white fish in place of sole, or replace the crabmeat with an equivalent amount of shrimp. Mushrooms or green peppers would also be an excellent addition to or replacement for red pepper or tomato. Personalize with your favourite seasonings, or throw in some bacon – the sky is the limit!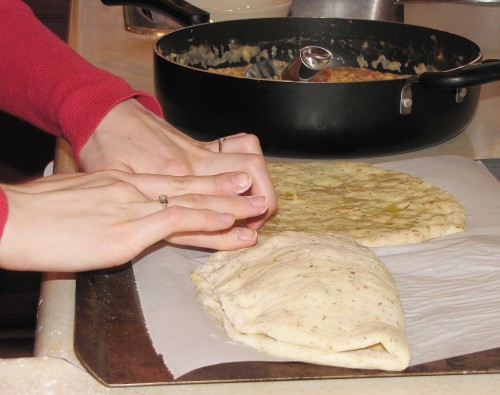 As a personal recommendation, this goes excellently with Caesar salad for a romantic date or a fancy dinner with close friends or family. Any leftover filling makes an amazing seafood pasta sauce tossed with some fresh fettucine noodles.  Enjoy :)
Nick's Seafood Stromboli
A basic herb pizza dough stuffed with a delicious seafood filling, adaptable to whatever seafood you have on hand.
Ingredients
PIZZA DOUGH:
1 tsp sugar
1 cup warm water
1 pkg active dry yeast
3 cups flour (approx… shouldn't need it all)
1 tsp salt
2 tbsp vegetable oil
1 tbsp thyme
2 tsp oregano (or Italian seasoning)
1 tbsp olive oil
SEAFOOD FILLING:
1 tbsp olive oil
1 small onion, finely chopped
1 small red pepper, finely chopped
2 cloves garlic, minced
1 small tomato, diced
Italian spice, thyme, and fresh cracked pepper to taste
1 (400 g) package of sole or other whitefish such as tilapia (approximately 6 fillets) in 1-inch pieces
1 can of crabmeat
1½ cups scallops
3 tbsp white wine (optional - may substitute chicken broth)
1 jar of alfredo sauce (I use Classico brand)
¾ cup mozzarella cheese
½ cup cheddar cheese
½ cup Parmesan cheese
Instructions
FOR PIZZA DOUGH:
In large bowl, dissolve sugar in warm water. Sprinkle yeast into water and let sit 10 minutes until frothy.
Meanwhile, in a separate bowl, combine flour, thyme, oregano, and salt.
Stir oil into yeast mixture. Stir in about ½ of the flour mixture. Add more flour, until dough can be gathered into a slightly sticky ball. On lightly floured surface, with floured hands, knead dough for about 5 minutes, until smooth and elastic. Cut dough in half. Cover with wax paper and let rest 10 minutes.
Cut each piece in half again and roll each to approximately 8-9 inches diameter. Place on 2 cookie trays lined with parchment paper and let rest for 15 minutes. Brush a thin layer of olive oil on each of the pieces of dough – this will keep the filling from soaking through.
TO MAKE STROMBOLI:
Preheat oven to 425 degrees F.
In a large frying pan, heat olive oil over medium heat. Sauté onion, red pepper, garlic, tomato, and seasonings in the oil. When onions are slightly softened, stir in sole, crab, and scallops. Add white wine. Let simmer uncovered for 5-8 minutes, stirring occasionally.
Add alfredo sauce and cheese, stirring until cheese is melted. Let simmer uncovered for another 5-10 minutes, until slightly thickened. Taste and add salt and pepper if necessary.
Remove from heat and let cool for 10 minutes. Using a slotted spoon, scoop about ¾ cup of filling onto the center of each piece of dough. Don't overfill them or the filling will leak out during baking. Fold the dough pieces over and press the sides together firmly to seal the stromboli (see picture). Press again with a fork to tighten the seal and make a nice pattern :). Cut ventilation holes with a steak knife in the top of each stromboli.
Bake for 15 minutes or until golden brown on top. Enjoy!
*Source: a Nick & Emily original.